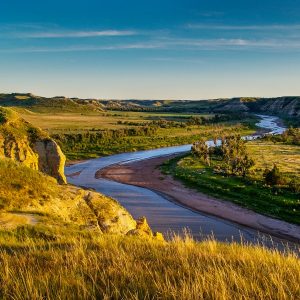 Home to sprawling fields sprinkled with bison and peaks that pierce the sky, North Dakota is a state not to be overlooked. North Dakota offers a break from city life, historical adventures, and still has the same natural settings that offered peace and relaxation to President Roosevelt.
Theodore Roosevelt National Park
President Theodore Roosevelt was known for his dedication to conservation, and North Dakota was the place that inspired him to protect nature. Now, you can visit the same area that awed Roosevelt at the aptly named
Theodore Roosevelt National Park
. Combine history with nature by visiting Roosevelt's Elkhorn Ranch, then enjoy the views of the Badlands with a hike. The park's northern area offers hikes for all ages and experience levels, from short 10-minute walks to 10-hour hikes. Try the Painted Canyon Nature Trail. It's a 45 minute hike that takes you along the canyon rim, and then guides you to the bottom of the canyon. Along the way, you'll see a variety of plants and wildlife.
Medora: Small town, big fun!
Medora has a population of just barely over 100 people, but don't let its small size fool you. It looks like an old western town, with wooden boardwalks instead of sidewalks, and old-fashioned candy stores that are sure to excite kids or kids at heart. Don't miss the Medora Musical, which tells Theodore Roosevelt's North Dakota story through comedy and music. After the musical, have dinner at the
Pitchfork Fondue
, which is exactly what it sounds like—chefs load local steaks onto pitchforks, and cook them in a giant fondue. Lots of these attractions are only open during the summer, but in the off-season hotels offer steep discounts, meaning you can visit the neighboring Theodore Roosevelt National Park and have the park to yourself without having to pay much for lodging.
Visit History at the Fort Union Trading Post
During its peak, the
Fort Union Trading Post
was the most important fur trading post on the northern Missouri River. Settlers, fur trappers, and American Indians traded all sorts of goods, including buffalo robes, guns, beads and more at the fort. Now, you can experience the trading post with reenactments, archeological digs that tell the stories of the fort, and more information on the history of Fort Union. Fort Union is in western North Dakota, right on the border of Montana. Because it's by the Missouri river, outdoors lovers can combine history with adventure by taking some time to raft down the Missouri. North Dakota is the perfect destination for a small town experience. Check out open
family practice
,
internal medicine
and
pediatrics jobs in North Dakota
.