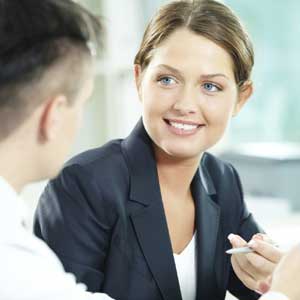 According to a
recent CompHealth survey
, more than half of all physicians stay in a job for seven years or more. While that job continuity does great things for doctors' clinical skills, it also means they can be a bit rusty when it's time to interview for a new job. We all know that practice makes perfect. As you begin your job search, it's important to sharpen up your interaview skills. Consider this a quick refresher course on things to remember—and practice—before you meet with a potential employer.
Remember the Basics
If it's been a while since your last interview, don't worry. It's not about learning new rules; it's about remembering the old ones, like these:
Show up a few minutes early — It can be tricky to find where you're going, especially at a large facility, so make sure to give yourself some extra time.
Keep it classy — Though dress codes vary by workplace, conservative dress (think dark suits) are always a safe bet.
Be engaging — Maintain eye contact, smile, and stay loose and comfortable throughout the interview.
Make it a Conversation
The goal of an interview is to find the best fit for both the practice and the physician. Come to the interview ready to discuss your skills, and more importantly, how they can help the new employer. Practice your responses so you can keep each answer to three minutes or less. (Here are some typical
physician interview questions
.) The employer is not the only one who should be asking questions. Don't be afraid to ask questions about the employer, the practice, or the company culture. It's also important to ask about:
Physician expectations (call schedules, hours, patient load)
Payor mix
Support staff available
Patient generation/referral pattern
Referral specialties available
Future of the practice
Turning Negatives into Positives
In just about every interview, an employer will ask something like, "What is your greatest weakness?"  This doesn't have to be a bad thing. Be prepared to share a genuine response that acknowledges a shortcoming, but still casts you in a positive light. Here's an example:
Question:
What is your greatest weakness?
Answer:
I tend to become disorganized when I have a lot of things going on at once, so I've learned to make lists to keep me focused and help me meet deadlines. With the right response, negative questions can be an opportunity to demonstrate how you use your strengths to overcome your weaknesses and how you have learned from mistakes.
Mistakes to Avoid
Not asking questions — Not only do you leave the interview without all the facts, but it can make you seem uninterested in the position.
Not doing your homework about the practice — Always study up on the employer before the interview.
Not asking for the job — If you want the job, make sure the employer knows it.
Being critical of the administration, practice or processes — Each group does things differently. An interview is not the right time to suggest changes.
Finish Strong
The only thing as important as a first impression is a last impression. Make sure to end the interview on a positive note. Remind the interviewer of why you want to work at the facility and why you'd be a good fit for the position, the organization, and the community. Express appreciation for the interviewers' time and consideration and ask for details about the next step in the selection process — who will contact you next, when will you hear more, etc. Then just wait for the phone call!