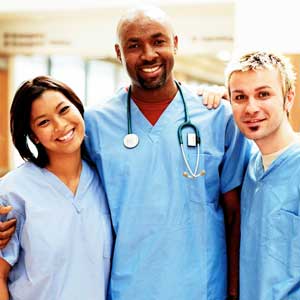 After your residency or fellowship, you have a number of career options — working as an employed physician, joining a private practice, starting your own practice, or even working
locum tenen
s assignments on a part-time or permanent basis. Though the following resources are targeted at physicians who are thinking about private practice, many of the tips are helpful no matter what employment path you pursue. It's important to note that most doctors who are considering private practice start the planning process 18-24 months before they complete their residency or fellowship program. For the smoothest transition into private practice, it's best to start making plans as soon as possible.
Learn the Business of Medicine
No matter which employment path you take, understanding how to run a practice is crucial. If you're not sure where to begin, find an experienced physician in your field who owns a practice and ask him questions about the day-to-day aspects of the job. You'll want to learn about:
Insurance providers (including Medicare and Medicaid)
Billing and finances
Contracts (both employment and partnership)
Advisory teams (lawyers, IT services and accountants who can help set up your business)
Costs of establishing a private practice
Become Involved with the Business during Your Residency or Fellowship
It's tough to find the time to research other practices while working full-time. One of the easiest ways to do this without overextending yourself is to put in extra time at the hospital or facility where you currently work. Here are a few ways to work administrative duties into your schedule:
Set up monthly meetings with the practice administrator to review the number of patients you've visited with, the amounts you've billed, and the different procedures you've performed
Attend a few financial meetings so you can gain an understanding of how expenses are tracked
Participate in the physician association your hospital is associated with to connect with other doctors and gain valuable leadership skills
Network with those at your facility and in your medical specialty
Now is the time to make lasting professional relationships with doctors and other healthcare providers, as you may decide to either open a practice with someone you met during your residency or join a colleague's existing practice. Be as friendly as possible with your coworkers, who may need to provide you with references in the future, and keep in touch with doctors who can answer questions you have about private practice later.
Understand Market Conditions
It can be tough to know where to set up a practice. Before settling down or signing a long-term contract, make sure to do your homework about potential practice locations. Here are a few things to should keep in mind:
Physician Demographics — It's important to understand the saturation level of physicians in your specialty, as well as the number and types of groups. Here are a few places to turn to understand the prevalence of your specialty in the area:

Each specialty academy keeps track of its members by location
State medical societies, and some state and county small business associations, provide phone numbers and locations of physician groups and practices
MGMA, AMA, and PhysiciansPractice publish survey results and articles on practice locations
Patient Demographics — Local hospitals and medical centers can provide you with patient demographic data. This is a great way to get a feel for average patient ages, incomes, insurance profiles, and most common diagnoses.
Malpractice Climate — The American Medical Association updates the liability tracking rates and trends on a state-by-state basis. Check out their website for the latest information on malpractice rates.
Reimbursement Climate/Third-Party Payor Penetration — Medicare and private reimbursement rates can vary greatly by region. It's important to understand the reimbursement trends, including which companies reimburse at the highest rates, most quickly, and most reliably. Here are a few resources:
Cost of Living — Don't forget to research the cost of living in the areas you're considering. CostofLivingByState.org can give you an idea of how far your physician salary will go based on expected expenses in the area.
While each of these resources can help you make an educated decision about practice location, the most valuable resource is usually other doctors. Physicians already practicing in the area can help you get beyond the facts and figures to really understand if an area will be a good fit for you.
Choosing Advisors
The business of medicine is becoming increasingly complex. Now, more than ever, young physicians need to be knowledgeable in a wide range of nonclinical areas. The best way to be successful is to establish a "go-to" team of advisors who can provide the guidance and advice to support you in your career and your personal life. Your team of advisors should include:
Attorney
Accountant
Financial planner
Insurance agent
Recruiter
Physician mentor
Attorney
A great attorney is essential for all physicians, especially when negotiating your first employment contract. The attorney should advice on issues such as:
Restrictive covenants
Malpractice (liability) insurance
Future buy-in structuring
Anticipated future compensation
Calculation of compensation and bonuses
Accountant
Certified Public Accountants (CPAs) can provide two main types of support for physicians:
Tax advice/preparation
Bookkeeping (routine tracking and documenting of revenue and expenditures)
While it is important to have an accountant on board to discuss tax planning and preparation issues throughout the year, a good accountant is especially important when you are transitioning into a new practice.
Financial Planner
Certified Financial Planners (CFPs) will help you lay out a strategy to manage your finances (debt, credit, and revenue/salary). Financial planners can provide the direction and accountability to help you meet your financial goals and advise on large financial decisions that need to be made when transitioning into a new practice.
Insurance Agent
Insurance agents will help you find the right coverage to protect you in your professional and personal life. Most physicians will need the following insurance policies:
Malpractice (liability)
Property and casualty
Disability
EPLI (Employee Practices Liability Insurance)
Health
Physicians should also consider these personal insurance policies:
Life
Disability (preferably an own-occupation policy)
Health
Recruiter
Whether you're looking for a full-time job or accepting temporary assignments as a 
locum tenens
, physician recruiters have the expertise and resources to help with the following:
Credentialing
Licensure
Housing information
Local resources
Physician Mentor
Physician mentors can help you avoid pitfalls in your career and are essential to your success. Seek out physicians in your specialty and inquire about relevant aspects of their professional and personal lives, such as:
Practice types — pros and cons
Topics for negotiation
Business and administrative aspects of medicine
How to avoid major mistakes
Work-life balance
Creating a team of trusted advisors is just the first step. To make the most out of these relationships, it's important that each member is familiar with the rest of the team and that you're all working to ensure your professional and personal success.
Preparing Your Finances
Once you have your advisors in place, you can get serious about the financial components of private practice. Here are a few things to consider 18-24 months before completing your residency or fellowship:
Assess your current financial situation with your financial team – Talk with your accountant or financial advisor about your consumer debt, including credit cards, car loans and home mortgages. You should also discuss your student loans. You need to know which company owns your loans, what the interest rates are, and if there are any consolidation, deferment or forbearance options.
Develop a debt management/loan reduction plan – Some new physicians choose to continue living on a budget reflective of their residency days, allowing them to make large monthly payments in their first few years in practice. (This is a good option for those with low consumer debt and who do not have dependents.) Others choose to defer their loan repayments and elect to pay the minimum amount in order to spread the loan repayments over time.
Seek start-up capital – If you want to start your own practice, you'll need start-up capital. Most banks and financial institutions will provide start-up loans to physicians, despite student loan debt. The total amount of your student loans is less important than whether you have paid your loan payments on time. Interest rates are dependent on aspects of your personal financial profile, including:

Credit – Your FICO score will play a large role when reviewing your loan application
Collateral – The total amount of your personal assets, including property and valuables, is taken into consideration
Character – Your historical pattern of money management, references and relationship with your loan institution and the banker are also considered

Create a business plan – Financing for a private practice is also contingent upon your business plan. Most counties have small business associations, staffed by professionals who can help you with your planning. Nonprofits like SCORE also offer small business support and consulting.
This article is based on information provided by OPM Education
.