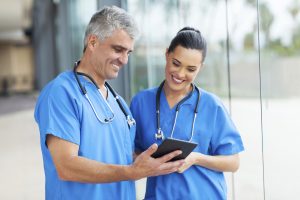 It's not surprising that many doctors are wary of having an online presence. HIPAA violations, as well as the loss of privacy and work/life balance, are valid concerns. However, in today's job market, having an online professional presence is a must to snag your next interview.
According to CareerBuilder, 35 percent of employers are less likely to interview candidates they can't find online. And that's not just IT folks or sales employers. Nearly 50 percent of healthcare employers look at social media to screen candidates.
So what does this mean to physicians who are considering a new job? It's time to get online.
Start by googling yourself
Unfortunately, no matter how hard you try to keep your life off the Internet, chances are good you're still there. Take a second and google your name. You might see a link to your current employer, an old photo from an alumni publication or the minutes associated with political causes you've donated to. And you will certainly see patient reviews — both good and bad — on websites like
HealthGrades.com
. Now put yourself in an employer's shoes. What do these Google results say about you? Do they paint a complete picture of you as a physician? Do they highlight your skills? Your professional accomplishments? Your rapport with patients? If not, you've got some work to do.
Find the right type of social network
Not all social media networks are created equal. Facebook is great for sharing pictures and stories with those you're close with. Twitter is good if you want to interact with strangers or weigh in on issues in real time. But if you're looking to create a professional profile, I recommend you start with LinkedIn. LinkedIn is a great place to tell your story. Not only can it house your CV, but it also allows you the freedom to bring it to life. You can highlight professional accomplishments, share why you're passionate about medicine or promote your research. It also allows you to reconnect with former colleagues or friends from medical school who could help you get the inside track on a new position. Once your profile is complete, potential employers can easily find you online and get a quick snapshot of both your professional experience and who you are as a person. And most importantly — as opposed to online review sites — you control the message.
RELATED: 5 Tips for Improving Your LinkedIn Profile
LinkedIn is not the only option.
ZocDoc
and
Vitals
also allow physicians to create a custom profile with photos, credentials, and accomplishments. Because these sites are targeted at consumers, they also include patient ratings.
Be careful of what you share
If you're looking for a new job, or just want to have an impact on what people see when they Google your name, having a social media presence may be a good idea. But once you're online, make sure to think before you post. HIPAA regulations also apply on social media. Here are four tips to help you
stay HIPAA-compliant on social media
:
Be careful when adding patients as friends on social media networks. While you may worry about hurting feelings or seeming unfriendly, limiting your Facebook or Twitter interactions to family members and friends is a good idea. This protects you from patients who might ask personal health questions publicly, and it also ensures that you don't reveal the names of patients you treat.
Never post photos of patients or anything that could identify them, such as charts, notes or X-rays. Even if you keep your social networks private, you never know who'll be viewing your posts or sharing them with others. Protect your patients and yourself by considering the photos you publish carefully, and be wary of the pictures you like and share or retweet on social media, too.
Do not publish disparaging thoughts about your patients, co-workers, employers or clients online. It can be tempting to rant about a particularly challenging day on Facebook, but think twice before posting anything that casts the people you work with or care for in a negative light. Even if you don't use their names, patients who identify themselves in your post may report you for a HIPAA violation. Negative remarks about your company or coworkers are unprofessional and could put your job in jeopardy (and make it difficult to find a new one).
Avoid disclosing protected health information (PHI) on social media and in online forums, even among other health professionals. Though you can discuss a patient's PHI with another doctor who is also treating that patient, posting PHI online for others to see — even if you're asking for another professional opinion — is a bad idea. Patients might be identified simply by their symptoms (or the time you posted their PHI), and forum and social media posts are easily shared or even captured as screenshots.
When in doubt, keep it simple. Maintaining a succinct professional profile on one or two social networks will allow employers to easily find you online and help you present your best self to your next boss.