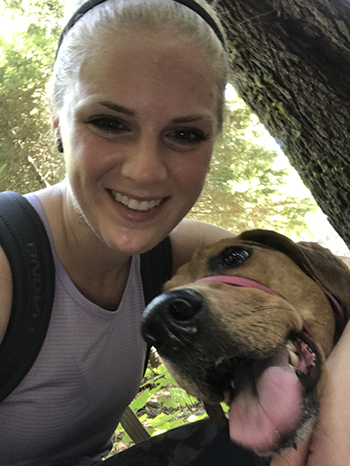 Like all
occupational therapists
, Mandie H.'s goal is to make life better for others. A dedicated professional, she helps those with health challenges to more fully engage in daily activities and live healthier, more productive, and satisfying lives. Mandie's choice of a travel career was to maximize satisfaction with her own life. "Exploring, seeing new places, and trying new things" are the ingredients to a satisfying life for her, and travel is the answer.
Choosing a travel partner
To get the most out of her career, Mandie chose her travel company carefully. "I talked with three companies when I began thinking about traveling," she explains. "I chose CompHealth for a few reasons. First, they seemed very organized with clear procedures and quick responses. Next, Kaitlyn, my provider rep, was upfront and honest about what types of jobs to expect and in what areas. Third, I couldn't seem to find a single negative thing about them. A friend who had traveled before mentioned that she also had only heard positive things about the company."
RELATED: 4 tips for finding your first rehab therapy job
Adventures in travel therapy
Her assignments as a travel OT have been memorable. A
Modesto, California
 position put her within a few hours of
Yosemite National Park
,
Lake Tahoe
,
Napa Valley
,
Big Sur
, and the
Redwood forests
where she could "hike, hike, hike! I have the cutest pup that travels with me, and we love finding new trails. After a week of work, nothing is more refreshing than getting out in nature." Her favorite assignment was as unique as it was unforgettable — for the area's beauty, for the dreaded natural forces that threatened it, and for a community that rallied together as a result. The assignment location was
Redding, California
. "This was a home health assignment," she says. "The permanent staff were so welcoming and friendly. I had never done home health before, and they were incredibly patient while I learned a new setting." She describes Redding as an "outdoorsy person's dream" with scenic mountains, lakes, and waterfalls. She made it a goal to find as many waterfalls as possible, racking up seven by her assignment's end.
A community coming together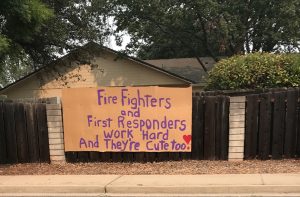 But trouble came to town when natural disaster shattered the region's calm. "I was there over the summer when horrible wildfires were tearing through the area," she explains. "While it was scary and truly heartbreaking for the city, I was able to see and be a part of a community that came together to support each other in a way I have never witnessed before. The love and care everyone showed was so genuine. People volunteered tirelessly and donated anything they could. Almost daily, I saw parents walking around with their kids looking for a spot to hang signs showing support for the first responders. The people of Redding showed strength and grace in the hardest situation. I have so much admiration for them."
A strong support system
In the midst of it all, Mandie had her own support — her CompHealth recruiter, Kaitlyn. "My provider rep is the best," she says. "Seriously. Kaitlyn is so organized, so fast to respond to calls/texts/emails, is so patient when I start panicking about where I'm going next, is very knowledgeable of the travel OT world, cares about how my assignments are going, and — most importantly — is always upfront and honest. I can't imagine this journey without knowing my rep was just a phone call away." Mandie advises anyone considering a travel occupational therapy career to "find a provider rep you feel comfortable with" like she does Kaitlyn. She also advises would-be travelers, "Make the most of every place. Explore all it has to offer. And be flexible. The world of travel is a little unpredictable at times, but it's definitely worth the uncertain moments."
Looking for a travel OT job? View today's travel occupational therapist job opportunities or give us a call at 800.453.3030.