Always a little different, they usually decide that, 'enough is enough' and come to realize that the American Dream of working more, to make more, to spend more and have more isn't working. They choose to live life on purpose.
That's how the blog
bemorewithless.com
describes minimalists. It's also a pretty accurate description of speech language pathologist (SLP) Amelia W. "I've always wanted to become a minimalist. I think I am getting close to becoming one now thanks to travel jobs.  I've never had a car in my life, and so far I've made it work. I biked to work during my first assignment and now, for my current assignment, I walk to work. Maybe you don't always need a car to travel."
Becoming a better therapist
She recognizes how travel SLP jobs can help develop your career and enrich your life. Her travel assignments, she says, have made her a better therapist. "I realize that I've become a better-rounded SLP than I ever thought I would be. In my previous assignment, I got to see patients for TEP (tracheoesophageal voice prosthesis) change, and in my current assignment, I am seeing SGD AAC (speech generating device/augmentative and alternative communication) users. I feel like I am growing so much faster in my clinical practice than if I were to stay at the hospital where I did my CF (clinical fellowship) or in any permanent position." She has now worked both inpatient and outpatient care, broadening her experience. "I really like splitting my time into both inpatient and outpatient settings," she explains. "My CF was mostly in inpatient acute so I surprised myself by discovering how much I enjoy working in an outpatient setting. Now I know that if I were ever to settle down for a permanent position I would likely go with outpatient."
A free spirit at heart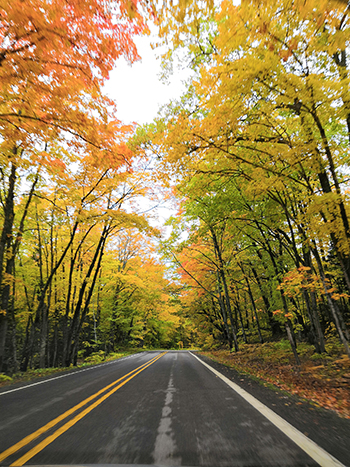 "I love the changes and the travel to places I've never been to before," Amelia says. "I like the flexibility of taking weeks or even months off to travel for fun before taking on another assignment." She is a fan of nature's beauty, so with her first assignment at the border of
Upper Peninsula
Michigan and
Wisconsin
, the fall foliage dazzled her. "I used to live in
New England
for six years so I've seen plenty of fall foliage that I thought was beautiful. But I'm telling you, the fall foliage in UP is way more breathtaking. I cannot describe how beautiful it was with my words. I would highly recommend taking a travel position in that area in the fall if you ever get a chance."
Making new friends
Is she ever at a loss of having buddies to do things with during an assignment's off-hours? Not at all. "My current hospital has a good number of travelers, and I became really good friends with a PT and an OT. We hang out together at least once a week. My parents always visit me, and when they come we do lots of travel in the areas nearby." Amelia's experience with CompHealth has been one of the high points of her travel SLP experience. "First of all, my recruiter, John, is wonderful," she says. "I trust him 100% and enjoy working with him very much. I like it that he only works with SLPs and is very knowledgeable of what we do. The benefits are great. Everyone I've worked with at CompHealth has been there for years. When I tell this to travelers I meet on the road, they are always super impressed. I will give Katie from credentialing a shout-out because she's so fun to interact with, even though it's all through email and I've never met her in person!"
To live "life on purpose" like Amelia, view today's SLP job opportunities or give us a call at 800.453.3030.