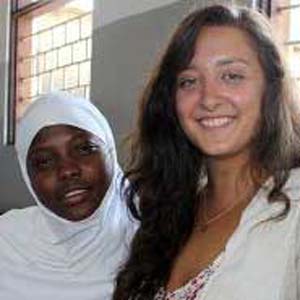 During the holiday season, many people look for opportunities to give back. CompHealth providers are no exception. Here's how one of our speech language pathologists is making a difference in the lives of those she serves.
Hundreds of children live as outcasts in East Africa. Why? Because they have a speech impediment. Families with a disabled member might be forced to the rim of their village. A young child with a communication disorder might be hidden away. Fortunately, Elisa Sonnenberg, a speech language pathologist, is helping erase the stigma linked to disabilities by treating those who need help.
Changing lives with speech therapy
When Sonnenberg joined a two-week medical volunteer trip to Zanzibar, an island in East Africa, she was surprised to discover the ways disabled children were shunned. With the right treatment strategies, she began helping these children not only regain their communication abilities, but also their roles as active members of their communities. But two weeks wasn't going to be enough, and Sonnenberg immediately began planning how she could return to East Africa and continue her work. After weighing her options, Sonnenberg turned to travel therapy as a way to travel, raise money and have the flexibility to complete medical missions. She began working with Jill VanderZand, a CompHealth recruiter. "Elisa had developed a deep connection with the people of Zanzibar and knew that she wanted to raise enough money to go back and help," VanderZand says. "I am so excited that CompHealth could be a part of Elisa paying it forward." Today, recruiter Britt Campbell helps Sonnenberg find assignments that allow her to travel all over the United States, gain clinical experience and raise money. "Different kinds of clinical settings will give Elisa a broader base of medical knowledge, which will definitely be helpful when she returns to Africa," Campbell says. "Knowing Elisa's goals helps me to look for opportunities that will meet her clinical, personal and financial goals."
Return to Africa
Thanks to her partnership with CompHealth, Sonnenberg will soon complete her contract in Indiana and head to Kenya, where an estimated 1.8 million people under the age of 19 live with disabilities. There she will volunteer with the
Yellow House Children's Services
, a service organization that provides education, therapeutic services and outreach to children with disabilities. And she couldn't be more excited. "I feel like I won the lottery for my soul," Sonnenberg says.