A positive workplace culture is important for employee retention and the financial growth of any company. But for healthcare organizations, a positive workplace culture is even more critical. According to latest studies, the United States may experience a shortage of between 54,100 and 139,000 physicians by 2033, and healthcare organizations that can attract and retain clinicians will be the clear winners. Here are four strategies that can help you build a stronger workplace culture.
1. Develop leaders who listen
For better or worse, leaders affect the climate of a work setting, and their influence can be the reason employees feel empowered and engaged in their work or underappreciated and unmotivated. Striving to create a positive leadership culture starts with one basic tenet: listening. Effective leaders take the responsibility to create a safe place where employees can speak up and contribute to conversations around the workplace.
"When a company culture fosters listening, being open, and giving recognition for speaking up, more employees will do so because they're encouraged to converse and collaborate without fearing failure," says Leslie Snavely, chief sales officer at CHG Healthcare.
But listening should go beyond speaking up in collaborative conversations. Leaders should regularly meet one-on-one with employees to allow space for individualized discussion, where they can hear about specific issues or concerns from each team member in a private and confidential setting. When employees feel they have leaders they can trust who care about their concerns, they will feel more empowered and more engaged in their work.
RELATED: Strengthen your team through servant leadership
2. Promote and support better work/life balance
Learning to balance everyday life with the demands of a job is a ubiquitous struggle, especially when you're in healthcare. When times get tough, achieving that work/life balance can seem nearly impossible. In a 2021 CHG Healthcare survey, physicians reported the top factors that affected their job satisfaction included workplace culture, job stability, and compensation.
Before COVID-19, 80% of physicians reported some degree of burnout; after COVID-19, 64% said the burnout had become worse, with 43% reporting that the pandemic decreased their career satisfaction. Many physicians felt their organizations were lacking when it came to responding to the pandemic, especially in three areas: insufficient staffing level, dissatisfaction with compensation, and inefficient work processes. The result: work/life balance is more important than ever for many clinicians.
Dr. Rita Manfredi, emergency medicine physician and associate clinical professor at George Washington School of Medicine, says, "We need time to process this grief, helplessness, and rage we're all feeling. And ideally leadership can do this without pay cuts," she says. "A lot of these solutions should be coming from leadership. Leaders have to be compassionate — maybe even take 30 minutes to see what it's like in our shoes — listen to us. There's lots of research that has found that what determines your well-being is what the organization does."
RELATED: What healthcare professionals want in their careers post-pandemic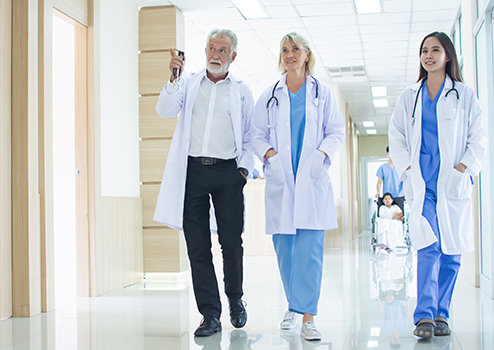 3. Communicate, communicate, communicate!
Ronna Smith, MN, ARNP, is manager of APP Clinical Education at Seattle Children's Hospital and serves as clinical faculty for the University of Washington School of Nursing. Ronna and her team were forced to change the way they communicated when the pandemic began, which turned out to be a silver lining of the ordeal. As she said, information was changing "head-spinningly fast."
"If you remember back to the early days when you could say something in the morning and the story was different later in the afternoon," Ronna said. "The situation on the ground was changing very, very quickly."
To keep up, Ronna participated in weekly huddles with staff to discuss upcoming events for that week, with priority placed on the needs of her team. Daily staff forum webinars were also held to disseminate information. Team members were encouraged to send in questions beforehand and each webinar was repeated three times per day, so that employees on all shifts were involved in the process. This way, everyone was on the same page.
Effective and regular communication between leaders and their team is one of the most productive aspects of a thriving workplace, and this is especially true during difficult times.
RELATED: Why CEO really means being chief communication officer
4. Hire for culture fit
Finding the right fit to fill an open position is always a priority, but it's even more important to hire candidates who will contribute to the culture you're trying to build. Perhaps the best way to find that ideal candidate is to present your company's goals and mission from the start. Conversely, the candidate's goals should align with those of the company.
While conducting interviews, listening is important to understanding how well a candidate fits with your organization. But Mark Douyard, senior physician recruiter for Bayhealth Medical Center, emphasizes the importance of asking the right questions.
"Ask more questions. Don't be satisfied with an answer; keep asking the same questions in a different way," he says. "Peel away the layers of the onion."
Douyard says spending informal time with candidates is an effective way to gauge personality and sense of humor — and to just get to know someone with what he refers to as "structured small talk."
RELATED: 5 ways to ensure a good culture fit when hiring a physician
There are many factors that contribute to a strong workplace culture, but these four strategies are a great place to start strengthening yours. A culture that works doesn't appear overnight; it takes effort and tenacity, and may force leaders to step outside of their comfort zone and do business in a new way. But the return on your effort will be well worth it.
CompHealth specializes in finding the best physicians, PAs, and NPs to help fill your staffing needs. Give us a call at 800.453.3030 or complete the form below to learn more.