Working locum tenens can mean extended time away from home, which can put strain on a marriage and family relationships. Yet many locums have found strategies that, not only relieve the strain, they actually allow for more quality time with family than many full-time, permanent positions do. Here are five ways you can strengthen your relationships while working locum tenens.
1. Meet emotional needs through clear communication
When you spend an extended period of time away from home, a few pre-trip decisions can keep your connections strong.
Agree on the when and the how: You might want to start off the day with a quick "good morning" text or plan weekend Skype dates. Regardless of what works with your locum tenens responsibilities, following through on the plan communicates your loving care and attention to your family.
Stay in touch through technology: Technology makes it simple to send photos or videos documenting your adventures. Not into selfies? Take photos or videos of what you're seeing and experiencing as you explore new territory and post on Instagram or Snapchat or use a more private video messaging app like Marco Polo.
Do things together: Even when it feels like you're a continent apart, you can still connect by reading the same book, binge-watching the same Netflix series, or training for a half marathon you can run together when you get home.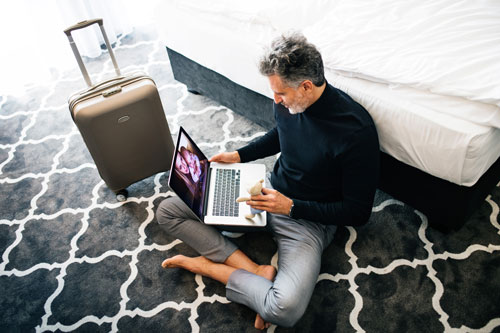 2. Arrange a meetup
Many locums ask for assignments within visiting range of their spouses and families. Meetups let you share your adventure with your spouse or kids, turning time away into a mini vacation. It's a great way to strengthen your relationships while working locum tenens. "I do a lot of assignments on the east coast of Georgia and my husband will drive out for the weekend," explains hospitalist, Dr. Tammy Allen. "When I was working in Spokane, Washington, he came out there and we did a road trip for a week all over Washington State."
3. Take the family along
An exciting new assignment doesn't always have to mean time away from family. Dr. Thomas O'Mara, a pulmonologist, used to see less of his family when he was in private practice than he does working locum tenens. "When I got out of private practice, I had the time to realize just how much my life had been consumed by the practice. It was consuming my life with my wife. Consuming my life with my children. It wasn't allowing me to live," explained Dr. O'Mara. Now, Dr. O'Mara takes his family with him on assignments. "I like to take my family because my kids can go live in a different part of the world and they can learn from their own experience about culture. They get to interact with the people and that's something they just can't get out of a book."
SEE ALSO: Working locum tenens and traveling with your spouse
4. When you're home, be home
Working in a hospital staff position can often keep you away from home all day, leaving you drained when you're trying to connect with your family. Oncologist Dr. Tina Passalaris found working locums actually gave her more time to be fully present with her family than her previous position had. "I used to work all the time and was absent for all of my children's activities. I never went to school plays or dance recitals. It was just impossible to juggle that and my workload. With locums, I leave for 1 to 6 weeks at a time and I give 100 percent to my job during the weeks that I'm away. It doesn't matter if I have to work overtime, weekends, evenings, I'm fully dedicated to my job. And, when I'm home, I'm 100 percent a mom. I go to my children's plays and recitals. I may miss a few when I'm away but at least I get to see the ones when I'm at home. I actually get to see quite a bit of what my children do and I'm now very much involved in their daily lives."
SEE ALSO: Balancing locum tenens with family life

5. Plan family play
Kids grow up fast and it's difficult to miss even a moment. Dr. Sonya Sloan, an orthopedic surgeon who has been working locums assignments since 2006, admits not being present for hallmark events is tough. "I missed my son's first steps. We were
FaceTiming
when it happened but it's not the same. I missed my daughter riding her bike for the first time. Missed lost teeth and some other things but, for the most part, it all works out. You can't be everywhere and be all things to all people all the time. I claim to be super mom, but super mom really does not exist. She's just a great woman, a mother that knows how to pray and work hard and try to be the best that she can be for her children," explains Dr. Sloan. Dr. Sloan describes how she makes up for missed moments, "We do two or three really great vacations a year. They cost us but locums pays well and allows us to be able to supply these vacations for our family. We just had a vacation at the beach with a private house with a chef for five days. Just our family, the beach and pool time. Real quality time. So, when we get home, and the next week mom is gone, it's not so bad."
How do you balance family life with your locum tenens assignments? Share how you strengthen your relationships while working locum tenens in the comments below.