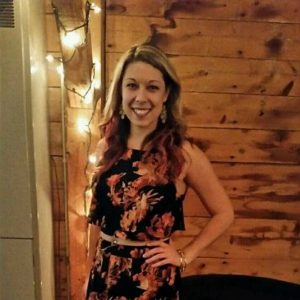 Stephanie knew she needed a change in her
occupational therapist
career. At her previous job, she was working long hours for little compensation and she didn't have time to do things she loved. Her colleague worked for CompHealth, and he suggested she give the staffing company a call. In less than a week, she had picked out her first assignment. Now, she has time to play music, practice on a softball team, and travel the country. "Working for CompHealth has been one of the best decisions I've ever made," Stephanie said.
Test driving a career
Before she started traveling with CompHealth, Stephanie worked for a community health center in pediatric occupational therapy. "I loved working with these kids, but I was sacrificing my own freedom. Between very minimal pay and not flexible hours, I wasn't really making a living and it didn't allow me to see friends or do anything that I wanted to do," said Stephanie. Having only been a therapist for about five years, Stephanie was at the point in her career where she could try different things to see what she wants to do permanently, so she started applying for a variety of jobs. Stephanie started getting job offers, but none of them felt right. She wanted the chance to try out different things, instead of committing to something new.
Working with the right company
Stephanie thought about temporary staffing as a solution, but she couldn't find a staffing company that felt right. She explains that she had a lot of questions about being a travel therapist, and other companies didn't take the time to answer them. She felt they just wanted to place her an assignment as soon as possible, without checking to see if the assignment, or travel therapy in general, was a good fit for her. Then she called CompHealth. The representative who answered her call spent at least half an hour on the phone with her, Stephanie recalls. "He answered all my questions and I felt so much more comfortable. He would answer even the stupidest questions that I had and then once he set me up with my recruiter, Katie, she was the exact same way." Stephanie says that Katie is always available to answer questions, and she worked with Stephanie to find her the best fit for an assignment. Katie found Stephanie an assignment in South Carolina at a place that specialized in employee training, so Stephanie had the chance to really familiarize herself with the facility and her new assignment. "It's just been so easy," says Stephanie.
SEE ALSO: Who Helps You Coordinate Assignments? [VIDEO]
Time to do the things she loves
While she's been on assignment, Stephanie has been rediscovering the things she loves. She's always loved to sing, whether it was in school plays or in a college band. But in her permanent job, she never had time for her music. Now, she plays in small cafes and for her friends in
South Carolina
. She also joined a softball team. She's been playing softball since she was a child, but reconnected with it while on her assignment. Perhaps most importantly, though, Stephanie has more time to see her friends and families. "During my assignment, I actually feel like I'm seeing them just as much or more than I did when I was still in Boston. With my old job, I wasn't making that much money at all and it was hard just to get time off. And now, I'm being compensated enough and my schedule is more flexible so that I can actually take a weekend and fly to see them," she says.
Exploring the country
CompHealth lets Stephanie travel both during her assignment and during her time off. Stephanie says she's never felt homesick, but she has felt "fernweh," which she describes as the feeling of longing to go to somewhere you've never been. Stephanie has traveled around the world since she was young, including an almost month-long backpacking trip through Europe.
"Traveling has just helped me to open my eyes to what the world is all about, and to understand that the world is bigger than just you and where you came from. It makes me accepting of others which helps in life and in a job like this because I'm working with so many different types of people," Stephanie says.
While on assignment in South Carolina, Stephanie has visited nearby cities and landmarks, gone on camping trips, and met new people along the way. "Obviously I'm here for a therapy job, but CompHealth is really understanding that I'm also here to see a new place and part of the country. I'm here to learn more about therapy, but I'm also here to learn more about the country and myself," Stephanie says. Stephanie says that she's never met a traveling therapist who didn't like what they're doing. She says that if you're considering traveling at all, don't consider it—just do it. Ready to go on adventure like Stephanie's? Check out
locum tenens jobs with CompHealth
.