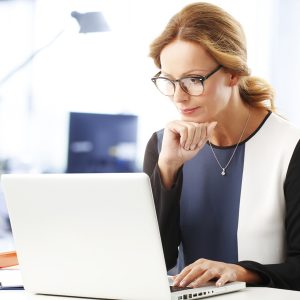 Thirty-five percent of employers say they're less likely to interview a job candidate if they can't find any information about him or her online, according to a recent
Staffing Industry Analysts article
. As a doctor, you may be wary of social media — and rightfully so. HIPAA violations, as well as the loss of privacy and work/life balance, are a concern when physicians connect with their patients online. However, having an online presence allows patients to find your practice more easily, helps you connect with colleagues and ensures that future employers can look at your credentials before they interview you. Here are a few sites you should consider when creating an online profile:
LinkedIn.
One of the major benefits of LinkedIn is that it allows you to easily find friends from medical school or residency, connect with current colleagues and introduce yourself to new physicians and staff members at a facility where you'd like to work. You can also list your education, certifications and employment history and essentially create an online resume. Be sure to upload a high-quality, professional headshot of yourself and complete all of the fields. For more tips, check out
5 Tips for Improving Your LinkedIn Profile
.
ZocDoc.
This physician network, which allows patients to discover doctors in their area and book appointments online, simplifies your practice by sending you patients' insurance information (when they provide it) and in turn reminding them of their appointments. The biggest benefit, however, is that ZocDoc gives you the opportunity to create a custom profile with photos of yourself and your practice, a full list of your qualifications and hospital affiliations, and an address and map of your practice. ZocDoc sends surveys to patients following their appointments and allows them to rate their experience, which gives you more credibility as a physician.
RELATED: What to Know Before Responding to Online Physician Reviews
Vitals.
Similar to ZocDoc, Vitals is a physician review website that helps patients find doctors nearby, read their biographies and credentials and leave their own reviews based on ease of making an appointment, wait time, bedside manner, courteous staff and follow-up, among other factors. Unlike other sites, however, Vitals is free for both patients and physicians, who can customize their profile with photos, awards and other information and log in to respond publicly to patient feedback. Looking for more places to promote your practice online? Check out
What Doctors Should Know About Online Reviews
.