Marye McCroskey, MD, FAAFP, shares her tips for locum tenens physicians who are fighting the COVID-19 virus.
All of us in healthcare — from the housekeeping staff in the ED to the overworked respiratory therapists and us physicians — are dealing with the unknowns of an unprecedented health crisis. For locums physicians, there is some extra anxiety because of our unique position in the healthcare hierarchy. We are not technically employed by the institutions for whom we work, but we must work within their system of rules and regulations. And we are reliant upon them to provide us with what we needed to do our job. Each assignment is unique, but here are some tips to help you get through the experience that is COVID-19.
First, and foremost, take care of yourself
This means everything from eating well, getting enough sleep, and exercising to maintaining contact with those we love. We must not isolate emotionally from family and friends. They know we are stressed. They can lend a listening ear and help share our personal anxieties. Take care not to resort to alcohol to calm anxiety or help with sleep. If you are able, get outside or just read a book.
Judiciously use PPE
At this point, some places have adequate PPE. We need to take care of that supply so that it lasts us the duration. Remember face shields can be cleaned and respirators reused IF you are wearing a face shield. Gloves can be cleaned with hand sanitizer when you go from patient to computer. Some hospitals are experiencing shortages while others are trying to "make do" with what they have. Do not allow yourself to be put in harm's way by taking unnecessary shortcuts. Ask for what you need. Turn to your locums company for assistance if you feel like your needs are not being met.
Remain collegial
We are all in this together, PCPs, IDs and intensivists, locums, employed, and private practitioners. This crisis needs to be a "no dumping" zone as we all share the burden. Use each other's skills, share ideas, share stories, and listen to each other. You never know what you will learn as you allow someone to unload their day.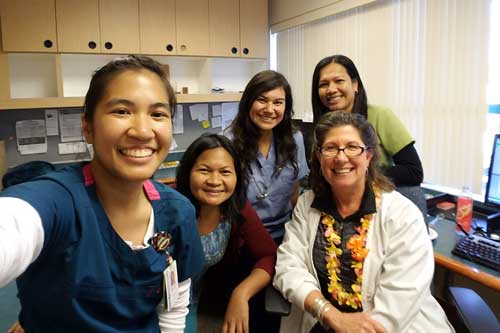 Turn off the electronics
I caught myself checking the state website three…four…sometimes five times a day, looking for an update on the number of cases in our county. My husband, the news junky stuck at home, kept the TV going from dawn to dusk. And I felt my anxiety rising. The posts on FB and Instagram weren't helping matters. Then I reminded myself — I have a choice. So I gently asked my husband to turn off the TV (most of the time), put the phone on silent, and left it alone. And the difference was remarkable. I've seen my patients become over-consumers of information leading to similar results. Unplug for a while every day.
If needed, call on your locums company
They helped us get our placements and are invested in seeing us succeed. As mentioned above, if you feel that you are in an unsafe situation, let your recruiter know. If you are being asked to work more hours than your contract calls for and you are exhausted, let them know. Our recruiters are our advocates.
Lastly, remember the time we spend on this epidemic is but a drop in the bucket of our lifetime
I have heard others say this is a defining time in their practice. And while it may be a defining point, it is just one of many in my 30-year career. Granted it is one I don't want to see repeated, but neither do I want another 9/11, Hurricane Katrina, or Haitian earthquake. We will get through this. And hopefully, be better physicians for it.