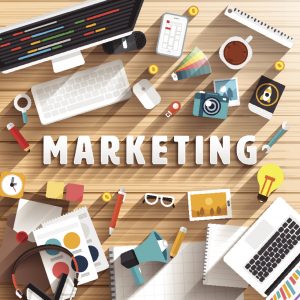 The tables have turned. No longer is there one job opening for every six unemployed job seekers, giving employers their pick of qualified job candidates. Instead, today's job market favors the job seekers. According to the Bureau of Labor Statistics, there are now only 1.7 candidates for every job opening. Add to these numbers the complexity that goes with online search, social media, the ease of information sharing and the myriad job boards available to healthcare professionals, and the job of recruiting becomes even more challenging. Because job seekers now have less competition, employers have more. And with patient demand growing faster than physician supply, jobs will continue to outgrow the number of physicians to fill them. As a recruiter in this new landscape, having a little marketing savvy can go a long way when it's time to hire physicians for your facility. If you think of clever slogans and fantastic promises when you think of marketing, you're not alone. But marketing is more than that. According to Merriam-Webster, marketing is the "technique of promoting, selling, and distributing a product or service." Certainly "promoting" and "selling" are elements of recruiting, too. A lot can be accomplished by thinking through a simple marketing framework of who, what and how. Who are you talking to? What do you want to say? How do you make sure your message gets heard?
Who are you talking to?
It's important to understand who you're looking for. Marketers call it knowing your "target audience." For example, let's say you need to fill a position for a
hospitalist
. Keep in mind that your target audience will likely be in the 30-40 age range. Physicians in this age range look for different job features and search in different ways and places than physicians in the 60+ age group.
What do you want to say?
What is the message you want your potential provider to hear? What sets your facility apart from others? Marketers call this the "unique selling point." Every facility has one. Give it some thought. Knowing what makes your facility different from others will be important to providers. Is there something that's unique about your patient care philosophy, building design, community involvement, awards or other characteristics? A good way to find this out is to ask your current staff what they like best about working at your facility. Equally important, what message does your potential provider want to hear? Is she looking for state-of-the-art facilities, mentors, the right block schedule, more vacation time or leadership opportunities? Recreational activities in close proximity could be a plus. Quality of schools and community activities also matter. It's important to understand that these doctors have spent up to 12 years in college, so be straight with them. Don't oversell or overpromise. They'll be much happier on your staff if what you promise is what they get.
How do you connect?
Now that you know whom you're talking to and what you want to say, how are you going to make the connection? Where will your provider be looking for the next opportunity? Online search is huge with the 30-40 age group. The breakdown for universal search engine and job board usage looks
something like this: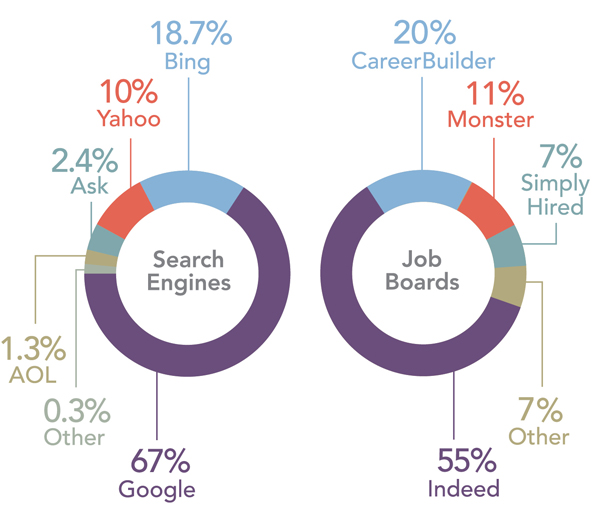 If your provider is searching for jobs on a search engine, instead of using the word "job," she might type in: "Best hospitals in western United States 2015." According to the statistics, she's most likely to look on Google. Once she gets her search results, her next step might be to look for more information about the hospitals that show up in her results on Facebook, HealthGrades or YouTube. She'll undoubtedly read the patient reviews. If she sees something she likes about your hospital, she will click on your careers page to see if there's an opening for her. If a job board is where the provider is searching, your job description is key. You are competing with hundreds of other hospitalist jobs, and providers will only do a quick scan before they start clicking. Start by asking yourself, "What's in it for the provider?" Think about what you looked for when you searched for your job. Conduct a survey of your current staff to see what it was that appealed to them about your facility. If your facility has a marketing or communications team, ask them for wording suggestions or to review your job descriptions. Implementing the tips in the
infographic below
when creating a job posting and when providing information to staffing agencies for a staffing request will help you find and recruit the quality physicians you're looking for.