Practicing medicine is inherently stressful. With the responsibility for the health and well-being of patients, physicians often experience the inevitable urgency of ensuring successful outcomes for those they treat. The
2018 Medscape Report on Physician Burnout and Depression
offers practical insights on the top ways to beat physician burnout.
Burnout is a common occupational hazard in medicine
So as a rule, burnout will accompany physician work. So much so that out of 15,000 surveyed physicians, 42 percent report burnout, and 15 percent say they suffer from depression ranging from clinical (severe) to colloquial ("feeling down"). It's even more common when treating patients in an
emergent situation
, or in a specialty where emergencies are to be expected on a regular basis. According to Medscape's annual burnout report, the specialties with the highest rates of burnout are critical care and neurology (48 percent), family medicine (47 percent), and OB/GYN and internist (46 percent). The imminence of an emergency can increase the feelings of burnout. Conversely, those specialists who are less likely to find themselves in emergency situations show the lowest rates of burnout: pathologists (32 percent), dermatologists (32 percent), and plastic surgeons (23 percent).
Causes of physician burnout
The root causes of burnout tend to be universal: too much bureaucracy, too many hours at work, and lack of respect from leadership and staff. The Medscape survey revealed that physicians feel their main cause of burnout is too many bureaucratic tasks (56 percent). This number has remained steady in the past few years. A distant second is spending too many hours at work (39 percent), followed by lack of respect from administrators/employers, colleagues, and staff (26 percent). Though less than one quarter of physicians (24 percent) felt insufficient compensation was one of the causes of their burnout, more than a third (35%) felt that an increase in their salary would help alleviate some of the burnout they're experiencing.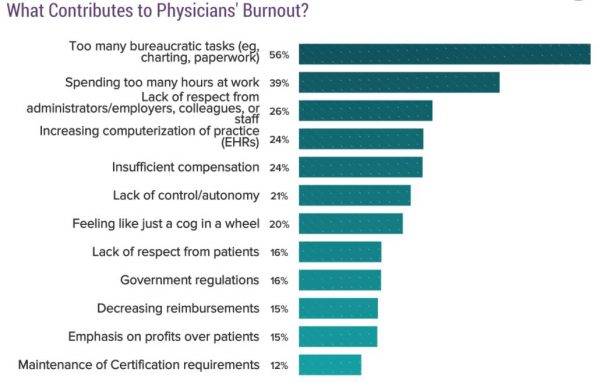 Women report a higher rate of burnout than men
The survey revealed that women report feeling more burnout than men (48 percent versus 38 percent). However, this number has trended down from previous years' surveys. For example, in the 2016 survey 55 percent of women and 46 percent of men indicated feelings of burnout. The specific reasons for this downward trend are unclear, though.
Gender and specialty variations in seeking treatment
The methods with which men and women use to alleviate burnout is varied. Female physicians are more likely to seek professional help for burnout, depression, or both (31 percent) versus 24 percent of men. Additionally – and not surprisingly – psychiatrists (40 percent) are the specialists most likely to seek professional help, followed by plastic surgeons (35 percent), and public health physicians and pediatricians (33 percent). Cardiologists were the least likely to seek professional help (17 percent) when suffering from burnout or depression.
Burnout and depression
Fourteen percent of all physicians surveyed said they are suffering from both burnout and depression, with OB/GYNs at the top end at 20 percent, versus psychiatrists at 8 percent, possibly a result of the high probability of their seeking treatment. When asked what they think is causing their burnout and depression, physicians feel their job is the primary contributor. The next highest contributing factors are finances and family. These results are virtually the same for both men and women.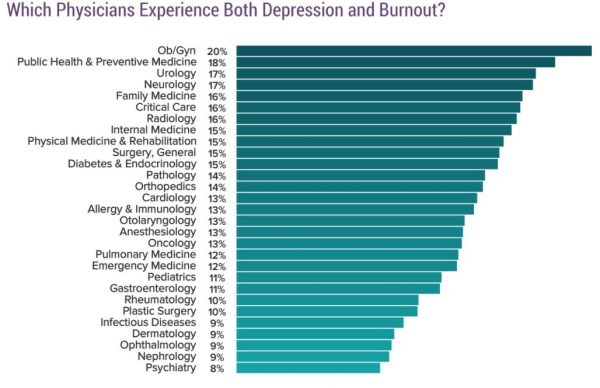 The impact of burnout and depression on patient care and relationships
Does burnout affect patient care? Surveyed physicians for the most part said no (40 percent), and only 5 percent indicated that it may cause them to make errors that could harm their patients. Burnout reportedly has more of an impact with personal relationships, though, with 42 percent of surveyed physicians saying they are less engaged and more easily exasperated with staff and peers.
Workplaces have become more cognizant of the impact of burnout
More and more workplaces are offering programs to help with ways to alleviate burnout, and an increased number of physicians are becoming aware of and utilizing these programs. Sixty-one percent of those physicians working in academic, research, or military/government institutions know of these services, and those working in healthcare organizations (58 percent) and hospitals (45 percent) were a close second and third.
Ways to reduce feelings of burnout
Exercise (50 percent), sharing with family members or friends (46 percent), and sleep (42 percent) are the ways surveyed physicians report they manage their feelings of burnout. On the other end of the spectrum, only 3 percent reported smoking and using nicotine products (3 percent), prescription drugs (2 percent), and smoking marijuana (1 percent) for coping with burnout. Twenty-seven percent report decreased government regulations would relieve burnout, even though only 16 percent said government regulations contributed to their feelings of burnout.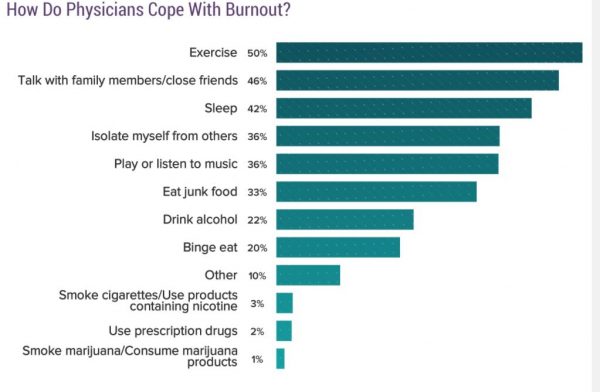 Main burnout report takeaways
On the bright side, the physicians surveyed had some suggestions on how to manage and diminish burnout. Some of the suggestions:
Take steps to balance home life and work life
Work part-time or in locum tenens
These physicians' thoughts on ways to reduce burnout point to a solution:
locum tenens
. With the ability to control how much, when, and where they work and the ability to maintain control over their work/life balance help to alleviate feelings of burnout. Click
here
for the full Medscape 2018 report.