Trevor Zimmerman's path to becoming a medical technologist wasn't a clear-cut one. He was originally on track for a nursing career, but he found himself questioning his commitment to that profession.
A microbiology course taken as a nursing prerequisite fascinated him. "I loved this course so much," he said, "that I asked the professor what else can I do where I do this every day. He said, 'You could be a medical technologist'." He decided to meet with the department chair to get a few more questions answered.
"She helped me with all my misconceptions about the career, and I said at the end of the meeting, 'This sounds like something I would like to do.'" Changing his major was followed by two job offers before graduation rolled around.
A remedy for burnout
"I worked for two years at a permanent hospital job at a level-two trauma center that gave me a lot of experience very quickly," Trevor says. "I ended up burning myself out, because I said yes to too many things." He soon realized the local community offered limited job opportunities. That's when he called CompHealth to look into becoming a travel medical technologist.
"I got ahold of Johnny, and from that day we were buddies. He became my recruiter, and it stayed that way for almost two years."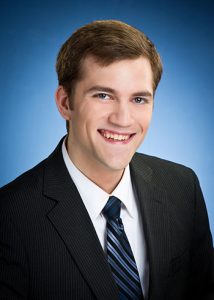 Trevor enjoyed his two years as a traveler medical technologist before marriage called for a permanent position. "My wife is from the other side of the world, Indonesia. I thought having a more stable environment would be more beneficial for her" as she was adapting to all the changes the U.S. presented her. His new job at a mother-baby hospital requires blood banking, chemistry, hematology, coagulation, and urinalysis, the blood bank and hematology for babies being "a little specialized," and he loves it.
Yet he wouldn't trade his two years as a travel medical technologist for anything.
An eye-opening experience
"Being a traveler opened up my eyes and made me realize that many people do different things throughout the United States in different ways," Trevor says. "And patients still get well, and they're not doing anything wrong. They just do them differently." The time or two when he spotted something he questioned, he appreciated how CompHealth could be counted on to help.
"There was a situation where I was asked to do something that was clearly stated in the instructions, 'Do not do this,' and our supervisor was telling us to do it. I called CompHealth and told them, 'I'm not doing this, and this is why.' CompHealth got in touch with the laboratory manager that same day and settled things so that everyone was happy. We ended up sending the test out to another lab. I was so amazed by how CompHealth handled that."
He loved most of his assignments — from Connecticut, which welcomed him with open arms; to Erie, Pennsylvania, which asked him back several times; to Detroit, Michigan, which became a favorite.
"Every week felt like a vacation when I was in the Detroit area," he says. "Detroit has a lot of stuff to do, and even outside of Detroit, there are so many places within a two-hour drive that you could go to and be a tourist." He made great new friends there to hang out with and enjoy the area.
A great choice for early career med techs
Travel took Trevor to places he enjoyed and deepened his professional insights, but how did traveler pay compare to his previous perm jobs?
"It was more," Trevor says. "If you take the housing stipend, it's going to be significantly more. Whether you take the housing stipend or not, I was making more than my previous jobs."
Working as a travel medical technologist, he maintains, is a great career choice for early career med techs. But he recommends having two years of experience minimum at a good generalist hospital before launching a travel career. "You want to have the most well-rounded experience right out of college that you can possibly have, because that makes you a stronger person and a stronger traveler."
He also says it's important to be flexible. "You're not always going to get a day shift, and you're not always going to get an evening shift. You have to be flexible because things don't always work out the way you want them to. The first two weeks of any new assignment, you really need to be flexible."
The travel career might not be behind him after all. He says he may just do it again someday.
RELATED: Working as a travel lab professional: A chance to travel and be challenged by your career
Are you a lab professional looking for a new opportunity? Give us a call at 800.453.3030 or view today's medical lab job opportunities.