"I tell people I get paid to be on vacation." That sums up occupational therapist Anthony K.'s love for his career path in
OT travel
. He started on that path back in December of 2018, and it's a choice he hasn't regretted once.
Discovering America
"I grew up in a small rural community," Anthony explains. "I didn't get out of that bubble very often. Traveling allows me to grow as a practitioner and as an individual. Each area is new, and there's so much to see." He enjoys the varied landscapes he's experienced on assignment like in
Washington State
that offered such a contrast to the flat unbroken vistas in so much of his home state, North Dakota. "Growing up in an area that was so geographically different, I loved being close to mountains and the ocean in Washington." It was a novel experience, especially for an avid hiker and camper like Anthony.
Challenging and rewarding
His favorite assignment so far was in
Houston, Texas
— for reasons altogether different from the Lone Star State's panoramic views. The hospital inpatient rehab section in which he worked offered challenging patient care and the opportunity to treat his preferred patient population. "I liked the complexity and the variety of diagnoses that I got to see there," Anthony explains. "I also got to work in pediatrics which is my favorite. The entire staff welcomed me and made me feel part of their group immediately."
Exploring new places and making new friends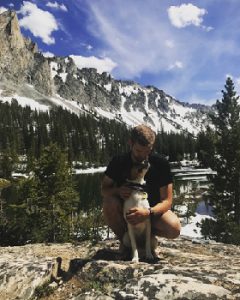 An explorer by nature, Anthony finds things to do and people to do them with everywhere he goes. "In my spare time, I like to explore the city I'm in and its surrounding area. I'm always looking for new food and
breweries
to experience." "I find people to do things with by connecting with other travelers or with staff," he adds. "I also make connections with friends of friends in an area. I've found that dog parks are not only a great way for me to make friends, but for my dog to make friends too." As for the ready-made companionship they provide, he recommends anyone considering travel OT jobs to bring their pets along, saying travel with pets is not as difficult as it might at first seem. Another piece of advice he offers would-be travel OTs: treat every weekend while on assignment as a vacation. "There is so much to see while on contract in a new area. And time really does fly by." He recommends that you start planning activities early because he's found "that the end of my contract sneaks up on me, and I haven't done half the things on my list of places to see."
Like family
Anthony compares his relationship with
CompHealth
to working with family. "They answered every question I could think of and ones I didn't. From my first meeting with my recruiter, I felt like I was with family. I have had a great experience with everyone I've worked with at CompHealth. They are always willing and able to help when I need them. That's what kept me with CompHealth and why I wouldn't trade my team at CompHealth for any other team in the world."
Ready to begin your OT "working vacation"? Give us a call at
800.453.3030
or view today's
travel OT jobs
.