Growing up on her family's dairy farm in rural upstate New York, Terra G. knew there was a lot of world out there she wasn't experiencing. She was determined to change that once she was old enough to venture out on her own. She wanted "to see what else this country had to offer: culture, different climates, and different geography." She, as she puts it, "got the itch" to travel. And travel she did. She became a
travel physical therapist
. "Being a travel PT," she says, "I have been able to see and experience amazing things and have met amazing people along the way. Travel has opened my eyes . . . and has helped me grow as a clinician and a person."
Discovering America
Now a six year veteran travel PT, what are some of her discoveries? "
South Carolina
,
Alabama
, and
Georgia
have shown me true southern hospitality. I love beaches so Florida filled that part of my heart. Basking in the
California
sunshine all the time was amazing.
Washington
has been a big adventure with endless hikes and amazing views. I have also done stints in
Connecticut
, which let me reconnect with my sisters, nieces, and nephews. It would be impossible to do each location justice in a few short words. Overall, you really have to have an eye for seeing the beauty wherever you go."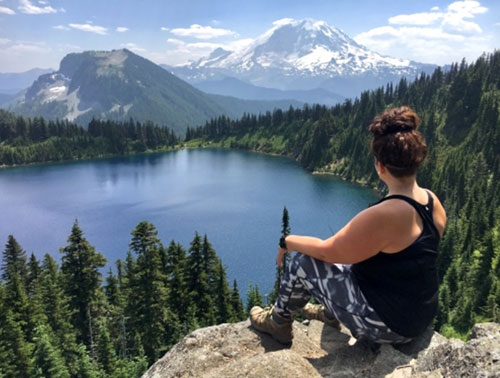 Picking a favorite location or experience is hard to do, she concedes, but one location does manage to climb into her best-of list. "
San Luis Obispo
, California, has been hard to beat. For starters, it's rated the happiest place in America, and I found it to live up to its reputation. Doing home health in the daily sunshine was amazing. Having Paso Robles, a mini-Napa valley, in my backyard was great. Being able to have a choice between the beach one day or mountains the next was pretty awesome. Not to mention being so close to
Santa Barbara
."
Finding the positive
Travel isn't without its challenges, of course. Terra has had, at times, to push herself out of her comfort zone, especially when it comes time at each new assignment to meet people to spend her free time with. She's employed meet-up apps, chit chat at bars, and happy hours with fellow coworkers. Striking up conversations with strangers has turned into wonderful encounters, like meeting fellow travelers on various mountain tops! Finding a locale's scenic vistas seems to be a traveler pastime. But Terra has two strong assets to assist her, first and most importantly, her attitude. "I am thankful for the hard times because they have shown and reminded me the generosity and love that others have. Travel can feel overwhelming in the beginning, so it's nice to hear the good, bad, and ugly prior so you can get tips and tricks. The best advice is to talk to someone that has traveled."
Making it easy
The second asset is the travel company — and recruiter — she's partnered with. "I was drawn toward CompHealth because of their professionalism, consistency with the same recruiter, quick follow-up on questions and concerns, and the overall flow of the company," Terra says. "I have been beyond happy with everything CompHealth has done for me. My recruiter, Laurie Howe, has been like family to me. Helping me through tough times, whether it be personal or job related, she has been great. The licensing team is always amazing with making licensing a breeze. There is no way I'd have as many licenses as I do if it wasn't for them. Last but not least is the credentialing team. They are amazing with the lovely reminders of everything I need to get done because life happens." Does she have advice for other PTs? "If you have any itch to travel, do it, go! YOLO is a real thing, so take advantage of having the opportunity and do it!"
To learn more about being a travel PT, give us a call at
800.453.3030
or view today's travel PT job openings.