[caption id="attachment_9518" align="alignright" width="300"]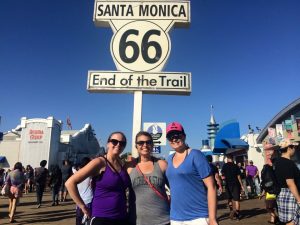 Route 66 Santa Monica, CA[/caption] Student loans are the gorilla on much of this country's back. However, this behemoth was not going to stop Jasmine from achieving her goals in life. That is why she chose to travel after she graduated as physical therapist. She reached out to CompHealth after talking with a recruiter at the school she attended, and four years later, the adventure continues. "I decided to first sign with CompHealth based on the ability of having licenses paid for up front, the ease of licensing and coordinating my needs for a placement as well as the trust I was able to develop with my initial recruiter," she says. "I also liked that CompHealth was in Grand Rapids, where I'm from, so I can stop in the office when I'm home and put names to faces."
The Experience Keeps Her on the Road
The opportunity to pay off student loans is what got Jasmine excited about traveling, but it became much more for her. Traveling as a physical therapist opened her eyes to new things and areas throughout the country. In her spare time she has made new friends along her path, and she has had the rare opportunity to see the country in a way that most only dream about. "I have seen a lot traveling between assignments such as Highway 1 in California, the Redwood National Forest and the beautiful city of Seattle," she explains. "On my cross-country trips I have been able to make stops in Yellowstone, Mt. Rushmore, Las Vegas and Denver, to name a few." [caption id="attachment_9523" align="alignleft" width="225"]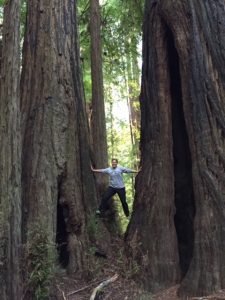 Redwood National Forest[/caption]
A Few of Her Favorite Things
Staying close to home around the holidays is important to Jasmine, that's why she chooses assignments in Michigan during the fall and winter months. Connecticut is one of the areas she selects assignments because it is centrally located to cool places like the original Ben & Jerry's factory in Vermont, Cape Cod and Portland, Maine. "I have worked anywhere from large cities, to very small rural towns, to the gorgeous little beach town of South Haven, with amazing sunsets, beach, water sports, and restaurants," she says.
The People Make it Worth While
When Jasmine heads off to a new assignment, she lives by this motto: Never turn down an offer from a co-worker (within reason, of course). This has helped her learn about and from her new co-workers, which makes the experience much richer. Living by this motto on the road has also boosted her confidence meeting random people while she is out on her own. "I have learned to expand my horizons, put myself out there to meet people and get to know them faster," she shares. "It's been a great opportunity for both personal and professional growth." Some of the activities she has experienced with co-workers are concerts, football games, paintball and Superbowl parties.
Lessons from a Traveling Therapist
[caption id="attachment_9543" align="alignright" width="300"]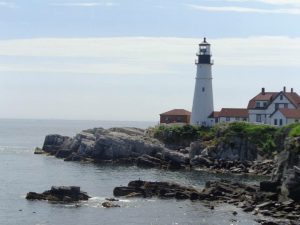 Lighthouse Portland, Maine[/caption] Traveling has allowed Jasmine to grow professionally by learning from people across the country who practice differently. The diverse philosophies about patient care have taught her an eclectic style of practice. The personal interaction with her patients is her favorite thing about being a therapist and although she may not be able to heal everyone that crosses her path, she makes it a point to make their experience a positive one. The relationships she forges go a long way in how each patient feels during and after their therapy. Jasmine loves what she does and it shows in the type of practitioner she has become in four short years. She offers these three pieces of advice for current or future travelers:
Do things that are uncomfortable for you "Say yes to invitations from co-workers. The more you try to participate in activities, the better your experience will be."
Travel a lot "Get out and do things at night or on the weekends, even if it is by yourself, you will be glad you did."
Be flexible on where you take jobs "Some of my favorite jobs weren't necessarily in places that I thought were 'desirable' locations, but those are where I met the best friends that I keep to this day."
One Final Thought
Her goal is to be a positive part of each patient's life and traveling assignments are helping her achieve that goal. A chance meeting with a CompHealth recruiter four years ago has changed her life, and she can't wait to experience what lies around the corner.