Ty Ashley began his first travel assignment on July 25, 2016. Six months into this new adventure he is now on to his second assignment and is enjoying getting to know people in new parts of the country. His first assignment was as a home health therapist in Sylacauga and Pell City, Alabama. His second assignment brought him to Cleveland, MS and then Ruleville, MS. "I think we should take joy in meeting new people and having an opportunity to have a positive impact on their lives," says Ty. "We should take the time to enjoy the beauty we can find in the different parts of the country we may find ourselves. Thus far I have got to see beautiful lakes and mountains and hills of Alabama and beautiful sunrises and sunsets of the Mississippi delta." Several years ago he and his wife began contemplating travel PT, and he was drawn to CompHealth due to its company history, how it has grown and its rating nationally as an excellent company to work with. In his spare time he enjoys playing golf and sight-seeing in the areas near his assignments. He and his wife are looking forward to new assignments, meeting new people and seeing new places in different parts of the country as a perk of this type of work. Their first grandchild will be arriving soon and he foresees much of his spare time will be spent visiting the new addition to the family. Mississippi and Alabama both offer great therapy assignments but also off many things to do and see when away from work. Here are a handful of sites to see in each state:
Mississippi
Vicksburg National Military Park
– The Civil War battleground has been preserved and is also home to the USS Cairo ironclad gunboat and museum.
Elvis Presley's Birthplace
– If music is more your thing, come see the birthplace of rock and roll legend Elvis Presley. See the humble beginnings that shaped the future music icon. It is located in Tupelo, MS.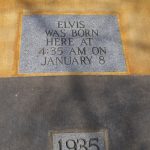 Sing the Blues
– Keeping to the music theme, visit the Delta Blues Museum to explore the history and heritage of the blues. Exhibits change often and offer a glimpse behind the scenes of many of blues greats including Muddy Waters, John Lee Hooker and BB King. It is located in Clarksdale, MS.
Alabama
Civil Rights
– Alabama played a major role in the civil rights movement and is home to the Birmingham Civil Rights Institute and in Montgomery, the Civil Rights Memorial Center.
Alabama Football
– Interested in sports? It is hard to find a more storied program than Alabama football. Located on the campus in Tuscaloosa is the Paul W. Bryant Museum that highlights the history of Alabama football back to its 1892 roots.
Beaches
– Alabama is home to many beaches. Visit Mobile Bay for breathtaking sunsets or visit Dauphin Island in the middle of the bay and visit Fort Gaines, built in the early 1800s.