Matthew, a physical therapist with CompHealth, has been traveling with us since he was first out of school in 2016. Knowing next to nothing about travel therapy as a career path at first, he says that he narrowed his agency research down to three companies, one of which (fortunately for us and for his patients) was CompHealth.
"I listened to what each one had to say and started searching for my first assignment. It was during that process I knew CompHealth was the right fit for me. Everyone on staff that I had interacted with was very on top of things and always made sure I had everything I needed. The staff was always on point with the credentials and paperwork I needed for the assignment and it made the process that much easier."
Travel therapy pay and schedule are top advantages
Matthew says there are a lot of reasons why he continues to travel full time as a physical therapist. A big one is the pay difference he enjoys over rates that he's seen in the market.
"As most graduate students know those advanced degrees do not come cheap and student loans can become a heavy burden. I am extremely happy to say that within 2 years of working as a traveler I have been able to pay off all of my student loans this past month, and am now able to move onto future financial goals."
Other big advantages that appeal to Matthew include flexibility for time off and the ability to plan ahead for vacations and family visits. So far, his travels have taken him from the east coast to the west coast and back again. Along the way, he's been able to explore new cities, national parks, and sightseeing opportunities that he might have missed in a traditional physical therapist's role.
Making memories from one physical therapy assignment to the next
When Matthew talks about is travel therapy experiences over the past couple of years, it quickly becomes obvious that his adventures on the road are his favorite stories to share. Working out of Indiana, he was able to explore Chicago and the Great Lakes region by train every weekend. In California, he spent his days off seeing places like Death Valley National Park, the sequoias, Los Angeles, and San Diego. One especially memorable adventure was  working out of Oregon and taking in numerous sights along the entire coastline from Astoria to Los Angeles. Matthew made fun stops in Yosemite, Monterey, San Francisco, Redwoods National Park, and Cannon Beach, Oregon.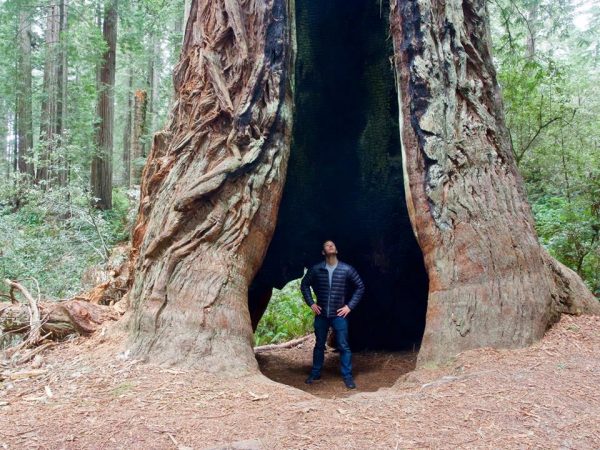 Favorite travel therapy assignment so far
Since beginning his travel career in 2016, Matthew points to his current assignment in Astoria, Oregon as his favorite so far. He says a big contributing factor to his enjoyment was the road trip to get there along the historic and scenic Pacific Coast Highway.
"Now that I am here the facility and my coworkers are all great, I am 10 minutes to the beach, and someone has already loaned me a wetsuit and surfboard, which have already gotten plenty of use through my first several weekends. I am looking forward to adding Olympic and Mt. Rainier National Parks to my ever growing collection of ones I have visited, and visit Portland and Seattle as well."
Making the most of life on assignment
Although Matthew barely knew that making travel therapy his full-time career was an option, he quickly warmed to the idea as a new graduate and hasn't looked back.
"I felt as if I arrived here through luck and chance after being discouraged by faculty, but ultimately it turned out to be the best career decision I could have made."
He researched agencies on his own, but found that there wasn't much third-party information out there about how the traveling healthcare worker's profession worked, or how to get involved. This inspired him to write a manual for new graduates to help them explore the possibilities of travel therapy. When he's not writing, he's busy climbing any mountain he can find, surfing, running, working out at the gym, and meeting new friends at work or on the hiking trail. "I have yet to meet an unfriendly person trying to complete a difficult hike or climb a mountain."
Advice for new or prospective travelers
Travel therapy pay and schedule are compelling advantages for sure, but Matthew also recommends having a good agency team behind you. Stephen Bowman of CompHealth is there to answer any questions Matthew has on assignment, and Jessica Buning from the licensing team has helped him obtain several new licenses as he's made his way across the country.
"When I do finish that book it will have everything I wish I knew when starting this career path and will be hugely beneficial to new grads or anyone thinking of enjoying the life of adventure as a traveler."