Exploring new places is the reason travel 
physical therapists
 Brian Connolly and Kristen Cunningham took on travel careers. They knew it was a rare opportunity not open to everyone but was right for them at their stage of life. "To be able to see the country while also working is not something most people can do," they explain. "We are thoroughly enjoying exploring different areas of the country." They have no plans to settle down yet. There are too many destinations in the U.S. still beckoning as they work in a healthcare field they love. Brian and Kristen began traveler careers in 2017 after a visit to
Boston, Massachusetts
. "In Boston, we met a couple that had been doing travel therapy for six years. We picked their brains and found out that they had worked with several companies but had the
best experience with CompHealth
. That's when we became serious about traveling and felt comfortable starting our travel careers with CompHealth." So far, they have worked on both the East Coast — specifically
Connecticut
— and on the West Coast, spending a year in California split between
Napa
and
San Jose
. Memorable experiences and new discoveries keep piling up. "We both worked home health in Napa and absolutely loved being in
wine country
for four months. Who wouldn't? We loved our time in sunny California and were able to travel all throughout the state in our free time. We enjoyed all the different places we were able to see — San Diego, Monterrey,
Yosemite
,
Lake Tahoe
,
Santa Cruz
, and the Northern Californian Coast, to name a few."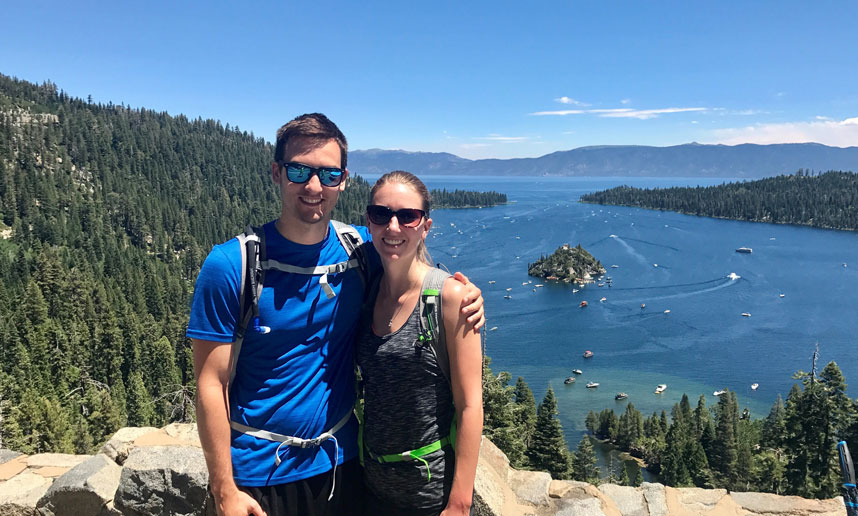 And their favorite part of that assignment? "We lived in downtown Napa and were able to ride our bikes to restaurants, shops, and wineries. It was such a gorgeous area." Was the choice of travel therapist careers the right one? For this couple, it was. "We couldn't be happier that we made the switch to travel PT. There are so many opportunities out there for travel. For us, being able to travel together has been awesome, and we really enjoy each other's company. We have made several friends at the clinics we have worked for, some being travelers as well and some are permanent employees." Finding the right travel physical therapist company can be daunting, sometimes leading to hit-or-miss experiences or ill-fitting assignments. With the Boston couple's advice, however, Kristen and Brian avoided the drama often entailed by experimenting with different travel companies to find the right one. And how do they feel about their partner-in-travel, CompHealth? "CompHealth has been great, and it really makes a difference that they will take care of our licensing for each new state. We have nothing but the best things to say about our provider rep, Andy Carpenter. He has been so easy to work with and checks in routinely to make sure everything is going smoothly, that we are comfortable, and everything." Do they have any words of encouragement for other PTs considering a travelers career? "If you are considering doing traveling, just do it," they say, "Be open about where you may want to go. There may be a place with a job opening that you have never considered, but it may be a hidden gem that will give you a new perspective on life." That is the
unexpected reward
Kristen Cunningham and Brian Connolly have discovered in their travel PT careers — a new, and wonderful, perspective on life that keeps opening new horizons and opportunities for them.
 Are there still new places you would like to visit as a travel physical therapist? View the latest travel therapy opportunities.