Congratulations! You got the job! But before you can go to work as the newest member of the team, you will have to complete the physician credentialing process. This may include:
Credentialing with the office, agency, or group that's employing you
Hospital privileging at the location(s) where you'll be working
Although these are different processes, they are often all lumped under the broader category of credentialing, because they share many of the same steps and elements. Whether you've accepted a permanent job or are exploring temporary locum tenens opportunities, here's everything you need to know about how physician credentialing works.
What is physician credentialing?
Credentialing is a process that ensures a doctor is qualified to perform the procedures he or she was hired to perform. It helps protect both the physician and the facility from liability if the physician is charged with negligence or malpractice. Whether you have accepted a permanent position or are taking a weekend locum tenens assignment, you will still be required to complete the credentialing process. Credentialing can also include enrolling you with insurance providers so the facility can bill them for the services you provide to patients.
How is credentialing different from hospital privileging?
While the terms are sometimes used interchangeably, credentialing generally refers to ensuring physicians have the proper credentials to work for a health system or at a clinic or private practice. Hospital privileging refers to securing authorization for a physician to work in a specific capacity at a specific facility. Depending on your job, you may have to be credentialed for the health system and receive privileges at multiple facilities.
What is the typical timeframe for physician credentialing?
Because every facility is different, there is no standard timeframe for the credentialing process. Some facilities finish credentialing and privileging within a couple of weeks, while others may take up to six months. It depends on the organization's accreditation, requirements, and bylaws.
If you're taking a locum tenens assignment, ask your CompHealth hospital privileging coordinator about the typical timing for the facility where you'll be working. They can give you a general overview of the credentialing process for that healthcare organization and provide an expected timeframe.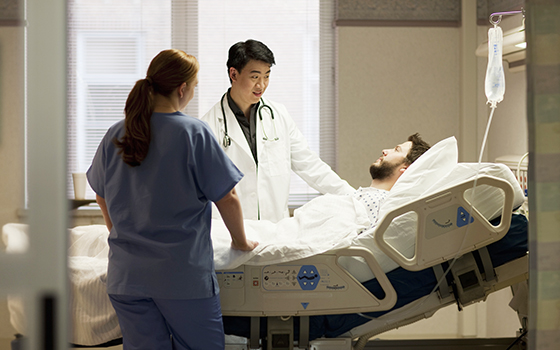 What are the steps of physician credentialing?
Although the steps in the credentialing process can vary by organization, here are the main components each physician is typically required to complete:
Application (online or paper): Each facility has its own application, so doctors will usually be required to complete one for each facility they'll be working at. These can range in length anywhere from 10 to 100+ pages in extreme cases.
Supporting documents: This includes your medical licenses, Drug Enforcement Administration (DEA) ID number, malpractice insurance carrier and case information, board certification, education and work history, and health documentation. Many facilities also require activity or procedure logs.
Verifications: Once you submit the application and supporting documents, the medical staff services office begins verifying malpractice carriers, work history, education, and peer references by reaching out to the organizations or individuals directly.
Approval: Generally, department heads and hospital boards meet to discuss the application and supporting documents and approve the physician's employment. Some facilities require only the medical staff services office's approval. Depending on the number of meetings, this part of the process can take up to a month or longer.
Re-credentialing (if necessary): Some facilities only grant privileges only for the time the doctor will be working (for example, three months on a locum tenens assignment). Other facilities grant credentialing for a full two years for both permanent and locum physicians. Either way, you may be required to reapply and provide documentation again at some point to maintain your credentialing and hospital privileges.
Who is involved in the credentialing process?
During the credentialing process, you'll mainly interact with the medical staff services office at the facility where you'll be working. If you are working a locum tenens assignment for CompHealth, you will also work with CompHealth's hospital privilege coordinators.
Once the facility moves your application to the approval process, the following people may be involved, depending on the size of the facility:
Department chairs
Credentialing committee members, including facility leaders, human resources professionals, and risk management leaders
Medical executive committee members
CEO or governing board
Each committee or board often meets separately to approve the application, which is why the approval process can take so long in some cases.
What can you do to make credentialing easier?
You can't speed up approvals or make the application shorter, but you can do a few things to simplify the process:
Keep your supporting documentation current and easily accessible
If possible, use a cloud service like DropBox to save electronic copies of your records in one place. This is especially helpful when you're on the road and don't have access to paper copies. Many doctors are required to provide activity and procedure logs from hospitals, so it saves time if you have these available already. Most hospitals want the last two years, so keep this information up to date.
Create a list detailing your malpractice info
Save a list of insurance providers and dates so you don't have to call hospitals to clarify later. Many doctors forget to keep certificates of insurance or don't remember which provider covered them at a certain facility.
Include everywhere you've worked in your employment history
If the credentialing team discovers a doctor has worked at a hospital or facility not listed on the work history during the process, he or she still has to get verification from that facility. This can delay verification or even jeopardize approvals. Be sure to list everywhere you've worked, including locum tenens assignments or short-term jobs.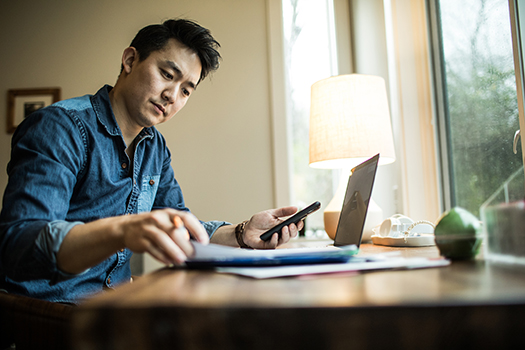 Be open about any concerns from former positions
If there are any problems or concerns in your work history, explain the situation and provide information up front rather than leaving holes on your work history. If an undisclosed problem is uncovered during the credentialing process, it may look like you are trying to hide it.
Have a list of references available and ready to respond
It can take days for references to respond if they aren't expecting someone to contact them. Prepare your references in advance by telling them to expect a call or email so they will respond in a timely manner.
Keep in touch with the credentialing team and meet deadlines
Send any requested paperwork and documents as soon as possible so you don't delay your start date.
What factors can delay or derail the credentialing process?
Credentialing may be delayed or stalled when:
You don't provide needed information in a timely manner
Your references are unresponsive
You aren't open about past issues or concerns, which then require additional explanation about why they weren't disclosed up front
What happens if a facility notices red flags during the credentialing process?
Red flags don't mean you can't be credentialed, but they typically mean more investigation is needed to determine whether or not credentialing can proceed. In many cases, problems are quickly resolved, and the process moves forward. However, if an investigation uncovers issues that would prevent the facility from employing a physician, there are a few possible outcomes, depending on the situation:
The organization may allow a doctor to withdraw their application
The organization can choose to not credential the physician and discontinue employment
The organization can decide to report the failure to the medical board or the NPDB, which could become a part of the physician's permanent record
However, most of the time the medical staff services team will notify the physician and ask for an explanation as part of their investigation. If you are being credentialed for a locum tenens assignment, they may notify CompHealth as well.
An organization may choose not to move forward if:
Your honest account of what happened does not meet the requirements the facility is looking for
You do not have the necessary experience for credentialing (for example, you have not worked in a hospital setting for at least two years and are scheduled to work in a hospital)
How can an agency help with the locum tenens credentialing process?
CompHealth has a team of hospital privileging coordinators who work with many different types of credentialing processes and are ready to help you. If you have questions, talk to your CompHealth recruiter or contact the coordinator who is working with you on a locum tenens assignment.
Whether you're embarking on your first locum tenens assignment or taking a permanent position, understanding how physician credentialing works can help make the process go more smoothly and get you to work more quickly.
For questions related to physician credentialing, give us a call at 800.328.3065.