Medical technology is vital in helping providers to better diagnose and monitor their patients, but in places like Ethiopia this equipment is often not available, making it difficult for providers to give quality care. On the other hand, physicians and hospitals in the United States sometimes end up with functional medical equipment they are no longer using. This was the situation Dr. Stephen Gugenheim, an
otolaryngologist
, found himself in. He had spent most of his career in private practice. Then ten years ago, he joined a group practice and found himself wondering what to do with his used medical equipment. "They didn't need some of my scopes and extra equipment, so I've been hauling it around with me for the last ten years," he says. Last year, Dr. Gugenheim attended a dinner for the
Society of Military Otolaryngologists
(SMO), where he would finally find a new home for the equipment he'd been holding onto for so long.  When he made the acquaintance of
Dr. Joshua Wiedermann
, also an
otolaryngologist
, the two found a way to give the scopes a second life — on the other side of the world.
A residency program in Ethiopia
As a resident, Dr. Wiedermann was drawn to participate in the
Peace Corps
. When the opportunity fell through due to federal funding cuts, he ended up in contact with the
Ethiopian Ministry of Health
. After some discussion, he was invited to implement a new residency program at
Mekelle University
in the city of Mek'ele. [caption id="attachment_17863" align="alignright" width="467"]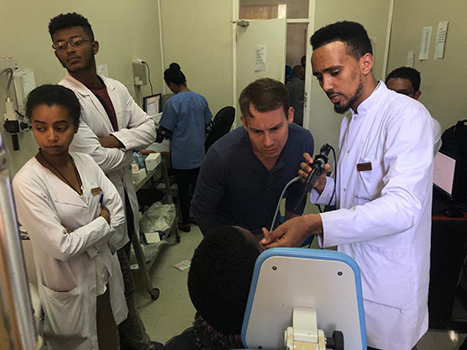 Dr. Joshua Wiedermann and residents at Mekelle University[/caption] "I love to teach," says Dr. Wiedermann. "I love the idea of creating systems, and so the idea of becoming a residency program director in a brand-new residency program in a foreign country was very exciting to me." After completing his fellowship, Dr. Wiedermann traveled to Mek'ele to begin his work. "When I got there, I fell in love with it immediately. Everybody was so nice; the residents were amazing. The facilities were strong enough to really support pretty complicated surgery." Dr. Wiedermann was able to set up a Western-style residency program that's proved to be self-sustainable. It currently has 16 residents. However, the equipment residents used to perform procedures had seen better days. Otolaryngology requires special equipment — such as fiberoptic scopes — to see inside a patient's body. Without them, it can be difficult to make a reliable diagnosis. "With the addition of a flexible scope," says Dr. Wiedermann, "you can go through the nose and look at the entire airway and get great visualization which is fantastic. The problem is that these scopes break very easily if they're mishandled." Mekelle University had a scope, but it was old and had been cleaned incorrectly, so the view through the lens was blurred. "When I came back to the United States, I was kind of on a mission to find a replacement because it's an essential tool for an otolaryngologist. If you don't have it, you can't do your job," he says.
A serendipitous encounter
It was pure luck that Dr. Gugenheim and Dr. Wiedermann were seated near each other at the SMO dinner last year, where they started discussing their work. "It was by happenstance that I was at this locum dinner and the gentleman sitting across the table from me was very kind. When talking about what we were doing in Ethiopia, he offered up the idea of contributing a scope without any prompting," says Dr. Wiedermann. Dr. Gugenheim remembers the conversation as well. "I just got lucky that I heard this story about how he was going to Ethiopia and was trying to put together a program for training doctors. I said, 'Well, these guys can use the scope, I'm sure.' That's when I offered it to him."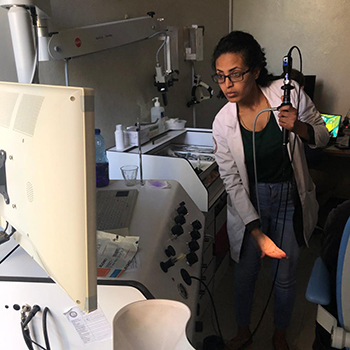 In the end, Dr. Gugenheim was able to donate two scopes to Mekelle University: a fiberoptic scope used for exams and minor procedures and a second scope with a magnifying lens used for surgeries. The second scope can also be hooked up to a camera and displayed on a TV so it can be used as a teaching tool. Though he's currently working in Canada, Dr. Wiedermann continues to travel to Ethiopia regularly. Of Dr. Gugenheim, he says, "He's the nicest guy ever. What he did was so nice and selfless, and you need those acts to be able to practice abroad." Dr. Gugenheim is just happy his old equipment has found a new home. "I think it was just the right place at the right time. I'm pretty happy someone is going to use it in the right manner. It's the right thing, that he can use it and help people."
Donate your used medical equipment
Do you have old or unused equipment that could find a second life elsewhere? Many nonprofit organizations allow you to donate used medical equipment. Here are a few that may be able to help you make a difference:
MedShare
operates across the U.S. to collect and distribute medical supplies and equipment to underserved communities around the world.
Project C.U.R.E.
runs distribution warehouses in six U.S. cities and delivers medical supplies and equipment across the globe.
Advocates for World Health
operates out of Florida and sends medical and surgical supplies, as well as medical equipment, to countries in need.
American Medical Resources Foundation
is based in Massachusetts and works with hospitals and private individuals to collect used medical equipment and redistribute it to developing countries.
What are some of the ways you have seen physicians making a difference in the world? Share your stories in the comments below.