[caption id="attachment_6038" align="alignright" width="300"]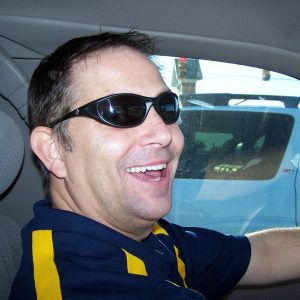 Paul's happy in a car, but he prefers a bike.[/caption] Before finding a permanent position, Paul tried travel speech language pathologist assignments with CompHealth in 2008. "I've made the choice to travel with CompHealth versus other companies twice now!" Paul shares. "The first go-round, and without prior traveling experience, I seemed to rely more on a general feel that I got about CompHealth compared to others, particularly the professionalism and solution-oriented style of CompHealth." After about four and a half years of working in a permanent position, he decided to return to traveling, but he once again had to decide which traveling agency he wanted to use. "When I resumed traveling, I had a new perspective on my decision about which company to travel with. And my choice was once again CompHealth," says Paul.
Taking Time to Explore New Adventures
Traveling assignments allow Paul more time to pursue his passion for the outdoors. "When on an assignment, I try to get away as often as possible for some time on the trails, either by foot or by bike," Paul says. "A good mountain bike has been a constant companion on my travels." Paul recommends asking the locals to find the best places to visit, eat, hang out and shop when on an assignment in a new location. "Generally, locals are very enthusiastic to share tips and have provided some opportunities that I might not have discovered otherwise," Paul shares.
Why Delaware Is an Appealing Assignment
Paul's favorite assignment was to Lewes, Delaware, and he has been fortunate to travel there twice now. He has especially loved working with the medical staff in the hospital, and the Atlantic Coast provided the perfect adventure spot for him and his mountain bike. Delaware is great for more than just mountain biking. Our country's first state is also home to:
Brandywine Creek State Park (No. 2 on the top 10 drives to make in the U.S.)
Great crab and delicious cheesesteak sandwiches (Chesapeake Blue Crab and Capriotti's)
Tax-free shopping
Rehoboth Beach
Delaware History Trail and other historical attractions
Keep an Open Mind When Choosing an Assignment
For those interested in traveling, Paul suggests being open to assignments you may not have considered before. "I'm lucky to say that I've had very positive experiences on every single assignment, even when the clinical settings and geographical locations didn't 'jump off the page' at first glance," explains Paul. "I rather enjoy the pleasant surprises!" Check out our open speech language pathologist jobs to start your own adventure!