Recruiting the right healthcare talent has always been challenging, and the COVID-19 pandemic has made interviewing and site visits even more complicated. Instead of pushing off hiring until communities start to open back up, some healthcare recruiters and administrators have embraced virtual interviewing, and they're reaping the benefits.
Einstein Healthcare Network
and
LifePoint Health
have both used virtual interviewing successfully to hire great candidates during the crisis and even
improve their recruitment strategies
.
A new recruiting process
At Einstein Healthcare Network, online interviewing became part of the recruiting process out of necessity, says Steven Jacobs, senior physician recruiter for Einstein Healthcare Network and president of the
Mid-Atlantic Physician Recruiter Alliance
(MAPRA). "Once COVID hit Philadelphia, we knew we had to adapt," he says. "It quickly became apparent that if we were going to continue to recruit, we needed to somehow virtualize the process." Jacobs says figuring out how to best transition their recruiting online was an interesting exercise. "I think we've done a pretty good job. Getting people set up, setting expectations where they need to be, and getting protocols and best practices in place." They've also fine-tuned their interview process to find candidates who match their facility's needs and culture. "We have standardized questions that were not in place before. We took a look at our mission and value statements and turned them into questions," says Jacobs. "It's helping us determine the person's fit in the culture. We ask about 'humanity' and what that means to them. That is really what it's all about." Christy Ricks, senior director of provider recruitment for LifePoint Health, say her organization also recently transitioned to online interviewing. "We've recruited on several platforms, primarily to replace the site visit portion of the interview process," she says. "The hospital handles a lot of the face-to-face via video. They take an iPad and walk through the hospital," she says. "It's been very successful. We've had physicians sign their employment agreement even though they haven't come on site."
The benefits and challenges of virtual interviewing
Both Ricks and Jacobs have discovered that virtual interviewing comes with several benefits, namely speed and cost savings. "It speeds up process, especially if the candidate already knows the area," says Ricks. Jacobs agrees, and says his facility has been able to interview more candidates per month because the logistics of online interviews are simpler than for on-site visits. He also says that Einstein offers interviews in two half-day sessions to break-up the monotony of staring at the computer for six hours. Not having to bring in candidates also saves money, says Jacobs. "We're not paying for hotels, meals, or flights. On the less expensive end, you're looking at $1,200 per candidate. It's a fair amount if you're interviewing 30 candidates a month," he says.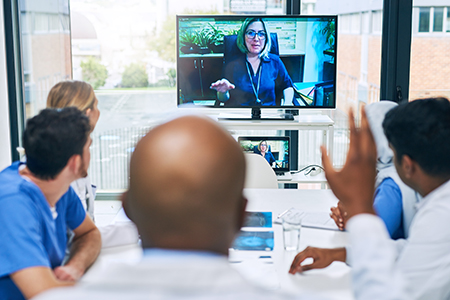 Despite these benefits, virtual interviews also present some challenges, namely technology problems and candidates not being able to do an in-person site visit. Both Jacobs and Ricks say it's important to test your technology prior to an interview. "It seems like a no brainer, but when you're logging in five minutes before and it doesn't work, it doesn't look good to the candidate," says Ricks. Another difficulty that both facilities are facing is the need for candidates to get a feel for the facility and the surrounding community. "They want to see where they're going to work, so virtualizing that component is something we've worked on," says Jacobs. His team created a virtual tour that takes candidates around Einstein's campus, and some departments have filmed videos for candidates.  They've even virtualized Philadelphia, Jacobs says, including some neighborhood tours. "We even found video online of a drone flying over the entire city so people could see it." Ricks says her facility has done something similar, with the CEO and practice managers creating YouTube videos to welcome candidates. Her team works with the local Chamber of Commerce offices to obtain videos and information about the surrounding community.
Virtual is the future
Most candidates have responded well to virtual interviews, which is good news — because it's looking like online interactions are here to stay. Jacobs believes the reason it's gone so smoothly is the preparation his team has put into the process. "There is a lot of information that's being sent to the candidate prior to the interview to help them understand the institution and what they're getting themselves into," he says. Both he and Ricks say that they've leaned on outside sources to help them determine best practices for virtual interviewing, from
AAPPR webinars
to connecting with peers through regional groups like MAPRA. "Nobody is in this alone," says Jacobs. "It's important to realize there's a little bit of trial and error." If you're new to online interviewing, both recommend starting out small. Do a screening call online before doing a whole interview. Start with a recruiter before involving the CEO. Test the technology prior to the interview so everyone feels comfortable using it. SEE ALSO:
Planning for the unplanned: Advice and outlook from healthcare leaders
Don't miss out on quality candidates
At the end of the day, your priority is recruiting the best and most qualified applicant for the position. Not taking advantage of virtual tools allows potential candidates to go elsewhere. "We don't want to pass up on any candidate that comes through the door just because we can't see them in person," says Jacobs. "Waiting is not the best solution, especially when we all have so many needs that need to be filled and an environment that is uber competitive."
CompHealth can help you find the best physicians and other healthcare professionals for your organization. Give us a call at 800.453.3030 or complete the form below to schedule a consultation.
RELATED:
6 tips for recruiting out-of-area physicians