Now that virtual interviewing has become the norm in healthcare recruiting, it requires new skill development for healthcare recruiters. "We have become production managers, directors, script writers, etiquette coaches — all sorts of different things," says Steve Jacobs, manager of physician recruitment at Einstein Health in Philadelphia.
In a recent CHG webinar on recruiting in the new environment, three experienced recruiters shared their strategies for helping candidates' virtual interviews run smoothly and professionally. Their tips include: making sure candidates are well prepared, helping them understand virtual interview etiquette, and preparing them to deal with interview disruptions.
1. Coach your candidates
When he's screening candidates for interviews, Jacobs says, "You have to feel comfortable directing people as if you're trying to produce this interview."
He says Einstein Health sends out a prep document to all candidates letting them know what their virtual interviewing process looks like. "First, we tell them to make sure they have Zoom or Teams on their computer, and make sure they know how to use it and put a background on it. If they don't, I encourage them to call me, and I'll walk them through it. So we do a lot of prepping early on."
Kristine Olson, vice president of physician and professional services at Essentia Health, said her team also works hard to prepare candidates for their interviews. "We remind them to dress appropriately and be prepared for any interruptions that may happen during their interview, like dogs and children. Things that aren't problematic in in-person interviews."
2. Share virtual interview etiquette tips
Mark Douyard, senior physician recruiter at Bayhealth in Delaware, says they send an instruction sheet with virtual interviewing etiquette guidelines to candidates.
"We send these out to candidates to let them know that this isn't a FaceTime chat with your son, daughter, wife, girlfriend, mother, or father, but actually a virtual interview," he says. "I think that has really helped, because it is amazing the number of people who come to the virtual meetings very well dressed and prepared with a lot of questions."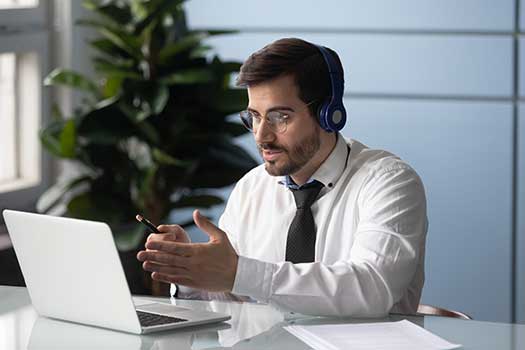 Jacobs lets his candidates know there are things virtual interviewers understand and allow for, like kids sneaking in or a gardener mowing the lawn. "But if you're not wearing pants, I have a problem. However, some of the virtual hang-ups and issues are a result of the environment; sometimes we have to cut them a break and not hold it against them."
Although there are certain allowances that can be made for virtual interviews, Olson says one other important tip she gives candidates is that walking or driving during a virtual interview is definitely not appropriate.
3. Provide tech support as needed
Jacobs says he has candidates double-check they have the needed technology before the first virtual interview and offers to show them the tips and tricks of the virtual platform. It helps ensure the interview both runs smoothly and professionally.
Olsen's team uses the same approach. "Our recruiters had to become tech savvy because they had to teach everyone," she says. "We had to explain what the virtual platform is going to look like and walk them through the process, and we also had to remind them of what's visible in their background that may not look the most professional."
Setting your candidates up for success
Although many candidates may now be familiar with the technology and etiquette needed for virtual interviews, there are plenty more who will need — and welcome — some extra coaching and support before interviewing with your organization. A packet with pre-interview tips, what to expect, and how the interview will be conducted will go far in helping candidates have a better virtual interview experience.
For more recruiting tips in the new environment, you can view the full webinar here: Thoughts, ideas, and solutions for recruiting in the new environment.
CompHealth specializes in finding the best physicians, PAs, and NPs to fill your staffing needs. Give us a call at 800.453.3030 or complete the form below to learn more.