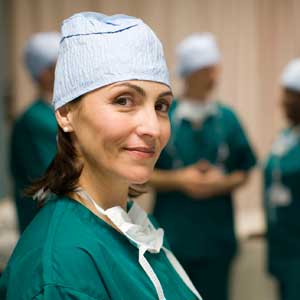 Surgeons continue to be needed in hospitals around the country. In fact, the demand for general surgery jobs is expected to grow 18 percent through 2022, according to the
Bureau of Labor Statistics
. Medscape's
2013 General Surgery Compensation Report
looks at how much these healthcare providers earn and the factors that affect their pay (based on 2012 numbers). Here are a few highlights:
Salary: General surgeons enjoyed a mean income of $279,000 as the ninth-highest ranked specialty.
Highest-paying locations: General surgeons in the North Central region (North Dakota, South Dakota, Nebraska, Kansas, Iowa and Missouri) earned an annual salary of $340,000.
Setting: The top earners were general surgeons in multi-specialty group practices, with an average salary of $338,000.
Time with patients: Most general surgeons spend 30-40 hours a week seeing patients.
Patient visits: The majority of general surgeons averaged 25-49 patient visits per week; 31 percent see 50-75 patients per week.
Healthcare Reform
Healthcare reform has greatly impacted general surgery settings. The 2012 Compensation Report showed only 9 percent of general surgeons participated or planned to participate in an Accountable Care Organization (ACO). This year, 16 percent are participating in an ACO, and 11 percent plan to be in the next year. With potentially low levels of Medicare reimbursement, 7 percent of general surgeons plan to stop taking new Medicare or Medicaid patients; 29 percent are still undecided. However, 63 percent of general surgeons say they will continue to see these patients in the future.
More Than a Paycheck
The majority of general surgeons (44 percent) said their salaries remained the same in 2012, and only 42 percent believe they are fairly compensated. However, there are other factors besides the monthly paycheck that make the career satisfying. Thirty-eight percent of general surgeons said the most rewarding part of the job was "relationships with patients," followed by "being good at what I do." In fact, when asked what they'd do if they could start over, 47 percent of general surgeons said they would choose the same specialty — and 41 percent would choose medicine as a career, even if they'd try a different field of study. CompHealth offers locum tenens and permanent placement opportunities throughout the country. Check out our
general surgery job board
 for open jobs.