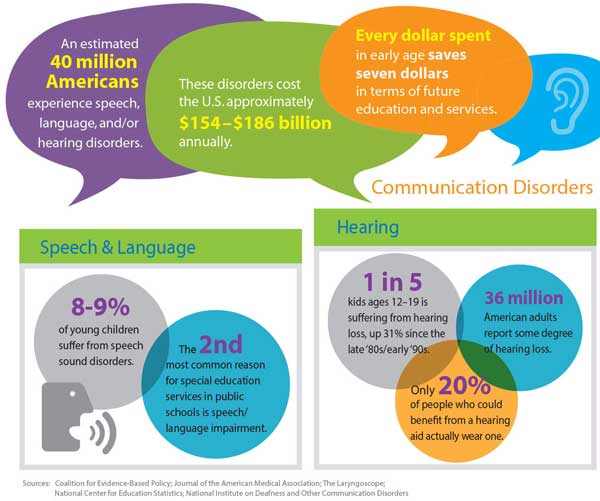 May is national Better Hearing and Speech Month. It's a good opportunity to create awareness of communication disorders — an estimated 40 million Americans have trouble with speech, language and/or hearing — and a great time to say thank you to the healthcare professionals who work to address the problem.
Speech-language pathologists
(sometimes called SLPs or speech therapists) assess, diagnose, treat, and help prevent communication and swallowing disorders. These disorders can be caused by stroke, brain injury, hearing loss, developmental delay, a cleft palate, cerebral palsy, or emotional problems. Once a communication disorder has been diagnosed, SLPs:
Teach patients how to make sounds and improve their voices
Teach alternative communication methods, such as sign language, to patients with little or no speech capability
Work with patients to improve their ability to read and write correctly
Work with patients to develop and strengthen the muscles used to swallow
Counsel patients and families on how to cope with communication disorders
The need for speech language pathologists continues to increase. Here are a few things are a few things to note about the job market:
Workplace – The majority of SLPs work in public or private schools. Others work in hospitals, nursing homes, rehab centers, or patients' homes.
Education – Speech-language pathologists typically need at least a master's degree. Licensure is required in most states; requirements vary by state.
Pay – In 2012, the median annual wage for speech-language pathologists was $69,870. The lowest 10 percent earned less than $44,380 and the top 10 percent earned more than $107,650. Most speech-language pathologists work full time.
Job outlook – Employment of speech-language pathologists is projected to grow 19 percent from 2012 to 2022, faster than the average for all occupations. As the baby boomer population gets older, they are expected to encounter more language impairments, resulting from conditions like strokes and hearing loss.
Click to see open speech-language pathologist jobs.