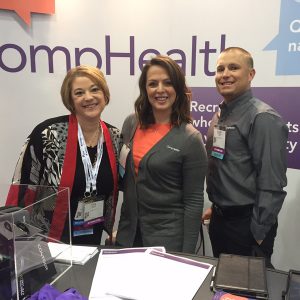 I have the pleasure of working with the amazing CompHealth team as an advisor for PA and NP billing and reimbursement. But, as a clinical PA, I have also done
locum tenens
work with them—just 40 minutes from my home, as a way to earn some extra cash. CompHealth is a leading staffing company that has a dedicated team for permanent and locums tenens job placement for
PAs
and
NPs
nationwide. I've been working at their booth at the
AAPA conference
and love speaking with my peers about both the clinical and business aspects of working as a PA.
Jobs for New Grads
I have been working at the booth (#828 on the exhibit floor) with Christina Shea, CompHealth's director of permanent placement. She has more than 200 open jobs for PAs nationwide and will fill around 40 percent of them with new grads. For me, it's very rewarding to discuss career options with student members of
AAPA
. Helping future PAs, as well as experienced colleagues, find the right job is truly exciting. And sharing CompHealth's tips for resume writing and interview preparation is an added bonus!
The Benefits of Locum Tenens
In our booth, we continually hear from PAs that they want to understand the benefits of working locums. As a PA who has another full-time job, I look at locums as a way to make some extra cash on a short-term basis. (I'm a dance mom and it's expensive!) Cash is not the only benefit that CompHealth offers, however. I think some of the greatest benefits are their primary-source credentialing, working as a W-2 employee, and malpractice insurance when you work temporary assignments. Having complete malpractice coverage and freedom from worrying about independent-contractor taxes are two wonderful benefits that set CompHealth apart and allow PAs to work freely, knowing that they are covered. Additional benefits for travelers include housing, 401(k), health and dental insurance as well as the ability to work with fantastic healthcare teams all around the country.
Learn More
Locum tenens offers both opportunity and benefit to PAs at every stage of their careers. Come by and visit us at booth #828 at AAPA this year, and when you return home, check out CompHealth.com for open jobs and tons of great resources as you begin your search for a great clinical experience.