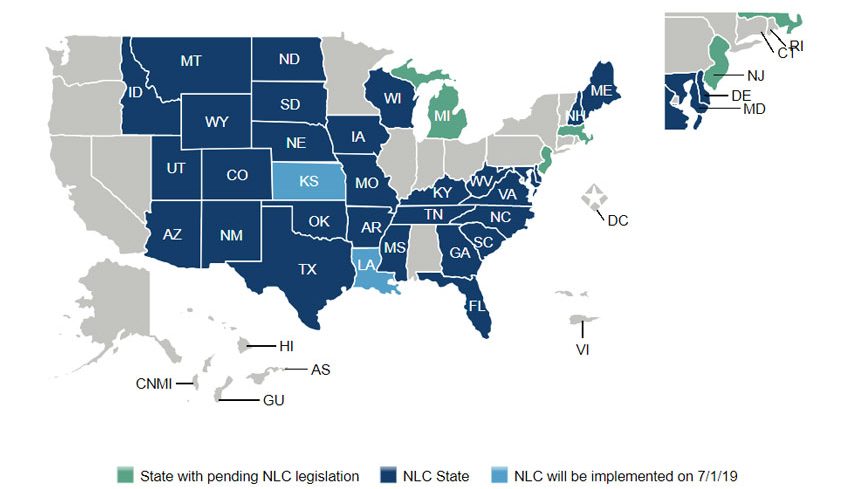 Image credit NCSBN 
The idea that nurse practitioners should be able to work in multiple states under one license is gaining momentum across the country. So far, 29 states have passed eNLC  (enhanced Nurse Licensure Compact) legislation, and the updated compact went into effect on January 19, 2018. What's great about the eNLC is that patients get better access to care while the public gets proper protection at the state level. Here are some quick highlights on what the eNLC means for nurse practitioners. The National Council of State Boards of Nursing has put together an online 
list of questions and answers
. to help you get the information you need on this important development. There are three things you can do to stay up to date on the eNLC:
Get in touch with your CompHealth credentialing team for questions on a specific assignment at (800) 634-9583
Keep checking back on the NCSBN website for eNLC news and updates
Contact your state board for application specifics, as these may vary from state to state
We've summarized answers to a few of the most common questions here. See the complete list on the 
NCSBN
 website.
Important eNLC facts
Q: What's the best way for nurses to get the latest eNLC updates?
A: You can sign up for 
email updates
, visit your state board of nursing 
website
, and review the eNLC 
implementation page
.
Q: What is the eNLC implementation date?
A: The implementation date is January 19, 2018
Q: How does the eNLC differ from the original NLC?
A: The eNLC adopts 11 uniform 
licensure requirements
 (ULRs) to qualify for a multistate license. A federal and state fingerprint-based criminal background check is one of the requirements. You can see a complete 
fact sheet here
 that highlights the differences between the two compacts.
Q: Which nurses are "grandfathered" into the eNLC and what does that mean?
A: Nurses in eNLC states that were members of the original NLC may be grandfathered into the enhanced compact. Nurses who held a multistate license prior to the eNLC effective date of July 20, 2017, in original NLC states, are automatically grandfathered and will not need to meet the requirements for an eNLC multistate license. Nurses issued a multistate license after July 20, 2017, will be required to meet the eNLC multistate license requirements.
Q: What happens to nurse practitioners in the original compact if their state does not pass eNLC legislation?
A: Rhode Island is an original compact state that has not yet joined the enhanced compact. They plan to introduce legislation in 2018. States that don't pass the eNLC will remain in the original NLC unless they withdraw from it, or the NLC ends due to having fewer than two remaining member states.

What is the immediate impact of the eNLC for me?
The exciting news is that with additional states passing licensure compact legislation, one home state license may now position you to practice in more than half the country. As of January 19, 2018, getting a multi-state travel nurse license will open up even more travel possibilities. You still have to meet strict standards, The eNLC doesn't mean it's easier to get a license. It just means that when you qualify, there's a process in place that makes it easier for you to practice in multiple compact states. Whether you seeking a chance to sharpen your clinical skills, experience new patient care opportunities, or roam the country to make new personal memories, the eNLC can open up new personal and professional doors for you. To stay connected with the latest eNLC updates, bookmark this page. If you need specific licensing help, reach out to your CompHealth credentialing team at
800.453.3030
.