[caption id="attachment_8079" align="alignright" width="300"]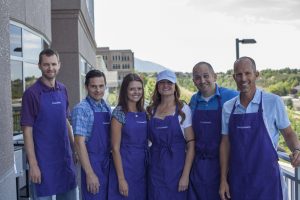 CompHealth leaders treat their people to an annual hot dog day.[/caption] Culture is a corporate buzzword that is talked about everywhere these days — and for good reason. Organizations that cultivate and nourish great company cultures enjoy significantly lower turnover and better financial performance, something CompHealth has experienced firsthand. For six straight years, our parent company CHG Healthcare Services has been on
FORTUNE
magazine's "100 Best Companies to Work For" list. Since focusing our efforts on creating a great culture, we have achieved a turnover rate that is 55 percent lower than the industry average, while simultaneously achieving above-average growth. More importantly, we've seen a significant increase in the happiness and engagement of our employees, which has resulted in exceptional customer service for the healthcare professionals and facilities we serve. It's a job seekers market and with
a predicted shortage of as many as 90,000 physicians by 2025
, the market will get even more competitive. Having a culture that job seekers want to be a part of will help you stand out from the crowd.
Cultivating a Great Culture
Although compensation and location are top priorities when physicians or other providers consider a job offer, culture still plays a prominent role in their final decision. Here are a few of the areas that will help you get started on cultivating a strong culture:
1. Leadership
Have you heard the saying, "People leave managers, not companies"? It's true. The relationship between employees and their leaders plays a critical role in employee engagement. Because ultimately, leaders drive culture. Without their buy-in and participation, your culture efforts will go nowhere. That's why the first step toward cultivating a strong culture needs to start with your leadership team. At CompHealth, we have a dedicated leadership training program that is heavily focused on our core values and culture. This helps leaders understand not only what our culture is, but why it's important and how it can be incorporated into their daily lives.
2. Work/life balance
The workplace climate is changing. Gone are the days where employees make their jobs their only focus. Instead, employees are putting an emphasis on creating a balance between their personal lives and their work lives. This goes for physicians, too. CompHealth physician
Dr. Johnny Shen
choose to work locum tenens full time because he didn't want to sign a contract with a facility that would have control over his vacation days and personal time. Instead, locum tenens assignments give him the chance to be his own boss and be in control of his work/life balance. Something that is extremely important to Dr. Shen and other new grads. [su_youtube url="https://www.youtube.com/watch?v=F__cTCBj1E8"] To incorporate a culture focused on work/life balance, consider implementing job sharing options for your staff and adding more NPs, PAs or locum tenens providers to help cover the patient load. Encouraging your team to have a better work/life balance will reduce their stress, increase their happiness and help stem 
burnout
 — all of which benefits your facility and patients.
RELATED: How to Attract and Retain Millennial Doctors
3. Communication
Clear, transparent communication is important to building a culture that people can trust. Remember to be upfront and openly communicate not only the what, but the why behind your decisions. Also, communicate your values and culture continuously to help your staff understand what your culture is and why it's important.
4. Hiring for Culture Fit
Hiring for culture fit from the top down is extremely important to the validity and sustainability of your culture. We incorporate culture-related questions throughout our interview process to help us determine if the candidate is the right fit.
Here are a few examples of cultural questions you could ask.
Equally important is being completely honest with the candidate about your culture from the beginning. The interview process is a chance to determine if the job is the right fit for both of you. Be transparent about your culture, the job requirements and expectations, and avoid anything that might be considered a misrepresentation. You'll only end up breaking the candidate's trust, which will have a negative effect on your culture. There are many things that contribute to a strong culture, but these four areas are a great place to start. Remember, creating a culture that works doesn't happen overnight. It takes effort and tenacity, and forces many of us to step outside our comfort zone and do business in a new way. But I guarantee the return on your effort will be worth it.