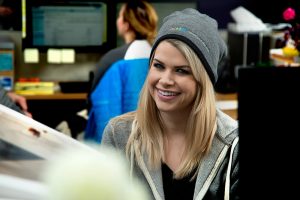 CompHealth recently received the 
Inavero's 2016 Best of Staffing® Award
, which recognizes high levels of satisfaction among job seekers and employers in the healthcare industry. CompHealth received recognition in both the client (for service given to employers) and talent categories (service given to job seekers). "We are fortunate to work with great clients and providers every day," says Tyler Black, vice president of the CompHealth allied division. "This award reflects our diligent efforts to get to know each of them and their needs in order to match them with the perfect job."
What Allied Providers Say about CompHealth
CompHealth has received the
talent award
for five consecutive years, earning the company the Best of Staffing Diamond Award. Here's what the allied providers surveyed by Inavero said about working with CompHealth:
Knowledgeable
"CompHealth treated me very well. Extremely friendly and helpful. My questions were always answered."
Responsive
"Great service from all members of staff.  Quick response time to emails and they even answer when I call! It's great to have access to such personal care. I also love that there is such a big team to support me."
Dedicated
"CompHealth is a GREAT company to work for. The staff are friendly and dedicated to your needs and wishes. If they make a mistake, they will do everything in their power to fix it and make sure you are happy and satisfied."
SEE ALSO: Physician Assistants: How to Show Your Value (and Increase Your Pay)
Competitive Pay
"CompHealth has my best interest in mind at all times. They work hard to get me a placement that is a good fit for myself and their client. They also provide me excellent compensation for my assignment, including very competitive pay rate, housing and utilities, good benefits, reimbursement for travel, and other related expenses for the assignment."
Reliable
"Excellent company! Always provides me with great places to work and solves problems immediately. I love working for this company!"
Supportive
"My overall experience as a first time traveler has been wonderful. CompHealth has supported me every step of the way."
Let CompHealth find the right job for you.
What Facilities Say about CompHealth
https://www.youtube.com/watch?v=LxPWLoziGtk This is the sixth year CompHealth has received the
client award
. Here's what the clients surveyed by Inavero said about working with CompHealth:
Accommodating
"We had a great experience with CompHealth. They were flexible and very willing to accommodate our needs. We requested a specific physical therapist and they worked very diligently to meet our request."
Attentive
"Quick customer response and continual communication during the recruiting process. My questions and emails are always answered timely."
Exceptional Providers
"The placement staff are timely in their communication and work hard to find the right fit for your environment. So far all travelers have been excellent clinicians, self-starters, very flexible and have easily fit into our therapy team."
Surpasses Expectation
"CompHealth provided us with someone in a crisis situation when other companies had no one to help us."
Dependable
"I enjoy working with [my representative]. He is responsible, friendly, reliable, and has great follow through. I find that he is able to quickly adapt to a new direction or unexpected staffing needs at our clinic, which I really appreciate."
Whether it's permanent, locum tenens, or travel positions that need to be filled, CompHealth has perfected the art of finding you the right candidate. Let us help
simplify your recruiting.