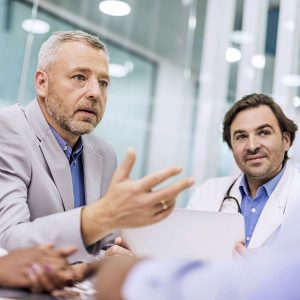 Whether it's to meet increased patient load, to cover for a physician's maternity leave, or to supplement staff while waiting for a new doctor to start, there are times when hospitals need help. Many turn to 
locum tenens
 physicians for provide relief for a few days or several months, depending on the situation. Here's what hospitals have to say about why they hire locum tenens.
Improving morale
"We have a doctor coming for about six weeks at a time now, and this guy has such a zest for life. He's in one of our larger clinics, and he just makes the patients and the staff smile. He is just a gem of a human being as well as a good doctor. It's been a great success story for us."
Tim Speece, deputy chief operations officer at Clinica Sierra Vista in Bakersfield, California
Saving a struggling facility
"We currently have a radiation oncologist helping out at a facility for the next eight months until a new physician can start. Without him, the unit would have been closed and 40 employees would no longer have jobs. We're a small community, and the patients would otherwise have had to drive two hours for oncology services. He is filling a tremendous need."
Missy Ankrom, physician recruiter at Southern Ohio Medical Center in Portsmouth, Ohio
Overcoming burnout
"We had a struggling department. So we brought in one locums doctor, and he loved us so much he decided to stay. We got an awesome fit, but then we just had two overwhelmed doctors who had more than 70 primary care doctors referring patients to them. We brought in some locums doctors who were finishing fellowships. They would come out on the weekends and stay in a local hotel with their kids, and they had such an impact on us. They saved our physicians from burnout and came off and on for about two years until we had rebuilt the whole department. These locum tenens doctors were a godsend."
Lee Meyer, manager of physician recruitment and credentialing at Dreyer Medical Clinic in Aurora, Illinois
Finding permanent physicians to hire
"You sent us a fabulous psychiatry locum tenens doctor several years ago, and we hired her for several different assignments before bringing her on board permanently. She was recently promoted to chief of our behavioral health department, and she's made great strides in improving the access within that department. Working here has been a huge success for her — and her work is a success story for us."
Bryan Cook, director of operations and strategy at Kaiser Permanente in Atlanta, Georgia
Want to know more about hiring locum tenens physicians? Check out this post about
working with a physician staffing agency
.