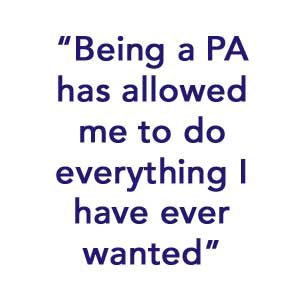 'Tis the season for many things -- giving thanks, prepping for the holiday rush, and physician assistant (PA) admissions. Once again, applications are flooding in for a coveted seat in the PA class. As I perform one of my favorite faculty duties, I often reflect on my own journey toward becoming a PA.
A Doctor or a Nurse?
When I was growing up (I'm showing my age here), it seemed like the only things to do in medicine were to become a physician or a nurse. I went off to college as a proverbial pre-med student and became interested in research as a neuroscience major at Colgate University. I was the first in my family to receive a college education, and I had no role models or college funding. I often say I am from New York, but not the pretty part. I worked 20-30 hours a week, first in the admissions office and then in the lab, for my entire college career. I had a bumpy start, but recovered quite nicely. It was the growth and learning from that bumpy start that allowed me to take a road less traveled. I moved to North Carolina immediately after college and worked at UNC Chapel Hill in the department of biochemistry. I took some time to do extra coursework and get work experience as I pursued a career in medicine. Then I heard about the PA profession and realized I was living in the backyard of its birthplace at Duke University. I went to the Duke PA office armed with my life's work in a manila folder and asked what the prerequisites were for admission. I spent the next two years garnering practical clinical experience as a certified nursing assistant in an outpatient family practice/urgent care setting, and worked directly with a physician and two other Duke PAs prior to my admission to the Duke program in 1997.
Opportunities Available to Physican Assistants
I have never looked back. Being a PA has allowed me to do everything I have ever wanted to do in medicine. I owned a practice with another PA and a physician, I delivered primary care in rural North Carolina for more than 12 years, I ran and managed a skilled nursing home service, I precepted students, and I have two faculty appointments. At this point in my career, I am most interested in having a bigger impact at the health system level, and my administrative experience has allowed me to sit at the table of an accountable care organization and advocate for an expanded role for PAs in the new value-based healthcare model. I continue to practice clinically for many reasons, the most important being that I love patients. I practice inpatient as well as outpatient medicine, and am one of the few PAs in the nation with active clinical care in both settings as well as business and administrative experience. I am incredibly grateful that my twisted road has afforded me so many wonderful and meaningful experiences. If you are a PA, I hope my road less traveled will inspire you to continually push the limits of your career and expand into new roles and responsibilities. If you don't know much about what PAs can do, I hope my atypical career path will educate you as to what is possible when PAs are given an opportunity to grow. I give thanks for these opportunities daily and wish you and yours a blessed Thanksgiving. Click here for more articles from Lisa Shock, including: