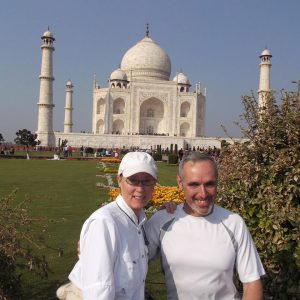 Nurse practitioner Kate Heyden was living in New York City during the 1980s at the height of the AIDS epidemic. As she watched friends suffering from the disease before antiretroviral drugs were introduced, Kate knew she wanted to pursue a career in healthcare. "I was inspired to go into nursing when I read the book
When the World Falls Apart
(about a mother and her children who contracted AIDS through a blood transfusion) by Elizabeth Glaser," Kate recalls. "Several of my friends' nurses also inspired me to make this decision, and my family supported me every step of the way. Becoming an NP was a worthwhile path for expanding my professional skill set as a nurse." Currently living in Serbia and hoping to help refugees trying to escape the turmoil in the Middle East and Africa, Kate continues to focus on helping those who might not otherwise get care.
Working in Rural Clinics
"A clinic in a rural area is a small pond where you have to swim with all the fish, and I am impressed with the clever solutions devised by healthcare teams in different settings," Kate says. "Geographical changes and regional cultures challenge me as a clinician to expand my differential diagnoses — and to refresh my perspective about the meaningful delivery of healthcare." Kate has 20 years of locum tenens experience and says her assignments have included med/surg, ER and critical care work in hospitals, field medicine, nursing homes, home health centers, prisons, academic research centers and primary care clinics. She has also spent time working internationally in Afghanistan, Brazil, Mexico, Russia and Vanuatu, an island east of Australia. "I thoroughly enjoy the variety offered through locum tenens assignments and the personal fulfillment of serving in a clinical environment that has a well-defined, short-term need," Kate expresses. "I feel very lucky to have aligned myself with CompHealth."
Advice for Traveling NPs
For first-time travelers, Kate recommends doing your homework before booking an assignment in a place you've never visited before, especially checking out sites on Google Images and Wikipedia if you can't visit it in person. "Anticipate healthcare problems. Look at the size of the community, the median income, the age of the population and the nearest major hospital," Kate suggests. "Pay attention to local concerns like the quality of the water supply, the quality of the air, road safety, the weather and the season." But working in a small town isn't all about obstacles. It has plenty of advantages as well.

Advantages of Travel Assignments
"Consider work and travel in a region of America where you can enjoy the local culture. Visit the national parks and the state parks. Sample the local food. Have fun doing a road trip," Kate says. "Attend a local church event, a concert, a rodeo. Tell your patients what you love about their community." Though some providers shy away from rural areas, Kate enjoys the challenge because it allows her to impact both the patients and providers there. "Each clinic in rural America has a vision. Locum tenens providers can make a difference by understanding this vision and contributing to the efforts of the local healthcare team," she says. "Meet and greet everyone (in person or over the phone) whose care contributes to the wellness of the patient, such as the pharmacist, physical therapist and EMTs. Making a difference occurs on a personal level."