CompHealth's primary goal is finding you the right healthcare job. To do so, our recruiters focus on you — your skills, your specialty, your desires, and your career goals. Here are some of the ways working with CompHealth can put you in a position to succeed.
1. A personal recruiter
The benefits of having a personal trainer or personal life coach are obvious — they're someone who works one-on-one with you, understands your goals, and helps you achieve them. Working with CompHealth gets you a personal recruiter, a trained professional who makes your best interests his or her top focus and serves as a single point-of-contact for everything you need.
Locum tenens family medicine physician Arthi Chawla is vigorous in praising her personal recruiter. "I love my recruiter, Camille. Camille has my back. She knows exactly what I want, what I don't want, and we work well together. If there's something that happens that I'm unhappy with, I let her know and she fixes it."
PA Catie Hauck says of her recruiter, "I have a relationship with Travis where I can text him or email him on weekends, and I always get a quick response. He always addresses my needs or concerns. He knows me personally. There has never been a moment where I felt that I don't know who to call for help. I've never been left in the lurch."
2. A focus on your specialty
Every CompHealth recruiter is part of a team dedicated to a specific specialty. Working with CompHealth, you won't find so-called experts who are "jacks of all trades, masters of none." Medical oncology is vastly different from OB/GYN, which is worlds apart from speech language pathology. Any recruiter who is expected to know all three specialties couldn't be expected know any one well.
CompHealth recruiters receive intensive training until they know your specialty — its uniqueness, nuances, and requirements — because it's their sole focus day in and day out. Your recruiter meets with his or her team to discuss new jobs or assignments that best suit you. As a result, they do a better job of matching you to positions that meet your requirements.
3. Attention to every detail
The details of any assignment or career move can be intimidating. CompHealth's experienced support teams handle them for you with utmost care. With more than 1,000 employees, we take care of everything, from weekly payroll to malpractice insurance with tail coverage on all travel assignments.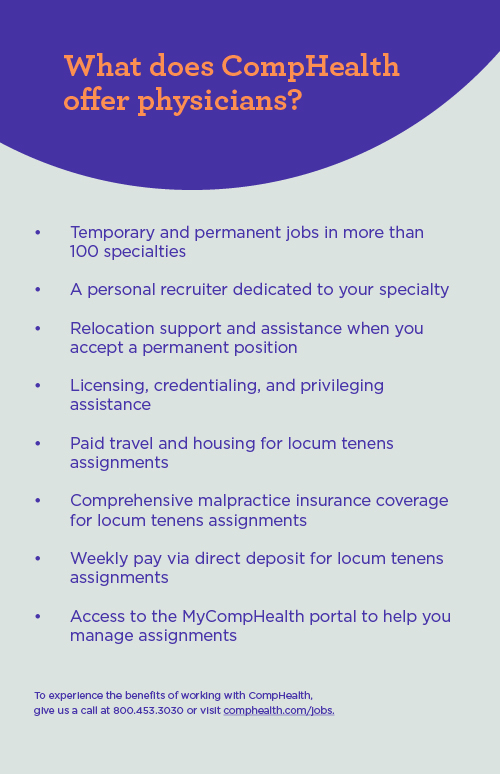 In addition, we have experts in:
Travel and housing: We make all travel arrangements and ensure you have a safe and comfortable place to stay
Credentialing and hospital privileging: Our experts streamline and expedite the process, sharing information as much as possible between parties to avoid duplication of effort
Licensing: Our long-term relationships with state licensing boards make it easier to work in new locations
Relocation: We can provide support and assistance for a move associated with a new permanent position
ENT physician Tom Willson appreciates how CompHealth takes care of day-to-day things. "CompHealth sets me up for success. I don't have to worry about anything else, about logistics of getting to a place, finding a hotel — I don't want to deal with it. If ever there's a problem, I have one person I can call, and they fix it."
4. More job opportunities
When it comes to jobs, CompHealth has more than any other recruiting company. Its long-standing relationships with thousands of hospitals, healthcare systems, and practices across the nation give it access to jobs the minute they open — some even before they appear on job boards! So CompHealth candidates have not only more choices but often first dibs on the best jobs as well.
We staff both permanent and locums/travel jobs in all types of practice settings and community sizes, including government and Indian Health Services facilities. Jobs are available in more than 70 healthcare professions, including 75 physician specialties; 35 NP and PA specialties; and therapy, lab, and pharmacy.
Physicians love working with CompHealth
As hospitalist Dr. Rafael Marin, puts it: "They know exactly what they're doing. They have the experience, they have the personnel, and they have the personality to connect with you at a different level than anybody else. We come back to that word 'trust.' I am very comfortable working with CompHealth."
Dr. Marin is proud that people identify him with CompHealth on assignments. "I am CompHealth wherever I go."
To experience the benefits of working with CompHealth, give us a call at 800.453.3030 or view today's job opportunities in your specialty.