It's hard to know on any given day, week, or sometimes even month where you'll find travel 
occupational therapist
and registered nurse, April K. She may be paddling Northern Canadian waterways on an 88-day canoe trek to Hudson Bay. Or living out of a Cricket travel trailer on a
South Carolina
farm surrounded by cotton fields and curious neighborhood dogs. Or in the small country of Nepal, navigating rutted roads that rattle her Jeep and jostle her kidneys on her way to a medical mission camp. April's an adventurer. A gypsy in spirit. And an unashamed fan of the travel occupational therapist lifestyle.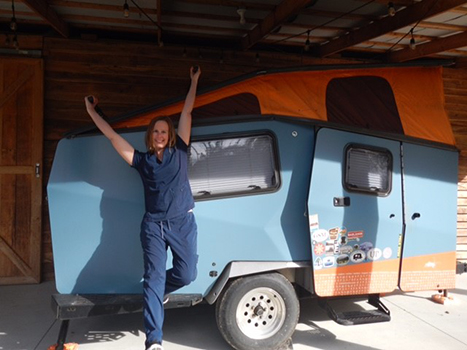 "I love traveling for the flexibility," April explains. "It has allowed me to continue to pursue adventure and volunteer opportunities in between assignments." It also allows her the schedule to work as camp nurse at a North Carolina all-boys adventure camp, a commitment she calls "the joy of my life." She sees her travel assignments and her adventurous pursuits as the wonderful yin and yang of her existence. Her free spirit can sometimes make her hard to reach. There is one person, however, she manages to keep in regular contact with: her CompHealth recruiter. "I used to travel with more than one company at a time," April says, "but I found over time that establishing rapport with my recruiter was more important to me than skipping around to different companies." Her recruiter, Joy Hall, knows April likes to be challenged and will offer her assignments others would reject out of hand for not being in their comfort zone. Those are lost opportunities, April believes. "I have grown as a therapist by accepting assignments that have placed me out of my comfort zone." "My favorite assignment so far would be East Texas," she continues. "On a professional level, it was a very challenging assignment as I had no experience with outpatient pediatrics, outside of my experience in India. Joy encouraged me to apply even though I turned it down initially, due to my lack of self-confidence in the field. I ended up appreciating the 'triangle' approach of outpatient pediatrics. And I ended up extending and stayed five months." Of course, having a travel company you can trust the details with is invaluable.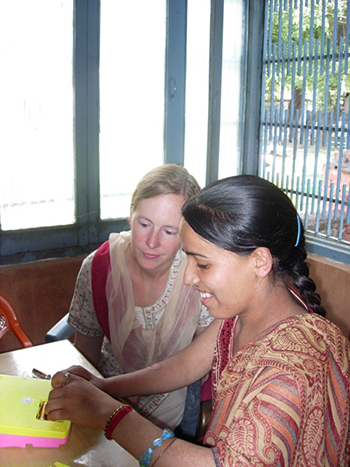 While in Nepal, she had neither cell nor internet service, but the licensing department worked diligently behind the scenes to secure her a Texas license. Once in Texas, she says, "I showed up to the apartment complex after dark. With no contracts to sign, I received my key quickly and was able to decompress in style on brand new furniture in a second floor apartment with a large tub and queen size bed only one mile away from my clinic. I am very grateful for the various departments of CompHealth!" Ever on the lookout for adventure and new experiences, she used her Texas assignment as she does all her assignments to find fun opportunities. "I joined the local track club," she says, "a masters swim club, the kickball league, and a geeky hiking group on Saturdays. I took advantage of Austin's city lakes and took up paddle boarding. My NRS Big Earl [paddle board] now travels with me on a regular basis. I've said yes to an invitation to spend a weekend at a ranch in the Hill country outside of Austin, tubing Texas-style down the Rio Grande." Add to that, biking from Houston to Austin in the largest
BP MS 150
in the country to raise money for multiple sclerosis; participating in a 24-hour ultra-trail run with other medical staff; duck hunting on Thanksgiving wrapped in borrowed cold weather gear on the
eastern shore of Virginia
; and kayaking along the
Outer Banks
of North Carolina. Add it all up, and April has an autobiography well worth the read, should she ever find time to write it! If April's lifestyle sounds awesome to you, or you simply envy the flexibility she enjoys but want to experience this adventure called "Life" at your own pace, check out today's
travel therapy jobs
or give us a call at
800.453.3030
. Take a lesson from April. When you treat life as an adventure, opportunities for adventure will come find you.