Although physicians are trained to face life-and-death situations, they're not immune to the toll — both physical and emotional — that comes with them. Over half (53%) of physicians say they're burned out, according to Medscape's 2023 Physician Burnout and Depression report. A quarter (23%) report feeling depressed, and it's been reported that one doctor commits suicide every day. This means it's more important than ever for organizations to address provider burnout.
A wake-up call
The April 26, 2020, suicide of Dr. Lorna Breen, emergency medicine physician and co-author of a study on clinician burnout in emergency departments, served as a wake-up call to the medical community. Dr. Breen and her colleagues worked in difficult conditions while treating coronavirus patients, including insufficient PPE, a shortage of beds, and long hours.
Dr. Breen's sister, Jennifer Feist, said that despite having no reported history of mental health issues, Dr. Breen had mentioned feeling exhausted and burned out. However, according to her sister, she was unwilling to report these feelings and seek help for fear of stigma. Feist's husband, Dr. Corey Feist, referred to this as an epidemic of physicians "suffering in silence."
"Our expectation that the healthcare providers be superhuman with no needs, no fears, no family, and no need for rest has to change. These are humans before heroes," Dr. Feist said.
Is burnout a medical condition?
According to Dr. Dike Drummond, founder of The Happy MD, who's trained over 40,000 doctors on recognizing and preventing burnout, the condition is not a mental illness. "There are several facets that result in burnout: physicians feeling like they can't continue as they have, cynicism and sarcasm, and a lack of efficacy ('what's the use?')."
On the flip side, the result of treating deathly ill patients, such as those who were dying at high rates in the early days of the COVID pandemic, can result not only in an increase in provider burnout, but also PTSD, says Dr. Rita Manfredi, emergency medicine physician and associate clinical professor for the Department of Emergency Medicine at George Washington University School of Medicine. She feels ongoing conversations between residents, attendings, and medical students are crucial, especially during times of crisis.
"We need to let residents and students know we are in this fight together," she says. "We want them to know that their attending is thinking about this as well. We've got to prepare them psychologically and socially and spiritually."
Help without judgment
Striving to eliminate the stigma of mental illness — whether it's cultural or self-imposed — is a critical consideration for administrative leadership who are taking steps to address provider burnout and promote wellness.
"There's a reluctance to seek treatment or help or counseling because of this fear of losing your medical license or being reported to a physician reporting agency," says Dr. Arlene Chung, emergency medicine physician and residency program director at Maimonides Medical Center.
"I think, to the best of our ability, we should support the mental health of physicians as much as we can and as broad of a scope as we can," Dr. Chung says. "Not just for physicians, but for anybody who is in the front lines."
Dr. Chung says that there's something called "the hidden curriculum in medicine," meaning how the physician develops their professional identity. "It's this notion that physicians are infallible, don't show weakness, and are never wrong." This, she says, plays a lot into why doctors are reluctant to ask for help or show weakness.
"The second tenet that comes into play is that patients come first and taking care of patients at the expense of your own health — whether that's your physical health or your mental health," she says. "Those two things combined really contribute to this reluctance to seek care, which is compounded in times of stress."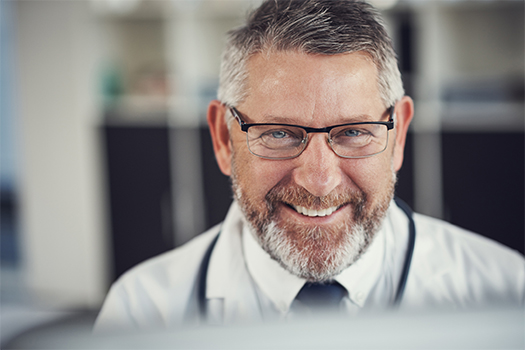 Hear and validate concerns
Melissa Love, vice president for professional staff services in the Office of Professional Well-Being at Ochsner Health in Louisiana, stresses that executive leadership should take a role in ensuring the mental health and well-being of its physicians and other healthcare professionals. Although she's not a physician, she is the HR partner to their chief medical officer, and they meet twice a week to discuss their organization's well-being efforts.
"We've created a well-being strategy, which we did with very specific workgroups," she says. "We're hearing that there's a feeling of a lack of transparency which compounds feelings of exhaustion, cynicism, and not being treated fairly. They want to feel like they have a voice. It goes back to Maslow's Hierarchy of Needs."
Strengthen physician-leadership relationships
"How do we incorporate the right levels of leadership and make sure that number one, we're creating opportunities for people to grow within the organization, but also make sure that you've got the right ratio so that you can have effective relationships with your physicians?" Love asks.
Dr. Manfredi reiterates the importance of connecting leadership to physicians to address provider burnout. "How many places actually have their leaders evaluated by the people they're leading so they can get direct feedback? It's sort of like a 360-degree evaluation. I will tell you at my organization that's unheard of," she says.
"All the organizations I've been at through my career, moving up and down the East Coast, I've never seen it. How would I feel if I got a chance to anonymously give positive feedback to my leader? It would be so helpful," she says. "That is the next step; that's why most of these organizations are at the novice or the beginner level. There are very few organizations out there that are at the expert level of understanding how well-being fits into the whole structure."
Prioritize physician wellness
Dr. Manfredi says there are many things wellness committees can be doing to address provider burnout — starting with simply having hospital administration join staff on the floor doing rounds so they can see for themselves how providers are doing. "I think the C-suite needs to look at the business case portion of this and see just how much provider burnout is costing us, and the impact on medical errors," she says.
One example of a proactive approach to employee wellness is what Weill Cornell Presbyterian in New York City is doing. "They have mandatory breaks for their emergency physicians; they have a physician satisfaction committee where they are routinely surveyed; and then they choose to work on the barriers to well-being in the emergency department there," Dr. Manfredi says.
"They're also committed to regularly asking their physicians if they feel they're treated with dignity and respect. Second, they're asked, 'Do I have what I need so I can make a contribution that gives meaning to my life?' And the third question is, 'Am I recognized and thanked for what I do?' We hope eventually everybody who works there will answer those questions affirmatively," she says.
With physicians and other frontline healthcare workers experiencing more severe burnout, PTSD, and other mental health concerns than ever before due to COVID-19, it is more important than ever for healthcare leaders to make provider wellness a top priority of their organization.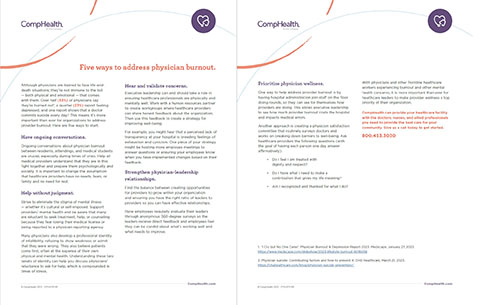 For more on clinician wellness and addressing burnout, see the CHG webinar: Addressing provider well-being during a pandemic.
Last updated March 7, 2023