The Audiology and Speech-Language Pathology Interstate Compact (ASLP-IC) expands the reach of audiologists and speech-language pathologists, allowing them to practice in multiple states thanks to reciprocal licensing agreements. If your state is part of the compact, you can see and treat patients who live in any of the compact's participating states without applying for or acquiring a different license.
As you can imagine, the ASLP-IC expands the possibilities of telehealth tremendously. Thanks to the compact, providers have more flexibility when it comes to when and where they work. Patients likewise have more flexibility when it comes to finding and selecting a provider — including the option of remaining with the same provider, even after they move to a new state.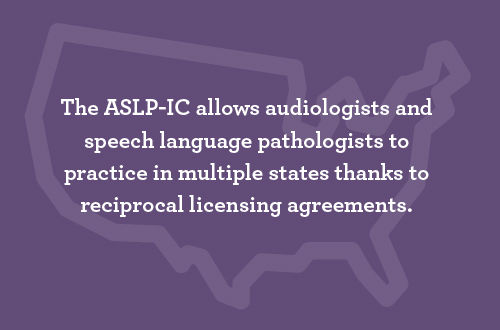 If you're an audiologist or speech language pathologist, the compact could have a huge impact on your practice — and your career.
What exactly is an interstate compact?
Susan Adams, a director for state legislative and regulatory affairs at the American Speech-Language-Hearing Association, explains it this way, "[I]n the most simple terms, an interstate compact is just a contract between two states to act in a certain way. It has the force of a statutory law. And it allows the states to work together to fix a problem or recognize a standard or cooperate in a public policy area."
Which states are involved in the Audiology and Speech-Language Pathology Compact?
As of July 2023, 29 states have passed the ASLP-IC into law:
Alabama
Arkansas
Colorado
Delaware
Georgia
Idaho
Indiana
Iowa
Kansas
Kentucky
Louisiana
Maine
Maryland
Mississippi
Missouri
Montana
Nebraska
New Hampshire
North Carolina
Ohio
Oklahoma
South Carolina
Tennessee
Utah
Vermont
Virginia
Washington
West Virginia
Wyoming
Which states are preparing to join the ASLP-IC?
In addition to the states above, Wisconsin, Illinois, Pennsylvania, and New Jersey have legislation pending, meaning, there's a good chance they'll soon be part of the compact as well. Of the remaining 17 states, it seems likely that some, or perhaps even all, will eventually join. In Adams' experience, the complete legal process, start to finish, usually takes around two years.
The ASLP-IC has a website with several fact sheets and detailed answers to frequently asked questions about the ASLP-IC. This is a great place for learning about the compact and finding out where your state stands in terms of legislation.
What does the compact mean for providers and patients?
For Adams, the compact's primary benefit can be summed up in three words: "access to care." She says this is especially true for patients in underserved or geographically isolated areas where medical services are limited. That's because the compact drastically increases the reach and possibilities of telehealth and expands the list of providers that patients can choose from.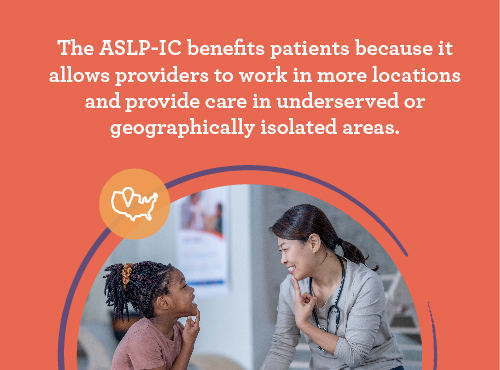 The compact also makes it easier for audiologists and SLPs to accept short-term traveling contracts in other states.
And then there's the very clear benefit to patients who, for whatever reason, need to relocate to another state. In fields like audiology and speech-language pathology, where building a strong relationship with your provider is a critical part of the experience, the option to keep your provider can be life changing.
BECOME A BETTER THERAPIST: How one SLP traveler "lives life on purpose"
Am I eligible to participate in the Audiology and Speech-Language Pathology Compact?
If your state has joined the compact, then yes, you're eligible to apply. Having a license from a member state doesn't mean you can automatically start practicing in another state that is also a member. You'll still need to go through the application process, but it's significantly easier and less expensive than obtaining a state license without the compact.
The other requirements for participating in the compact are as follows, as outlined on the ASLP-IC's website:
Hold an active, unencumbered license in your home state
Earned an accredited degree according to Section 3E and 3F of the compact
Completed a supervised practicum and approved national examination
Completed a supervised post-graduate professional experience (applicable to speech language pathologists only)
No disqualifying criminal history
A valid Social Security Number or National Practitioner Identifier
How do I take advantage of the compact?
The Audiology and Speech-Language Pathology Interstate Compact means big things for traveling providers. This is a model that's becoming more and more popular throughout the healthcare industry.
Working through an agency like CompHealth, traveling providers fulfill short-term contracts at clinics, hospitals, schools, home health agencies, and skilled nursing facilities that desperately need their services. These contracts can be measured in days, weeks, or even months — it all depends on what's in the contract. Providers who have tried traveling appreciate the arrangement for the almost complete control it gives them over their careers — from schedule flexibility to increased income.
If you're interested in exploring new places or just plain increasing your PTO, we can help. Give us a call at 800.453.3030 or view today's job opportunities.