Finding the right locum tenens agency for your needs
Have you been overhearing your colleagues brag about the benefits of locum tenens for too long? Are you interested in trying it out and seeing what all the talk is about? The first step, of course, is choosing a locum tenens agency to help you. A locums recruiter can send you assignments and guide you through the process of getting hired.
With that said — depending on your needs and goals — some agencies will be a better fit than others. How will you choose the one that's right for you? Here are a few things locum pros say to look out for when choosing a locum tenens agency to work with. Read more details for each tip below the image.
1. Find a locum tenens recruiter you like

Nurse practitioner Sophia Khawly says that, for her, "the recruiter/provider relationship is the most important aspect of choosing the right agency." She wants a recruiter who is reliable and professional, certainly. But she's also looking for a personality she can "click with."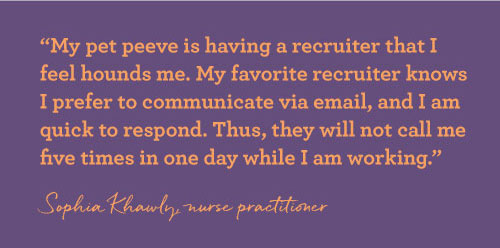 Dr. Andrew Wilner, a neurologist who has frequently worked locums, agrees. He says your relationship with your recruiter should outweigh your thoughts or feelings about the agency. He compares it to choosing someone to help you buy a house. "Like in a real estate," Dr. Wilner says, "your agent's character, competence, and experience are much more important than whether they work with Century 21, Re/Max, or another company."
2. Check the agency's job listings

Dr. Noel Lumpkin, an anesthesiologist with more than a decade's worth of locums experience, recommends reviewing a potential agency's current job options. "Most [locums agencies] will tell you that they can place someone in any state," she says, "which is true. But a quick look at the jobs posted for your specialty will often reveal a geographic bias."
This isn't an automatic negative or warning sign, she says — just something to keep in mind. "If the agency is located in Pennsylvania, it makes sense that many of their jobs will be found in and around the Northeast," she says. Taking a look at agencies with offices or recruiters in the region that interests you can be a good strategy.
3. Consider how much the agency helps with licensing

All three providers all say that finding an agency that can help you with your licensing requirements should be a top priority. In Dr. Wilner's view, "Administrative hurdles constitute one of the most frustrating obstacles for locum tenens work."
Is there a way to avoid these obstacles? According to Dr. Lumpkin, not really. "If you do enough locums," she says, "odds are that you will have to get at least one more, and likely several more, state licenses." She prefers a locums agency that looks out for her. "Having [a recruiter] who understands the intricacies of a certain state's regulations can save you from many, many headaches," she says.
Ms. Khawly whole-heartedly agrees. When it comes to licensing, she wants a locums agency that has her back. "I love when agencies offer proactive licensing," she says. "This means they assist and pay for state licenses before I even accept a job with them in that state. This will increase the possibilities of finding my next assignment because most sites want you to already be licensed there before they sign you on."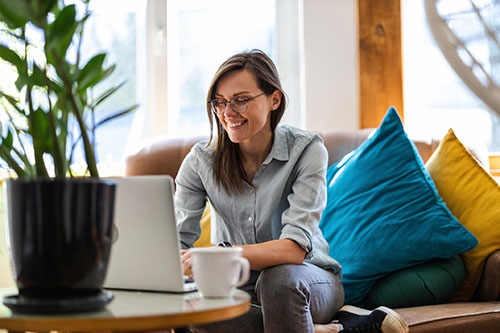 4. Ask about pay and benefits

You're obviously going to be interested in locums assignments that pay the most — who wouldn't be? But that's not exactly what Ms. Khawly and Dr. Lumpkin mean when they say to be sure to consider benefits and pay when choosing a locums agency.
Ms. Khawly says that most agencies pay their locums providers as 1099 contractors, which means that traditional benefits are off the table. "However, there are a few that pay NPs as W-2 employees, such as CompHealth." In her view, this can be a significant advantage because it qualifies the employee for health insurance, 401(k) contributions, and CEU reimbursement. "Also, my income taxes are taken out for me, so I don't have to worry about making quarterly tax payments."
For her part, Dr. Lumpkin mainly just wants to know when and how she'll get paid. "One incident I clearly recall required multiple phone calls and emails before I finally got paid weeks after finishing the job," she says. "That was when I learned the value of an agency, which gives you the exact pay date as well as the details regarding that pay."
5. Choose an agency with a solid reputation

Finally, make sure you consider the agency's overall reputation. Talk to people with experience. According to Dr. Lumpkin, you should never forget that the agency's primary client is probably going to be the hospital. But that doesn't mean you're not an integral part of the equation. "My favorite agencies are the ones that prioritize the locum tenens provider," says Ms. Khawly. "If there is a conflict between the site and the clinician, the winning agency, for me, is the one that sticks up for the clinician."
Your locums contract will specify all of the expectations that come with your assignment — like how many hours you'll work per week or how many patients you're expected to see daily. If your employer veers from this agreement, you'll want an agency that's willing to speak up for you.
Choosing a locum tenens agency is the first step
Better pay, more diverse work situations, increased flexibility for travel and other pursuits — If you're ready to start enjoying these and other benefits, the first step is to find a locum tenens agency you like and feel comfortable working with. Don't let the decision overwhelm you. Keep in mind the advice you just read from seasoned locum providers and choosing the best locum tenens agency will be easy.