Last updated December 4, 2023 — Alabama, Indiana, and Washington DC have implemented the compact and Hawaii's implementation is in process.
The Interstate Medical Licensure Compact (IMLC) makes the process for obtaining a medical license in 35 U.S. states and one territory simpler if you already hold your primary license in one of the participating states. The IMLC creates another pathway for licensure and does not otherwise change a state's existing Medical Practice Act. The IMLC also adopts a uniform and stringent standard for licensure and affirms that the practice of medicine occurs where the patient is located at the time of the physician-patient encounter. Upon licensure via the IMLC, the physician will be under the jurisdiction of the medical board in the state where the patient is located.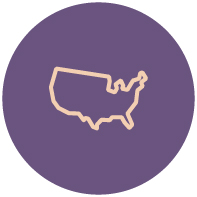 States currently accepting applications for expedited licensure
There are currently 35 states and one territory accepting applications for expedited licensure:
Alabama*
Arizona
Colorado
Connecticut*
Delaware
District of Columbia
Georgia
Guam
Idaho
Illinois
Indiana
Iowa
Kansas
Kentucky
Louisiana
Maine
Maryland
Michigan
Minnesota
Mississippi
Montana
Nebraska
Nevada
New Hampshire
North Dakota
Ohio

Oklahoma

South Dakota
Tennessee
Texas
Utah
Vermont*
Washington
West Virginia
Wisconsin
Wyoming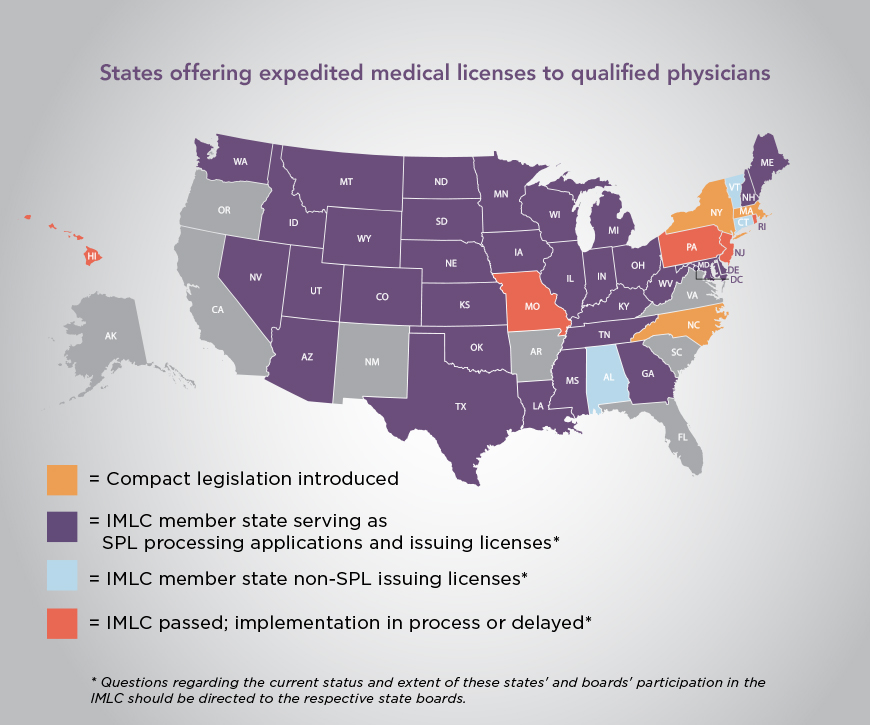 *Alabama, Connecticut, and Vermont are not considered "States of Principle Licensure." This means you cannot enter into the compact through an AL, CT, or VT license. However, you are able to get a license issued for these states through the compact once you have entered into the compact via another State of Principle Licensure.
Don't go it alone: 4 reasons to use a staffing agency to look for your next physician job
Future state board participation:
The following states and districts have passed legislation to be part of the compact, but implementation has been delayed or is in progress. Questions regarding the current status and extent of these states' and boards' participation in the IMLC should be directed to the respective state boards:
Hawaii
Missouri
New Jersey
Pennsylvania
Rhode Island
The following states have introduced legislation to join the compact:
Massachusetts
North Carolina
New York
IMLC quick facts
Average number of licenses obtained: 3

Approval rate for applicants: 90%

Average wait time for license: 19 days

Percent of licenses available within a week: 51%

Qualification for Interstate Medical Licensure Compact (IMLC)
To determine if you qualify to participate in this program, review the requirements on the IMLC's qualification page or check out the video below.
Where to go for help
For more instructional videos on how the IMLC works, view CompHealth's IMLC video playlist on YouTube or click on the links below:
For more information about the compact, visit the IMLCC's website at https://imlcc.org.
If you're interested in assistance in obtaining licensure through the compact, please reach out to your CompHealth representative or call our licensing department at 800.328.3065.
Looking for a new job or your next locum tenens assignment in another state? Check out our physician job openings, many of which are in IMLC member states.