Answers to common questions about locum tenens salary for physicians.
The concept of locum tenens — or temporary healthcare assignments — has been around since 1979, when CompHealth created the industry as a way to send physicians to rural and underserved locations.
Though one in three physicians (33%) have worked locum tenens at some point in their career, and nearly 80 percent of healthcare providers say they may do so in the future, many still have a lot of questions about how these assignments work.
Regardless of the reason for working locum tenens — whether it's to control your own schedule, find work between full-time jobs, or navigate personal life transitions — providers all want to know about one thing:
The money.
Why do physicians work locum tenens? Watch Why Work Locum Tenens to find out.
Here are some of the most common questions about locum tenens pay rates and salary.
How do physicians use locum tenens to earn more money?
Though many healthcare providers decide to work locum tenens full time, most take temporary assignments between, or in addition to, a permanent job.
Because assignments can be as short as a few days — or even a few shifts — physicians will often work locum tenens in addition to a full-time job to earn extra money on the side. Some locum tenens assignments require travel, others are available close to home.
Also, because assignments are available all across the country, some providers choose to turn locums assignments into working vacations for themselves or their families.
Here are few examples of how providers make locum tenens part of their financial plans:
Dr. Johnny Shen found he could make more money — and find more flexibility — by working locums right out of residency.
Dr. John Thieszen was an Air Force physician. He quickly learned he could make more money by working two weekends a month as a locums than he was earning in an entire year of military work.

How are locum tenens salary rates determined?
Like any job, there are many variables when it comes to pay rates. Here are a few things that impact pay:
Demand for the specialty – Facilities are willing to pay more for specialties that are competitive or hard to fill. Though the demand is facility specific, there is an ongoing need for internal medicine physicians, general surgeons, and psychiatrists — just to name a few. Locum tenens jobs are available in more than 100 physician specialties.
Location and type of facility – There are open locum tenens positions across the country. Generally, rural facilities or those having trouble attracting candidates will pay more than facilities in popular urban locations.
Skill set and patient load – Positions that include difficult procedures or require specialized skills often pay more than general assignments. Patient load also plays a role in pay — slower-paced assignments tend to pay less than high-workload positions.
Type of shifts needed – Assignments can last just a few shifts, a weekend, or months at a time. Working weekends, call, or holidays may result in a higher hourly locum tenens pay rate.
The locum tenens agency works with the facility and the healthcare provider to negotiate the rate, as well as shift preferences, call, days off, and per diem allowances.
What is the average locum tenens salary?
Though rates can vary, locum tenens providers generally earn a higher hourly rate than their full-time counterparts.
According to data from a CHG Healthcare study, on average across all specialties, physicians who work locum tenens full time make $32.45 per hour more than permanent-only doctors.
Here are the average locum tenens pay ranges for some of the most popular specialties, according to Locumstory.com:
There are also certain states that pay providers more than others. According to Medscape, here are the states with the highest average salary for all physicians: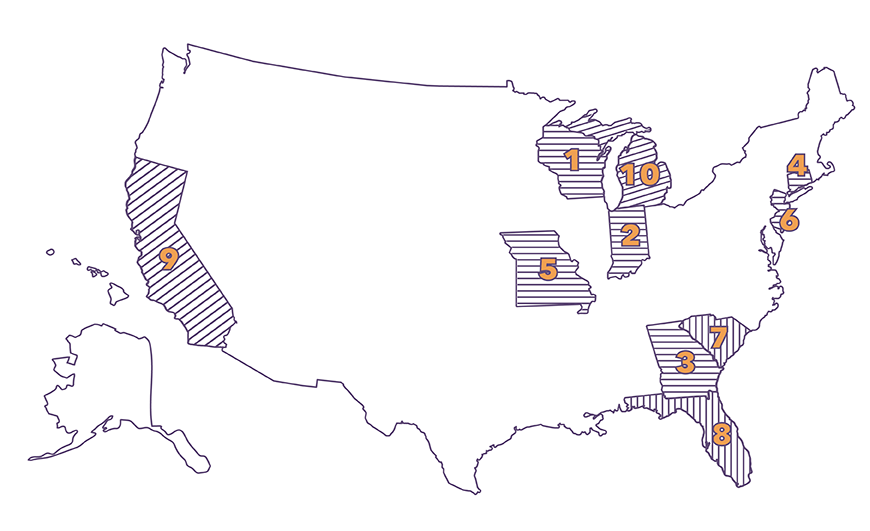 What are the benefits of working with a locums staffing agency?
One of the biggest benefits of working with locum tenens recruiters is their ability to negotiate on your behalf. That includes pay enhancers like per diem payments, mileage reimbursement, and shift premiums.
Most importantly, a good recruiter will get to know you. By understanding your specialty, skills, and what you're looking for in your career — both inside and outside of work — your recruiter can help you find positions that work for you. When you work with a good recruiter, the relationship won't end when the assignment is booked. The recruiter will be there to ensure everything goes smoothly, from travel and housing to your relationship with the facility.

Find out what physicians' think about their CompHealth recruiters.
What does the locum tenens company pay for?
In addition to paying your hourly rate, a good locum tenens company should also take of:
Medical malpractice insurance – Healthcare providers are covered by the agency's malpractice policy while they are on assignment. The specific type of coverage offered may differ by locum tenens agency. CompHealth provides claims-made malpractice, which includes tail coverage for life.
Licensing, credentialing, and privileging – Larger locum tenens companies often have in-house teams to help you gather and maintain the necessary paperwork for temporary assignments. Established agencies should have relationships with boards and facilities throughout the country and know how to move through the licensing, credentialing, and privileging processes as quickly and efficiently as possible. Thanks to the recent efforts by the Interstate Medical Licensure Compact Commission, it's now faster to get a license in more than 30 states across the country.
Travel and housing – The locum tenens agency will take care of all of the necessary accommodations for an assignment. That includes booking flights and rental cars and lining up a place for providers to stay. For shorter assignments, you can generally expect to stay in a hotel near the facility. For longer assignments, an extended-stay apartment or home may be provided. Read how CompHealth helped Dr. Hubler find the right accommodations for his needs.
What is not covered by the locum tenens agency?
Locum tenens physicians are independent contractors. That means they are not employed by the locum tenens agency or the facilities where they take assignments. That also means they are responsible to take care of the following things on their own:
Taxes – State, federal, Medicare, and Social Security taxes are not taken out of locum tenens paychecks. As a result, physicians are responsible for making estimated tax payments. Also, a locum tenens physician will generally be subject to income taxes in each of the states they work assignments. Fortunately, a state tax credit for the nonresident state tax liability is generally available to reduce the home state tax (state of residence generally taxes all income). This credit should fully or partially eliminate any double state taxation. Read more about locum tenens taxes.
Medical insurance and benefits – Locum tenens providers are responsible to fund their own benefits, including health and life insurance or retirement plans. This isn't an issue for providers working locum tenens in addition to a permanent position. Full-time locum tenens typically purchase health insurance through a health exchange or use a spouse's plan. Read about how locums get health insurance.
As an individual independent contractor, locum tenens providers have more opportunity to claim work-related expenses than the typical employee, including travel, meals, housing, work tools and supplies, and continuing education.
Locum tenens NPs and PAs working with CompHealth are not independent contractors. Rather, they are W-2 employees of the company. This allows them to receive benefits including medical, dental, unemployment, and 401(k). Learn more about how locum tenens pay works for NPs and PAs.
Get more answers to your questions: Locum tenens FAQs
When and how are locum tenens paid?
Locum tenens providers are paid directly by the locums company, rather than by the facility where they work the assignment. The timeframe and process vary by agency. For example, CompHealth providers enter their time through the MyCompHealth online portal and are paid weekly via direct deposit.

How do healthcare staffing agencies make money?
Hospitals and other healthcare facilities reach out to locum tenens agencies when they need help finding temporary coverage. Locums agencies then turn to their network of healthcare professionals to find the right match between the provider and the facility.
The locum tenens agency pays the provider for working the assignment. Facilities pay the agency for finding a provider to fill the position and taking care of things like licensing, credentialing, privileging, housing, and travel arrangements.
The best locum tenens agencies are those who get to know their providers personally, understand facility clients' needs, and make great connections so patients can receive the best care possible.
Interested in locum tenens opportunities in your specialty? Explore locum tenens positions or give us a call at 800.453.3030.
Last updated August 16, 2023.