This is part one in a five-part series on everything a physician needs to know about working as an independent contractor.
Part one: What is locum tenens and how do I get started?
When physicians take locum tenens assignments, they typically work as independent contractors. What does that entail, and how can you make it work for your situation? Whether you're interested in one weekend a month or want to work locums tenens full time, this physician's guide to working as an independent contractor can help you get started with locum tenens.
What is locum tenens?
A Latin term meaning "holding the place," a locum tenens provider is a healthcare professional (physician, physician assistant, or nurse practitioner) who temporarily takes another healthcare provider's position or fills in where there is a need for additional care. Though some locum tenens assignments require only one shift, others can last several months.
To learn the story of how locum tenens began, watch the video from Locumstory below:
Read more: Learn about the history of locum tenens
What do locum tenens physicians do?
Locum tenens physicians of nearly every medical specialty and subspecialty provide care to patients who otherwise would not receive it. Though each assignment differs in length and scope, these healthcare providers generally provide care in the same way they do in their current or previous private practice, clinic, or hospital job.
However, locum tenens physicians are typically not required to participate in bureaucratic tasks like committees and meetings the same way staff physicians do, reducing their administrative burden.
What is locum tenens really like? A day in the life of an OB/GYN
Why do physicians work locum tenens?
Many physicians take locum tenens assignments to supplement their income while still working full time at their practice. Others work locum tenens right out of residency or a fellowship to get a feel for the types of work they like best. Some healthcare providers use locum tenens jobs to ease the transition into retirement, and some take these assignments so they can live closer to care for an aging parent or grandparent.
While the reasons for choosing locum tenens work vary, physicians agree that locum tenens assignments allow them to enjoy a change of pace and meet new patients and colleagues. For many, locum tenens offers a more flexible schedule. This is why Dr. Neha Janakiraman, a hospitalist, likes working locums, as she explains below.
"Employed physicians report to work on a rigid schedule. For example, when I was in private practice, vacation requests were not honored unless submitted six months in advance," recalls neurologist Dr. Andrew Wilner. "Locum tenens offers physicians a rare opportunity to achieve work/life balance."
Who benefits from locum tenens?
Many people benefit from locum tenens, not just the physician. Locum tenens allows people throughout the country to receive care, including those living in underserved and rural areas. Physicians who work locum tenens also help provide uninterrupted coverage so other physicians can take medical leave or vacations.
How do I get started working locums?
If you want to get started, it's easy to get in touch with a recruiter at CompHealth. Here are the first three steps to finding your first assignment:
Step 1: Get in touch with a recruiter at CompHealth. From there, we'll take the time to get to know you and what you're looking for in an assignment.
Step 2: Your recruiter will share locums assignments with you that match what you're looking for. You'll have the ability to review and consider each one. You choose the one that's just right for you.
Step 3: Your recruiter will walk you through filling out our online application. They'll also assist you with gathering any required supporting documentation.

Still have questions about locum tenens? Find answers with this locum tenens FAQ.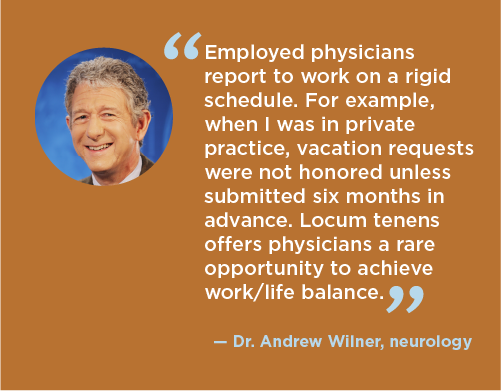 What other options are available for a physician independent contractor?
Locum tenens isn't the only way to earn extra money as a physician independent contractor. It often goes hand-in-hand with other part-time employment options you may already be familiar with.
Moonlighting
While the terms are sometimes used interchangeably, moonlighting and locum tenens are not the same thing. "Moonlighting" refers to any secondary job a healthcare provider takes in addition to their regular position. Most doctors moonlight by picking up extra shifts at local hospitals, often with irregular or nighttime hours (hence the term "moonlighting").
Per diem
You've probably heard the term per diem used to describe living expenses, as it is Latin for "per day." Similarly, per diem physician jobs or PRN ("pro re nata") work are temporary agreements between a doctor and a hospital (a staffing agency is not involved). While locum tenens assignments have a set starting and ending date, per diem jobs do not have a fixed schedule, so doctors can work extra shifts whenever they are available.
Per diem work typically doesn't come with the benefits of locum tenens work, such as malpractice coverage, housing, and travel or mileage stipends. Essentially, most physicians who work per diem are supplementing their full-time position or have multiple per diem contracts at local hospitals. On the other hand, locum tenens assignments may require travel and often offer enough hours for full-time employment.
Side gigs
There are a variety of other nonclinical physician jobs that physicians can do, whether you want to take a break from clinical practice entirely or make some additional income on the side. These can range from consulting on pharmaceutical drug development or medical technology to medical writing and physician coaching. Dr. Wilner provides his perspective on nonclinical careers and why many physicians are showing interest.
So locum tenens sounds great, right? But how do you get started? Read part two of this series for everything you need to know about working with a locum tenens agency.
Interested in learning more about locum tenens opportunities?  We can help you find your first assignment. Give us a call at 800.453.3030 or view today's locum tenens job openings.