This is part two in a five-part series on everything a physician needs to know about working as an independent contractor. If you missed part one, you can read it here: Getting started with locum tenens.
Part two: Working with a locum tenens agency
Though it's possible to find locum tenens assignments on your own, an agency does much of the heavy lifting for you, including negotiating pay and schedules, navigating housing and travel options, and troubleshooting any issues that may arise. Here are a few reasons to work with a locum tenens agency:
Access to more jobs in more locations; many hospitals use staffing agencies to fill their open locum tenens positions
Recruiters with specialty and sub-specialty experience can help you get the assignment that's the best match for you
Help with licensing and credentialing
Paid travel, housing, and malpractice insurance
Support if something goes wrong
Make the smart choice: How do the top locum tenens agencies compare?
How to choose a locum tenens agency
There are many locum tenens agencies, and it can be challenging to narrow your choices down to one. Start by checking out the National Association of Locum Tenens Organizations (NALTO), which is committed to maintaining high industry standards for locum tenens agencies. All NALTO members must follow a code of ethics to protect relationships between physicians, locum tenens agencies, and healthcare facilities. NALTO also has an ethics committee that reviews all violations and complaints. See a list of NALTO members so you can choose a reputable agency.
Not all locum tenens agencies are part of NALTO, so it's important to vet them before accepting a job.
"If the agency is not part of NALTO, I suggest you request three references from physicians that they've previously placed and contact them directly," says Dr. Vlad Dzhashi, who manages the hospitalist blog The Locum Tenens Guy.
Next, determine whether the locum tenens agency has recruiters that work within your specialty. Large companies like CompHealth cover most specialties, while smaller firms may focus on only a few specialties or sub-specialties. Either type of agency can be an asset, depending on your practice area and the types of locum tenens jobs you'd like to take. You may earn more money when using a smaller company but also have access to fewer jobs or fewer regions throughout the country.
Finally, ask colleagues which agencies they work with and what their experience was like. Speaking to someone who's already taken a locum tenens assignment can give you a better idea of what you want in an agency and how the process works.
Experienced providers speak out: How to choose the right locums agency
How to choose a locum tenens recruiter
Once you've found an agency, a good recruiter is crucial to help you have a positive experience. Look for someone who is a good listener and understands what you need in a locum tenens assignment.
Dr. McKayla Sakimura, an emergency medicine physician, says her CompHealth recruiter acts as an advocate for her.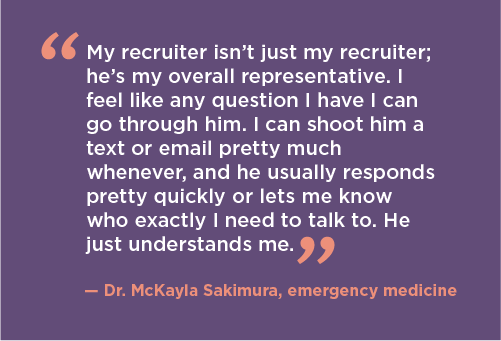 Other traits that describe great recruiters include:
Responsive
Detail-oriented
Approachable
Reliable
Empathetic
Supportive
Trustworthy
Here's what Dr. Arthi Chawla says about her CompHealth recruiter:
Locate an advocate: Find a good locum tenens recruiter
How to choose a locum tenens assignment
Here are five tips to keep in mind when choosing a locum tenens assignment:
1. Remember your motivations
You may be tempted to take the first assignment offered to you, but consider your reasons for trying locum tenens before signing on the dotted line. If enjoying a sunny vacation is your primary motivation, see if a job comes along in Florida, California, or Hawaii. If you want to take a short-term assignment to pay down student loans, a job with the highest hourly wage may be top of mind. If you want to help in underserved areas, a job in a rural, remote area might be perfect for you. Make sure the assignment you take fits with your overall goals.
2. Know your responsibilities
Your recruiter can help you understand some of the facility's expectations, but it's important to know the details and ask plenty of questions. Dr. Andrew Wilner recommends answering the following questions before you agree to an assignment:
What electronic medical record system does the facility use?
How many patients am I expected to see each day?
Am I required to be on call or take emergency shifts?
Will I renew prescriptions for patients I've never seen?
Are there other mid-level practitioners like NPs and PAs who can help?
If something isn't written in the job description and you are concerned about it, ask. The healthcare facility should be able to answer all of your questions before you accept a job.
3. Consider how long it will take to get a new state license
If you have your heart set on seeing Alaska in the summer, it's best to start the licensing process early if you don't already have a current license for that state. Hospitals prefer physicians who already have a state license, and it can sometimes take months to get a new one, depending on state regulations. It may be better to take locum tenens assignments in states where you're already licensed while you wait for other licenses to come through.
4. Ask to speak to a physician who's also worked at the hospital
A great way to determine whether a position is a good fit is talking to another locum tenens doctor who's taken that job in the past. Ask them what they liked and didn't like about the job, and if they're no longer working there, ask why they didn't return to the area.
5. Watch for red flags
Have a lot of other physicians passed on a certain locum tenens job? Did other doctors leave the assignment before their contract ended? Is the hiring manager unable to find other doctors who've worked locums there to speak to you? If the answer to any of these questions is yes, proceed with caution.
More tips from Dr. Wilner: How to choose a locum tenens assignment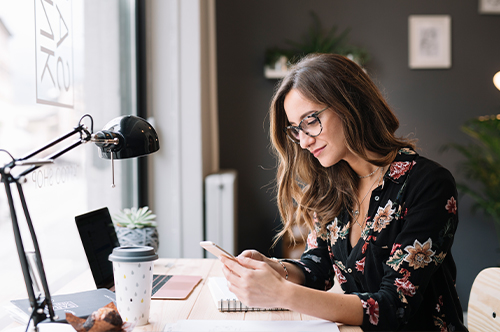 How locum tenens contracts work
The type of locum tenens contract you will be required to sign depends on whether you are working with a locum tenens agency or finding jobs on your own.
Working locum tenens with an agency
Once you've agreed to work with an agency, you will typically be required to sign an agency agreement stating that they are authorized to represent you. The agency then will negotiate your pay for specific jobs with the healthcare facility on your behalf. Once you have agreed to an assignment, you'll receive a confirmation letter that includes:
Specific assignment details, including dates, shifts, and worksite
The pay rate the physician and facility agreed on for the assignment
Contract buy-out terms in case the physician decides to accept full-time employment at the facility
Dates for the non-compete period for that facility
Working locum tenens without an agency
If you choose to find locum tenens jobs on your own, you'll have to negotiate employment terms and pay rates directly with the facility. Check out this Locums Guy article for a guide to negotiating locum rates like a pro.
Working with an agency makes things easier, but there are still some things you'll need to do to ensure a good assignment. Continue to part three of this series where you'll learn everything you need to know about preparing for a locum tenens assignment.
Go back to Part One: Getting started with locum tenens
Interested in learning more about locum tenens opportunities? We can help you find your first assignment. Give us a call at 800.453.3030 or view today's locum tenens job openings.