Are you looking for a locum tenens agency? Whether you want one that allows you to travel across the country, work in telehealth, participate in medical missions, or even find a permanent job later, this guide can help you find the best fit.
Locum tenens agencies at a glance
Each locum tenens agency is unique, and each offers something different to healthcare professionals. Check out this overview below and then read on to find out why CompHealth has everything you need.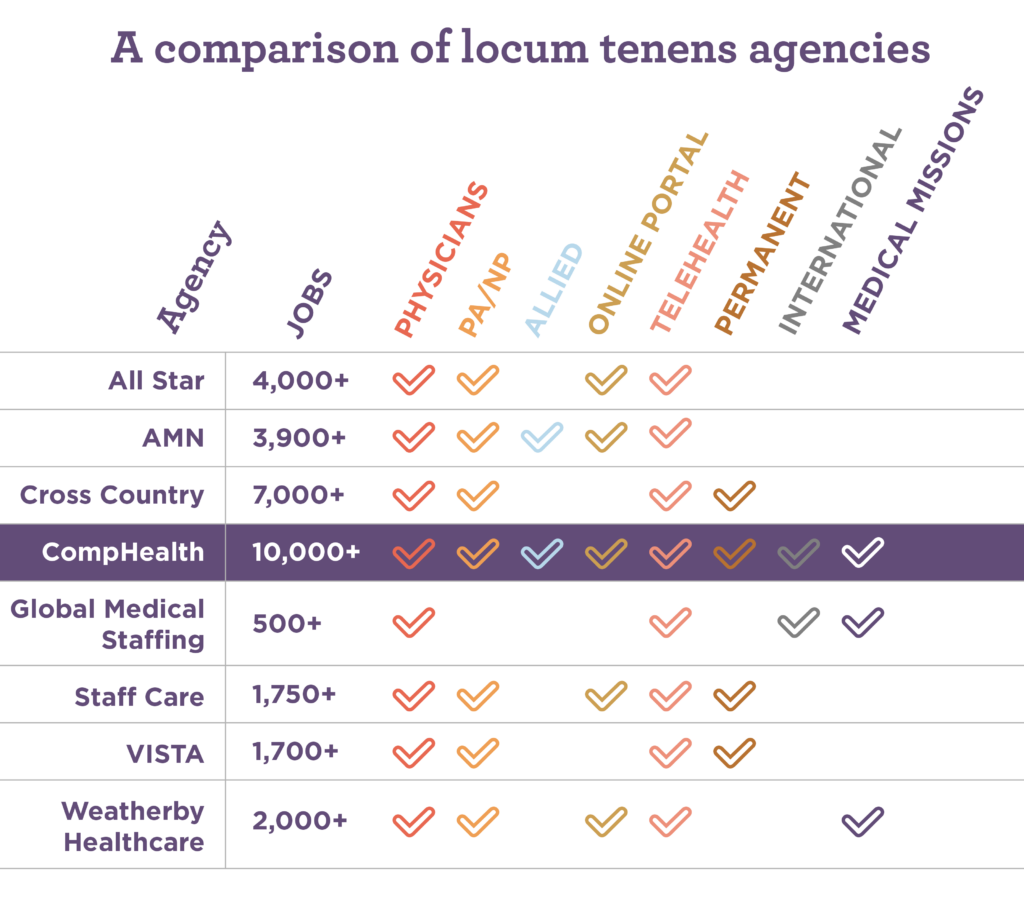 Number of jobs
If you're interested in trying a variety of jobs in states around the country, it pays to look for an agency that offers many options, especially if you hold multiple state licenses.

"If the agency fails to offer me consistent work opportunities, then I will unlikely work with them on an ongoing basis. By having many job options to offer, this proves that the agency is reputable and sites want to continue working with them," says Sophia Khawly, a locum tenens nurse practitioner.
Why CompHealth is a top choice
As of this publication, CompHealth has nearly 2,000 locum tenens jobs available throughout the country. Though the majority of positions available are for physicians, those who work as nurse practitioners, physician assistants, or other allied professions also have a lot of options to choose from.
Malpractice coverage
It's important to compare locum tenens agencies that provide different levels of malpractice insurance coverage. Some agencies don't offer this coverage at all, while others have limited insurance. Here are the coverage options agencies offer:
Claims-made coverage: Insurance that covers claims made against the insured provider during the policy period, regardless of when the claim incident occurred.
Tail coverage: Insurance that extends beyond claims-made coverage and protects physicians when a patient files a claim against you from your time with a previous claims-made plan. Tail coverage protects you if you take a new job or even enter retirement.
Occurrence-based coverage: Insurance that covers incidents that happened during the policy year, regardless of when a person filed a claim. Physicians generally pay more for this type of coverage.
Why CompHealth is a top choice
CompHealth provides locum tenens physicians both claims-made and tail coverage with limits of $1 million per occurrence and $3 million aggregate per provider. This ensures you have adequate malpractice insurance while you work locum tenens, no matter how many assignments you take.
Online portal access
Finding the right position and then getting the licenses and credentials to work in that position can be challenging. Simplify the process by working with a locum tenens agency that offers an online portal to manage your assignments, fill out your timesheet, and store the documents you need.
Why CompHealth is a top choice
MyCompHealth is CompHealth's online portal that stores all the information for your current and future locum tenens assignments, including your credentialing documents, copies of training records and certificates, travel details, CompHealth contacts, and schedule. It also allows you to see new locum tenens job opportunities and express interest in them. The portal makes it easier to get information when you need it and stay organized when taking new assignments.
Telehealth positions
Due to the COVID-19 pandemic, telehealth positions have become more common at facilities around the country — but not all staffing companies offer them. If you hold multiple state licenses and would prefer to provide care virtually, it's important to make sure your locum tenens agency offers telehealth options.
Why CompHealth is a top choice
CompHealth has telehealth positions available in different specialties. Some jobs are fully remote, while others require a hybrid schedule with some time in the hospital or clinic.
PA/NP and allied professional jobs
Some locum tenens agencies focus solely on positions for physicians. Others have positions available for doctors, nurse practitioners, and physician assistants but don't staff allied providers such as pharmacists, lab techs, or therapists. If you work in an allied profession, you'll need to compare locum tenens agencies and determine whether they staff jobs in your specialty.
Why CompHealth is a top choice
CompHealth staffs a variety of specialties and professions, including allied healthcare positions. We have both permanent and temporary jobs available for CRNAs, medical laboratory professionals, occupational and physical therapists, and speech language pathologists, among others.
Help finding a permanent job
It may seem strange to consider whether a locum tenens agency offers help finding a permanent position, but no locum tenens assignment lasts forever. As their children or parents get older or other factors prompt a change, some providers may decide a permanent position works better for them. It's worth it to look for a locum tenens agency that can help with these jobs as well.
Why CompHealth is a top choice
Though CompHealth is known for placing physicians and other healthcare professionals in temporary positions, recruiters here use the same skillset and industry knowledge to help you find a permanent one. They can also coach you through job interviews and even help you with licensing after you've found the right position.

"One huge advantage with a staffing agency was that my recruiter was my own personal filter," CRNA Megan McAdams recalls about her experience working with a CompHealth permanent placement recruiter. "He knew what I wanted, narrowed the search for me, and helped get me in front of the right people. It was exactly what I was looking for."
International positions and medical mission options
Most U.S.-based locum tenens agencies offer only domestic positions within the United States, so be sure to ask about international opportunities if you'd like to explore the world. Those who are passionate about helping an underserved population can also ask about the possibility of medical missions before choosing an agency.
Why CompHealth is a top choice
Through its partner organization, Making a Difference Foundation, CompHealth helps healthcare providers participate in medical missions throughout the world through both sponsored and highlighted trips (four selected each year by the foundation). You can also search the website for other trips that better fit your passions and lifestyle.
"Many physicians, including me, rely on locum tenens to achieve work/life balance," says Dr. Andrew Wilner, a neurologist who works with CompHealth. "Breaks between assignments allowed me to lead medical missions in the jungles of the Philippines, develop my nonclinical career as a medical journalist, and earn my PADI divemaster certificate."

CompHealth's sister company Global Medical Staffing also staffs international positions around the world in locations such as New Zealand, Guam, the U.S. Virgin Islands, and more.
Comparing locum tenens agencies is worth your time
Whether your goal is to take locum tenens jobs indefinitely, work one or two weekend assignments to supplement your income, or find a permanent position, it's worth the time to compare locum tenens agencies before choosing one to work with.