The process of obtaining a state medical license to begin practicing may seem daunting, but it doesn't have to be. Whether you're searching for a permanent position right out of residency, moving to a new state, or exploring locums tenens as an option, just knowing the process makes it easier. Here's what you need to know about medical licensing board requirements and expectations along with tips that can save you both time and effort.
When to begin the licensing process
Since state licensing boards can take anywhere from a couple of weeks to months to approve a new medical license, it's best to begin the process while in residency or a few months before you start your new position — particularly if you already have a job lined up. Be mindful of the fact that most medical boards experience delays of up to two weeks during residency season (typically April to July).
Some boards will allow doctors to apply for a license while they're still in residency, but won't issue the license until you graduate and they receive notification from the medical school that you're in good standing.
Where to start
1. Fill out and send in the application to the state board in which you're seeking a license. There are varying requirements from state to state, but their application will spell out exactly what documentation is required.
2. Start contacting all your primary verification sources — for example your medical school — to get your exam scores, state licenses, medical school verification, and postgraduate training verification.
3. Submit all documents to the board for the review process. In some instances, the state's medical board may require the medical school to send the documentation to them directly, or they'll send you the documentation to submit with your application.
4. If you took the USMLE, you'll most likely need to request that they send your exam transcript scores directly to the medical board.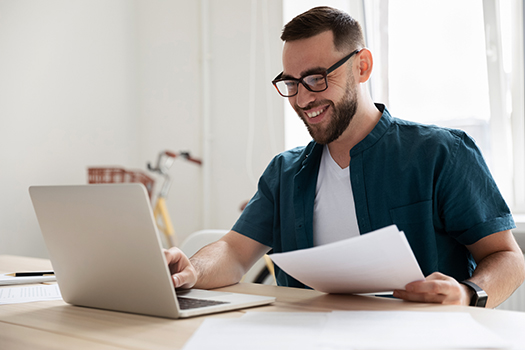 Medical license documentation requirements
Most state medical boards will require the following documentation:
Current CV
Medical school verification
Documentation of USMLE exam completion
Diplomas
Post-graduate training verifications (if applicable)
References
Fingerprint cards
Summary of derogatory information
Note: State medical boards conduct extensive background checks and will uncover any derogatory action, so it's important to be forthright. You can access the National Practitioner Data Bank (NPDB) to confirm any derogatory information on your record.
What to know about primary source verification
State boards typically require proof of education, transcripts, exam scores, and documentation of training directly from the original source rather than the applicant. Although not all medical boards have this requirement, it's important to be prepared in the event this is the case. So, once your application is complete and you've sent it to the board, you'll need to begin contacting all of the primary sources to obtain the documentation the medical board requires.
The Interstate Medical Licensure Compact
Do you have a license in one state but are considering taking a job in another? Or are you interested in working locum tenens in other states? There are ways of making the process of obtaining additional state licenses smoother and faster. When working with CompHealth, we have dedicated licensing experts who'll help you fill out your applications and help you through the process. Plus, if you're working locums with us, we'll cover all the costs and paperwork associated with obtaining participating states' licenses.
You may also qualify for expedited licensure through the Interstate Medical Licensure Compact (IMLC). There are several requirements to getting your licenses through the IMLC:
1. You must hold a full, unrestricted medical license in a state that is a member of the Compact and a State of Principle Licensure (SPL).
2. Additionally, at least one of the below requirements must apply:
Your primary residence is in the SPL
At least 25% of your practice of medicine occurs in the SPL
Your employer is located in the SPL
You use the SLP as your state of residence for U.S. federal income tax purposes
However, if you're only planning on practicing in one state, whether that be for a permanent position or locum tenens work, the IMLC may not make sense for you.
Another consideration is that once you've verified your State of Principle Licensure, that letter of qualification to enroll within the additional compact states is only valid for one year. This means there are application renewal fees every year. If you are working with CompHealth, however, we can help walk you through the process and cover any fees.
How long it typically takes to get a medical license
The time it takes to receive a permanent medical license varies dramatically from state to state. In Michigan, for example, it only takes approximately three weeks to receive a license. However, if you're seeking a license in Alaska, you could be waiting up to 30 weeks for approval.
Other factors in determining how long it may take to receive your license is if you're seeking a license in your SPL (ranging from 1.5 weeks to 9 weeks), if you're looking to join the IMLC, or if you're renewing your Compact license or looking to get licensed in other IMLC states (<1 week to 3 weeks). This abbreviated licensing timeframe significantly opens up your locum tenens opportunities in the other participating states.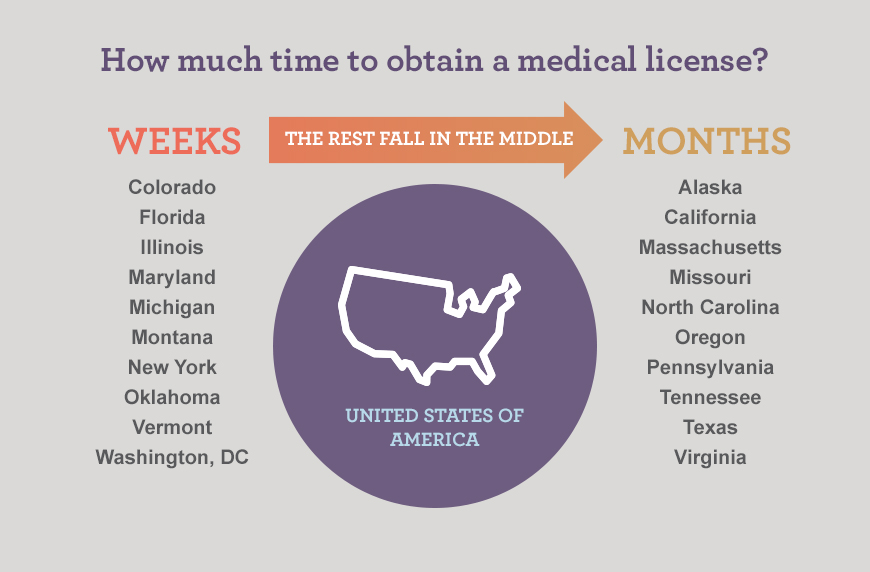 How to determine the status of your application
Some state boards have an online portal where they update the application status so you can see what's been received and what hasn't. However, in most states, checking the status will require a phone call to the state's medical board.
How to avoid licensing delays
Completing a medical license application can be time consuming, but 100% accuracy is important if you want to avoid unnecessary delays. Here are three of the main culprits that can slow down the process:
1. Incomplete forms
Be sure to complete every form fully and don't leave any required fields blank. If a required section of the form does not apply, enter "N/A" or "not applicable".
2. Guessing on dates
Many boards are particular on time gaps on applications, so if the dates from the verifications the board receives don't match what's on the application, the doctor will have to either amend the application or get a letter from their verification source confirming the date, thus delaying the process.
3. Not fully disclosing disciplinary actions
As noted above, state boards will access the National Practitioner Data Bank (NPDB) to uncover all disciplinary actions, so it's always best practice to be up front to avoid delays.
To speed up the licensing process, it's important to maintain and keep all pertinent documentation up to date. Spend the time you need to ensure you fill out your application fully and accurately, have all forms 100% completed, and keep all documentation in a secure location. We recommend warehousing all of it in a digital file for easy access and safekeeping if possible.
How an agency can help navigate the licensing process
With our industry expertise spanning over 40 years, CompHealth has spent decades navigating the licensing process and working with medical boards nationwide. Our services focus on what's essential to delivering complete and accurate licensing submissions. If you're considering working locum tenens with us — whether full- or part-time — we offer complimentary licensing services.
Preparation, accuracy, and education is key
Although there are many steps involved in getting a medical license, knowing in advance what's needed and ensuring you maintain your records fully and accurately will make the process go more smoothly. Having an experienced partner like CompHealth in your corner can make the process even easier.
For questions related to getting your medical license give us a call at 800.453.3030.