Are you consistently billing your payors for services performed by locum tenens at your practice or healthcare facility? If not, you're likely leaving money on the table. Whether your facility needs a short-term physician replacement or longer-term supplemental physician services, it's important to capture every available revenue dollar for the services rendered by locum tenens physicians.
Where Do I Start?
The first step in billing for locum tenens services is to identify the type of temporary physician services you need: replacement or supplemental.
Replacement is the classification for a locum tenens physician who will be filling in for your regular physician when he or she is unavailable. They provide services for a short period of time, typically 60 days or less.
Supplemental services are used when you are looking to grow your practice and need the services of a physician in addition to your current staff or need to replace a provider for more than 60 days.
Once you have determined this, follow the recommended guidelines for billing for the type of services needed.
Watch the following video to learn more about each of these types of services, including:
When to use Medicare code modifier Q6
When to begin standard payor enrollment
Private Payors, Medicaid, and Medicare
Many private payors and state Medicaid programs follow Medicare guidelines, but it's good practice to verify each program independently. Although it may not make sense to enroll every locum tenens provider with every payor you work with, in many cases you will want to enroll them with three to five of your largest payors. This will allow you to bill for a majority of the services they provide for patients. You'll need to know the following about your patient population:
What is the payor breakdown?
– % of Medicare/Medicaid patients
– % of private payor patients
Who are the main insurance carriers?
Here's a simple infographic that can help you determine when it makes sense to pursue payor enrollment.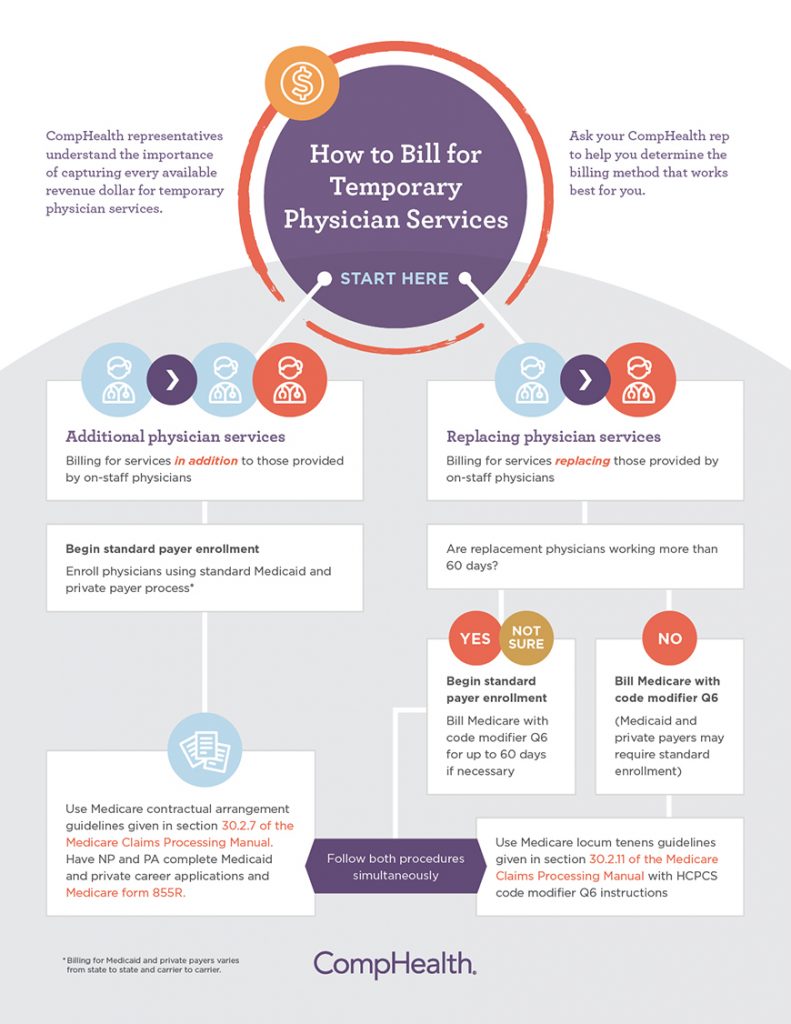 Billing for supplemental physician services
Section 30.2.7 of the Medicare manual covers billing for supplemental physician services. It allows a carrier to make payments to your group for services performed by a supplemental physician who has a contractual agreement to see your patients. There are two safeguard requirements that must be met before a claim can be paid in this type of arrangement:
The entity receiving payment and the person that furnished the service are jointly and severally responsible for any Medicare overpayment to that entity.
The person furnishing the service has unrestricted access to claims submitted by an entity for services provided by that person. When using services performed under a contractual arrangement, the supplemental provider will complete the necessary applications to bill for services with each of your private carriers and the Medicaid program for your state. Additionally, the provider will complete Medicare's Form 855R to allow your practice to bill Medicare for his/her services. A provider may have billing rights assigned to multiple practices or groups, and the same form is used to rescind billing privileges once an assignment is completed.
Billing for replacement physician services
Section 30.2.11 of the Medicare manual covers billing for replacement services. It allows a practice to bill for temporary physician services during the absence of a regular physician who normally would have been scheduled to see a patient.
For this type of reimbursement to take place, the regular physician arranges coverage for no longer than 60 continuous days and then enters HCPCS code modifier Q6 after the procedure code during the billing process.
With a little planning and effort, good locum tenens billing practices can help you turn locums from a cost center into a profit center.
Estimate how much revenue billing for locum tenens services can bring into your organization:
Where to get help
If you need assistance in determining the best way to bill for replacement or supplemental locum tenens services, we are happy to help you learn how to get reimbursed for short- or long-term temporary physician coverage.
Updated March 1, 2023.