The need for physicians in the United States continues to increase, and healthcare organizations around the country are feeling the impact on recruitment and retention at every level. With a limited number of providers, you need to ensure you're working smartly and efficiently to recruit top talent. Here are four ways to help you mitigate the effects of the physician shortage and hire — and retain — a future-ready healthcare workforce.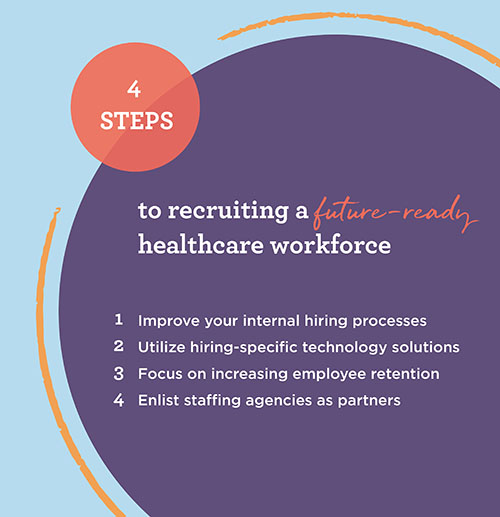 1. Improve your internal hiring processes
A big part of ensuring a firm foundation is to look inward at your hiring and recruitment processes. If these are problematic, outdated, or cumbersome, there's room for improvement.
First, assess the current situation. This can be as formal or informal as you have capacity for, but the more in-depth you go, the more benefits you'll experience in the long run. Then, streamline your processes. Create smooth workflows that solve for stumbling blocks, and get buy-in on the approach with those who will be using the processes most often.
This is also a good time to look at your current partnerships. If they feel disorganized or difficult to manage, consider selecting only a few and build a good working relationship with them.
Tarese Dubiel, the director of physician and APC recruitment and onboarding at Marshfield Clinic in Eau Claire, Wisconsin, took this internal audit as a chance to not only review technological systems, but also existing partnerships.
"I had my team self-reflect. Why are you ignoring all of those emails from that agency? Why do we even have a partnership with them? What is that agency not doing for you that makes you not want to work for them?" she said. "Having really in-depth conversations with the team that's very closely aligned with hiring partners helped us identify who we no longer wanted to work with. We got serious about defining a good partnership and the criteria we really want in our candidates."
2. Utilize hiring-specific technology solutions
There are ample technological solutions available to bolster your systems, and the best part is, you might already have some of these solutions available to you.
Applicant sourcing services can complement your recruitment efforts. They can offer services like job boards and candidate database tools, and will be a good initial step to improving your applicant pool.
You'll also want to choose an applicant tracking system. Not only will this help you and your staff keep track of applicants in the pipeline, but it can also offer a smoother experience for physicians who are applying. These vary in scope, so it's best to know what reporting capabilities you need before you begin to compare options.
If a new applicant tracking system isn't in the cards for you, taking the time to standardize processes can still provide time-saving benefits. For example, creating email templates or shared documents for your team can create efficiencies.
Dr. Kim Collins, the director of provider recruitment and onboarding of Community Health Systems, shares her experience. "Currently, we are using Practice Match's database and the applicant tracking system that it has. I like that because they offer their technical support people to help with creating ads to be mailed out or text messaged, so it's like having an additional staff member on your staff to do things."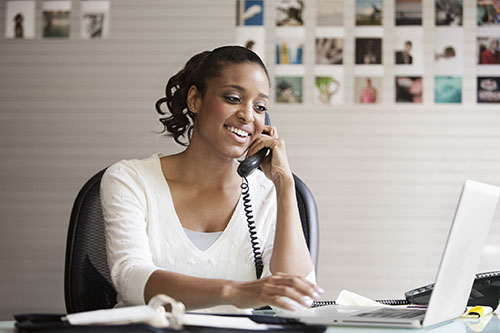 3. Focus on increasing employee retention
Physician turnover is disruptive, impacts general staff morale, and makes it hard to gain momentum on bigger-picture projects. Conscious retention efforts can help mitigate the likelihood of someone leaving your organization for a position elsewhere. Here are some ideas to get you started:
Be purposeful. This starts with a positive hiring experience, continues through a smooth onboarding experience, and is clinched by ongoing efforts to make your staff feel valued, appreciated, and treated with respect.
Get intel from new hires. New hires can point out areas of weakness in these early efforts. This brand-new insight is particularly valuable and can open up two-way communication based on trust and feedback.
Find ways to reduce stress. Nobody wants to burn out. Take steps to lower staff stress so that longevity becomes the norm. This can include thoughtful social arrangements, new benefits such as childcare, or even a comfier break lounge.
Dr. John Giglietta has one specific piece of advice for organizations aiming to build a future-ready staff: "Listen to your people and understand that what generated results five years ago has completely changed. I think what ends up happening is leaders get stuck in the mindset that we've always done it this way, or it's always worked this way, and it can be generational."
RELATED: What healthcare professionals want in their careers
4. Enlist staffing agencies as partners
Staffing agencies can function as an extension of your team, allowing you to extend your reach without expanding your headcount. It's a good idea to vet any agency before working with them to ensure they can provide you with quality candidates when needed.
Staffing agencies that also work with locum tenens physicians can be useful on the occasion that you have a last-minute vacancy to fill. A locums agency will help you find a temporary replacement until you're able to secure a permanent hire.
As a bonus: Locum tenens physicians can alleviate strain on your existing staff while you recruit for open positions, and it's not uncommon for locum physicians to decide to stay on for a permanent position.
A future-ready healthcare workforce is within reach
Despite the challenges that come with hiring physicians, there are specific steps you can take to improve your hiring processes and create a future-ready healthcare workforce. From taking inventory of your current processes and implementing technology solutions to improving employee morale and creating partnerships with agencies, there are many solutions you can implement to be better prepared for future hiring needs.
Do you need help hiring physicians to staff your facility? Give us a call today at 800.453.3030 to get started.