An applicant tracking system (ATS) is one of those things that's supposed to make your job easier, but if you don't have the right one, it can lead to frustration, wasted time, and loss of revenue by increasing your days to fill. Finding the best physician applicant tracking system for your organization's needs can be challenging, especially when you need buy-in from management. Here are five things to consider if you're thinking about making a switch.
1. Look at the size of your organization
More than three-quarters (77%) of healthcare organizations use some form of ATS, according to a survey published by the Association for Advancing Physician and Provider Recruitment, and larger organizations are more likely to use one than smaller facilities or physician groups.
Faced with growth on her own team, Kim T. Collins, lead physician recruiter for Luminis Health, says she eventually turned to PracticeMatch as a way to replace the old system she'd been using. "I was using Excel spreadsheets, and it was terrible," she says. "As we grew and got more people on the team, we needed a better way of doing it."
After switching to an ATS, Collins is able to check applicant information on her phone when she is offline or away from her desk. And when her colleagues go on vacation, she can access their notes and files, too. "I think the bigger your organization gets, the more robust applicant tracking system you need," she says.
2. Know what type of ATS you're looking for
There are three general approaches to applicant tracking for physician recruiters, and which one is best depends on many factors. Spending some time exploring these options can help narrow down your search.
Some organizations, especially smaller ones with fewer searches, are able to work effectively using a spreadsheet in addition to a sourcing tool. This is what Collins was using to organize her candidates before her team outgrew it.
Others have opted for a customized contact relationship management (CRM) system. Linda Stevenson, physician and APP recruiter at Baystate Health, says her organization loves the customized CRM tool they use, and they appreciate the customer service that comes with it. "We use Software Solutions, which functions as our ATS and onboarding tool. It also allows us to be EEOC compliant, and automatically pulls data for the AAPPR benchmarking survey. They customize our dashboards to each user, run reports, and constantly work to improve the tool," she says.
Another option is an ATS specifically crafted for physician recruiting. "We chose Kontact Intelligence for our ATS because they also offered the service of building a physician recruitment website," says Kirsten Quinlan, AVP of physician recruitment at Advent Health. "Once physicians apply for job opportunities on our website, their CV is automatically loaded into the database. They also offer a service to work with PracticeLink and other job boards, so we don't have to duplicate our work."
3. Determine the reporting capabilities you will need
In addition to having an easily accessible database for her candidates, Collins appreciates the reporting she's now able to do with her ATS and says it's important that one have good reporting capabilities.
"We're able to track how many open reqs we have, how many are new budgetary growth versus replacement," she says. "We can show how many candidates have come through, how many we've vetted, and how many we forwarded on."
Being able to easily pull up information has made Collins' job easier — and given her peace of mind. She appreciates knowing her data is safe yet also readily available when someone makes a request.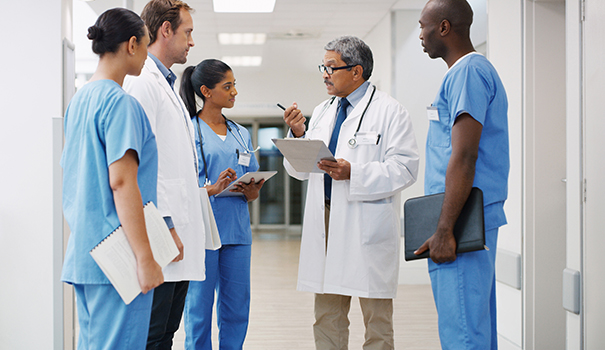 4. Review different systems to find the best one for you
After identifying which type of ATS you need, Collins recommends looking at a variety of systems before signing any contracts. "Choose two or three to review and involve your entire recruitment team," she says. "Have a list of check offs — what are you willing to live with, what are you not willing to live with — and then see on paper which one has the most pros versus cons."
She cautions against assuming that the most expensive option is the best system. "You have to look at what's going to work best for your organization and for yourself," she says. Also, patience is key. It took her four years to land on the ATS she ultimately went with.
5. Make a business case for your preferred system
It may be difficult to convince managers of the need for a new or upgraded ATS, but not impossible. Focusing on the benefits for your business can help secure buy-in from leaders.
Carey Goryl, the CEO of AAPPR says that her organization's research found that those who use an ATS tend to fill positions faster. "It's not a direct correlation, but certainly the more efficient and streamlined a team is in their process, the more they can review and track candidates, the better they'll be at addressing problematic patterns and reducing their time to fill," she says.
Collins focused on the financial benefits to her organization. "My business case was — here's what the ATS costs, and if I get one physician out of this, I've paid for it already," she says. "It's all about the money. I remind them that I'm not a cost center, I'm a revenue generator."
Patience is key
Finding the right physician applicant tracking system for your organization takes time, says Collins. "You have to find the right one that will work for you," she says. "It took a long time to find the right one for our organization." But that patience has paid off, and she won't be going back to her Excel spreadsheets anytime soon.
CompHealth can help you find the physicians and advanced practice providers you need at your healthcare facility. Give us call at 800.453.3030 or complete the form below.