When it takes too long to fill a physician vacancy, it not only affects patient care, it also negatively impacts an organization's bottom line. Each day without a provider in place has a cost, both in terms of inability to provide care and in lost revenue. The financial impact to your bottom line can be significant, as shown in this image. An effort to reduce your physician hiring days to fill by only 5% can bring your facility millions in net revenue. So how do you make that 5% reduction? Below are eight ways to reduce your days to fill.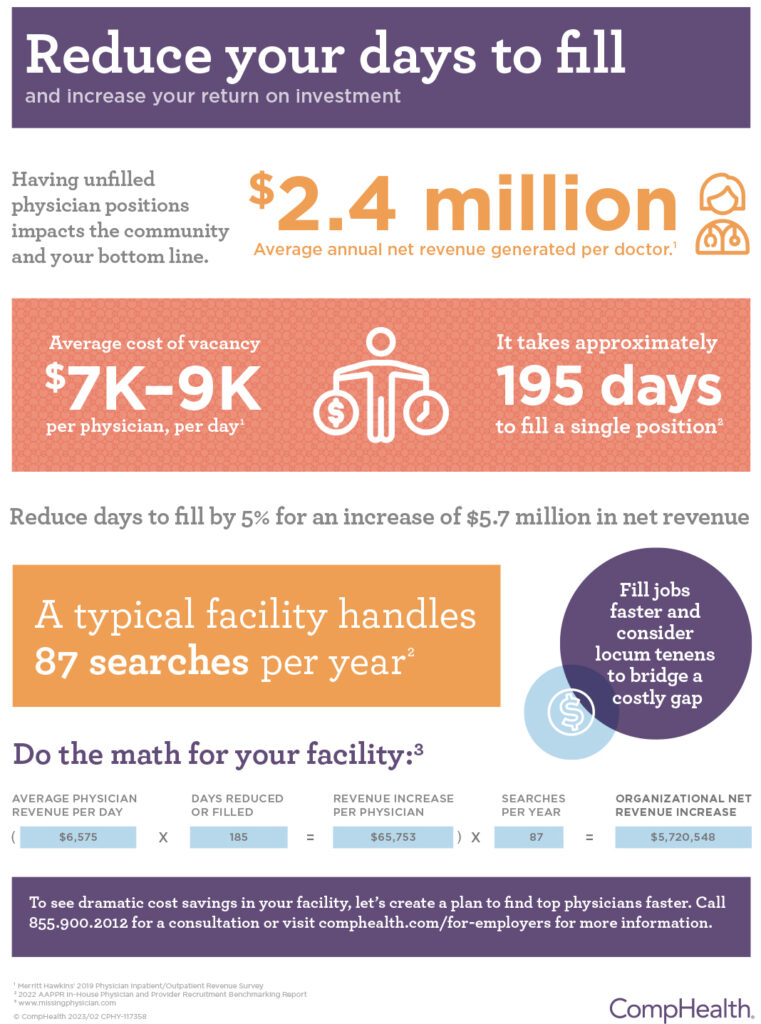 Altru Health System in Grand Forks, ND, has been successful in recruiting talented physicians in record time in spite of their rural location. We talked to Jennifer Semling, Altru's manager of recruitment and performance, to learn more about the strategies she is using to reduce physician hiring days to fill while still ensuring a good fit.
1. Contact potential hires quickly
Recruiters at Altru are proactive about contacting applicants who show potential as quickly as possible. "We're reaching out within the first 24 hours of receiving a candidate to set up that phone interview," says Semling.
To make the process easier on candidates and eliminate wasteful back-and-forth communication, recruiters use a tool called Calendly, which allows physicians to self-schedule their interview.
Semling admits that this approach can sometimes work against them. "I can't count how many times I've heard, 'You're the first people who have set up an interview, but I have more interviews,'" she says. To compensate, she says recruiters — and sometimes even medical directors — make a habit of staying in touch with candidates they're interested in. It helps keep the positive experience they had with Altru top of mind.
2. Use an applicant tracking system
While it sounds simple, implementing an applicant tracking system is one of the easiest ways to reduce your days to fill. Not only will it keep you more organized, it helps you provide a better experience for candidates.
According to Emerson Moses, president-elect of the Association for Advancing Physician and Provider Recruitment (AAPPR). "It's a one-stop shop where you can go for all of your activity. Having a tracking system is essential so you have something to measure your work," she says.
At Altru, Semling says they retired their old system of Word documents and spreadsheets and now use PracticeMatch to track their applicants. They're looking to eventually upgrade to an HRIS system that includes applicant tracking, but they plan to keep PracticeMatch because it's a valuable sourcing tool.
3. Don't make site visits a requirement
After the pandemic sent many interviews online, Altru made the decision not to require candidates to do a site visit before accepting an offer.
"If we feel strongly enough about a candidate based on the virtual interview and the vetting we've done, we're not going to hold off and make it a condition of a visit. If they want to come and visit, we'll support that, but we make our decision based on that virtual interview," Semling says.
4. Move quickly on making the offer
By not requiring site visits, the process of making an offer can move quickly.
"We're not going to wait and say, 'Okay, we've got a few more candidates we're still vetting. Let's see what happens there.' We move on making that offer," Semling says.
"We don't necessarily put in a hard deadline because we don't want the candidates to feel pressured, but we also want them to know we're going to continue to recruit until the position is filled, so there is a kind of soft deadline there."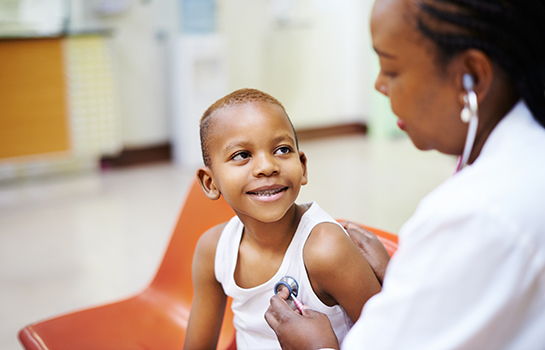 5. Have open communication with stakeholders
To keep things moving quickly, recruiters keep open lines of communication with stakeholders, ensuring everyone is comfortable with the process.
"They know that if they get a candidate from us, we feel they're a strong possibility. We may not know all of the technical work that a surgeon does, the tools that they've used, or the types of surgeries, but we know this person is legitimately interested in our position, meets the requirements, and has their license," says Semling.
She says recruiters typically ask internal stakeholders to provide feedback on candidates within 48 hours so they can make a quick decision about scheduling an interview or making an offer.
6. Get approval in advance
One thing that allows the recruiters and stakeholders to move quickly is that many details are confirmed before a job posting goes live.
"We have our contracts all arranged. We've got our compensation put together in advance. We have an approval process, so we know we have an opening. There's no question about it," she says. "We've got to have a clear definition of what our true, approved need is before we bring in an interview."
7. Partner with staffing agencies
Altru keeps in touch with several staffing companies that work on contingency in order to increase the odds of filling a position faster.
"I like to have some of those contingent firms ready to go and the contracts in place, because if we can fill it quickly, we will pay that fee, and there's no cost if we don't fill it through that firm," says Semling.
She notes that this method is most successful when her team has a true partner relationship with the agency, which increases trust and the probability of receiving candidates that will be a good fit.
8. Know when to bring in temporary assistance
Sometimes it can take time to bring in a new hire, even after using all the above steps to speed up the process.
When there's a gap that needs to be filled at Altru, Semling says her team puts together a request for a locum physician along with a financial analysis. "When our departments start doing that exercise, they think about different ways they can cover. Sometimes other physicians jump in, sometimes we bring in APPs that can support and offload some of the work, and sometimes we just have to open a locum search to help provide coverage."
Persistence and patience pay off
Semling offers this final piece of advice to recruiters looking to reduce physician hiring days to fill: "Sometimes you've got to think about different ways to get to the endpoint, so you might have to take some different paths. But just be persistent and patient with the process and don't sacrifice what you need to fill something quickly."
CompHealth specializes in finding the best physicians, PAs, and NPs to help fill your staffing needs. Give us a call at 800.453.3030 or complete the form below.
Updated 2/28/2023.